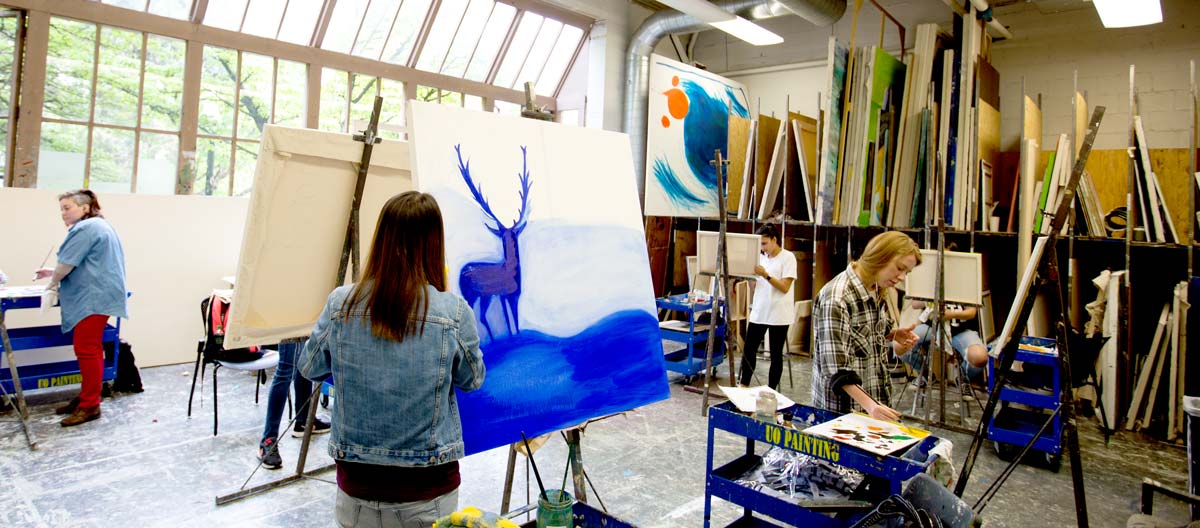 The Bachelor of Fine Arts in Painting involves a fifth year of intensive studio work in painting, beyond the four-year BA/BS degree in Art. It is designed to help you make the transition from classwork to an independent body of work, which will prepare you for artistic practice or graduate school.
Because the program emphasizes studio practice, you are provided with full-time, shared studio space and will be expected to develop rigorous and consistent work habits. Via independent study with our faculty, you will develop and extend your work.
Throughout the year, you will participate in the Advanced Painting class with the MFA students and engage in rigorous group critiques, discussions, and readings.
Our aim is for you to leave the program with:
An understanding of your own intentions and visual language
Strategies for sustaining an artistic practice
Critical thinking skills
An understanding of historical context
Contemporary possibilities of painting and drawing
---
Degree Requirements
You must complete the five-year program with a total of 108 credits in art (a total of 220 university credits), including satisfaction of the requirements listed and the university's general education requirements for the BA or BS degree.
In addition to the requirements listed for the BA/BS degree, students must complete:
A total of 108 credits in the major, 40 additional credits
 
Three additional History of Art and Architecture courses (12 additional credits) for a total of six courses
 
One course from Issues & Practices in a media area, 3 credits (ARTC, ARTF, ARTM, ARTO, ARTP, ARTR or ARTS 490)
One course from ART 412 BFA Critique Colloquium, 3 credits
 
BFA Terminal Creative Project credits, 6 credits (select from: ARTC, ARTF, ARTM, ARTO, ARTP, ARTR, ARTS 409)
 
Upper-division studio credits selected from advanced methodologies studios, seminars, or independent studies, 16 credits