Designers and engineers interested in cutting-edge research in sports product design will welcome the University of Oregon's proposed new Sports Product Design (SPD) master's degree, due to begin fall 2016 in Portland. Prospective students can register their interest online to receive information about upcoming workshops and the application process.
The proposed program, based in the School of Architecture and Allied Arts (A&AA) at the UO in Portland's downtown location at the White Stag Block, will provide theoretical and applied research experience in sports product design for all types of athletes, from elite to recreational, including athletes with disabilities.
The new curriculum will be the only sports product design graduate program worldwide. It will feature courses in sports product design, sports product management, human physiology, and communications. The proposed program will focus on innovation methodologies, materials and manufacturing, apparel, footwear and equipment design, sustainability, and product branding and marketing.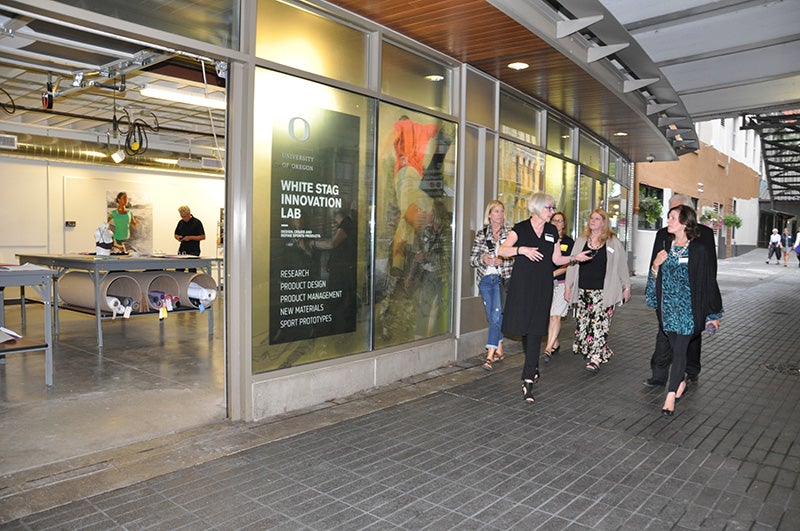 Above: Kate Wagle, professor of Art, leads a group touring the White Stag Innovation Lab, a key facility for the sports product initiative. Maker spaces for the new Sports Product Design master's program will be included in the Innovation Lab.
A natural progression of the growing Product Design Program at UO, the Sports Product Design master of science program will pair UO's design expertise with the burgeoning sports industry in Oregon, which, with more than 700 sports product companies statewide, is recognized as a global hub of sports product design activity. The industry concentration in Oregon will connect industry with academia as well as Oregon and the world, significantly enhancing economic development in the state.
Focus group work sessions with representatives from the sports product design community expressed a lack of educational programs within the field and broad opportunities for graduates of this proposed master's program.
The Sports Product Design program will be coordinated with the new Sports Product Management (SPM) master's degree in the UO College of Business that began fall 2015, also at the UO in Portland's location.
The proposed program in Sports Product Design is planning to admit twenty new students each fall, with the first cohort expected to graduate in 2018. A full-time graduate program, the proposed program expects potential students to have professional design experience or an undergraduate degree in a product or industrial design-based field (e.g. apparel design, engineering, etc.). Application guidelines will be available after final approval from the Higher Education Coordinating Committee later this spring.
Potential research areas include designing products to help reduce injuries and extend athletes' careers; addressing issues of gender in sports products; designing for diversity of body types including disabilities; improving performance of elite, amateur, and recreational athletes; and developing new sustainable materials and technologies in sports products.
Coursework will include project reviews and feedback from industry experts. Student work will be at a professional level, allowing for competition in international design conferences. UO Product Design Program students have exhibited their designs at shows including Milan Design Week, New York Design Week, the Industrial Design Society of America, and the Industrial Design Excellence Awards.
Sports Product Design students can expect to become sufficiently proficient to be invited to exhibit their designs at the International Sporting Goods Exhibition, the International Textile and Apparel Association, and the Red Dot Design Concept Awards, among others.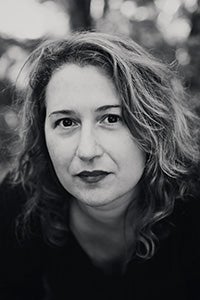 Product Design Program faculty member, Susan Sokolowski, brings a strong professional and academic background to the proposed Sports Product Design program, including serving as men's and women's training innovation director at Nike, Inc., since 2006. Prior to that she was senior innovation designer at Nike. Her research focus in the Sports Product Design program will be on the issues surrounding design of products for special populations, including women, children, and disabled athletes.
Sokolowski has a PhD in design and kinesiology from the University of Minnesota-Twin Cities and a master's in functional design and human factors engineering from Cornell University. She also has a BFA in apparel design and production management from the Fashion Institute of Technology. Pending program approval, Sokolowski will assume the directorship of the Sports Product Design program.
Facilities at the Product Design Program at UO in Portland include a new maker space, the Innovation Lab, adjacent to the White Stag Building. The Lab is designed for prototyping and constructing new sports product concepts. Its production machinery includes a 3D printer, heat press, including numerous stitching devices. The Fabrication Lab in White Stag will be used as additional prototyping space. The Fabrication Lab is equipped with a laser cutter, 3D printer, computer numerical control (CNC) machine, and other workshop machinery.
The proposed MS in Sports Product Design will fall under the National Association of Schools of Art and Design (NASAD) accreditation already in place at the School of Architecture and Allied Arts.