Two MFA students from UO have been recognized with Honorable Mention awards in the 2014 International Sculpture Center's Outstanding Achievement Awards.
The selection of Alexander Keyes, who graduated in 2014, and current MFA candidate Brandon Siscoe "illuminate both the quality and the ambitious nature of our graduate program," said Tannaz Farsi, associate professor in the UO Department of Art.
Keyes' entry, From the Depths, Construction #1, combines plywood, cut paper, books, and foam core. Siscoe's entry, untitled, was designed using the fossilized inner ear bone of a whale, soundproof acrylic dome, rubber, Plexiglas, and bar clamps.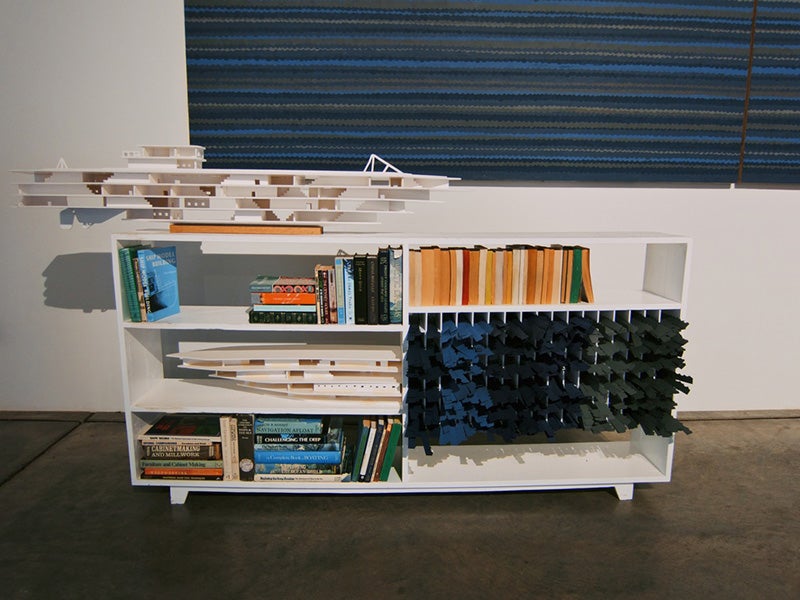 Above: Alexander Keyes' From the Depths, Construction #1, 2014. Plywood, cut paper, books, foam core, 12 ft. X 6 ft. X 2 ft.
Keyes recently completed an art residency in Portugal and is now in residence at KINOKINO in Sandnes, Norway. "The shift in Alex's work was incredible to watch during his three years in the art department," said Farsi, who, with Associate Professor Amanda Wojick, sponsored Keyes and Siscoe for the award entries. "He is a talented and persistent artist, and this award is just one of his many accomplishments this past year."
Siscoe captured his professors' attention by his "way of finding and extracting the history of materials to allow for an emotional reading of the objects that he creates," Farsi said. "The scale of the works is one that is tied closely to what a body can pick up, what a body can wear. This specific scale together with the precise selection and arrangement of materials, creates an awareness of the coincidental and fragile structure of everyday life."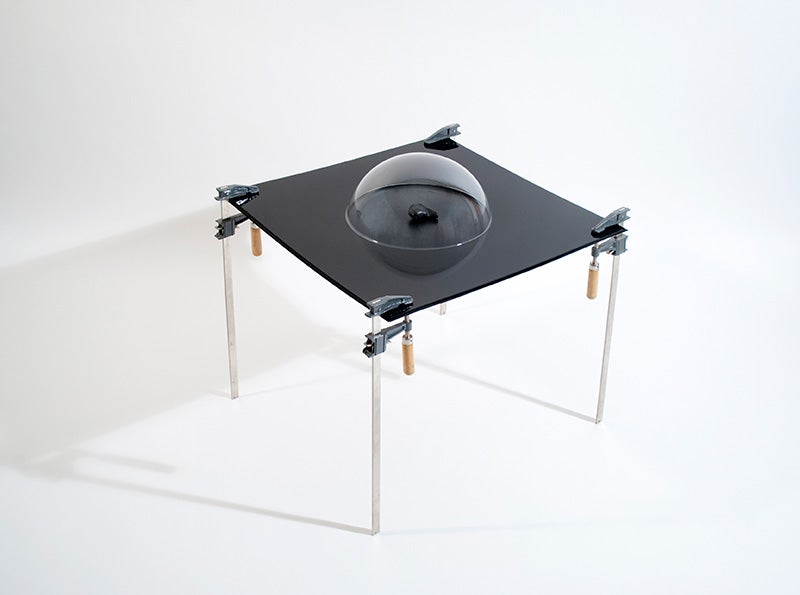 Above: Brandon Siscoe's untitled, 2014. Fossilized inner ear bone of a whale, sound proof acrylic dome, rubber, Plexiglas, bar clamps. 2 ft. X 2 ft. x 18 in.
There were an exceptional number of nominees this year—374 students from over 151 colleges and universities worldwide. The jury, which included Kathryn Mikesell, founder of the Fountainhead Residency and Studios, Miami, Florida; Stefano Catalani, Director of Art, Craft & Design at the Bellevue Arts Museum in Bellevue, Washington; and Donald Lipski, sculptor, New York, reviewed more than 904 images of student art work to make their selections for this prestigious award.
The International Sculpture Center honored its winners at the annual awards presentation and private reception showcasing their sculpture works at the Grounds for Sculpture in Hamilton, New Jersey, in October. The exhibition will remain on view through April 5, 2015, after which it will travel to art venues still being confirmed.
Keyes and Siscoe were also recognized in the 2014 October issue of Sculpture magazine, as well as on the www.sculpture.org website.