In Medias Res, the 2014 University of Oregon MFA Thesis Exhibition featuring work by five Department of Art master of fine arts students, will be on view May 3-25 at Disjecta Interdisciplinary Art Center, 8371 N. Interstate Avenue in Portland. The exhibition opens with a free public reception Friday, May 2, from 6-8 p.m. View the artist's work on the Department of Art MFA exhibition site.
Also on exhibit in May is We Are Here, a concurrent exhibition of work by ten UO second-year MFA students, from May 2-25 at the White Box, 24 NW First Avenue in Portland. This exhibition opens with a free public reception Thursday, May 1, from 6-8 p.m.
Latin for "in the midst of things," In Medias Res describes the current moment in the trajectory of the five participating artists. They are on the cusp between being graduate students and practicing artists, and the thesis exhibition represents both the culmination of their three years of work and their launch into the professional realm.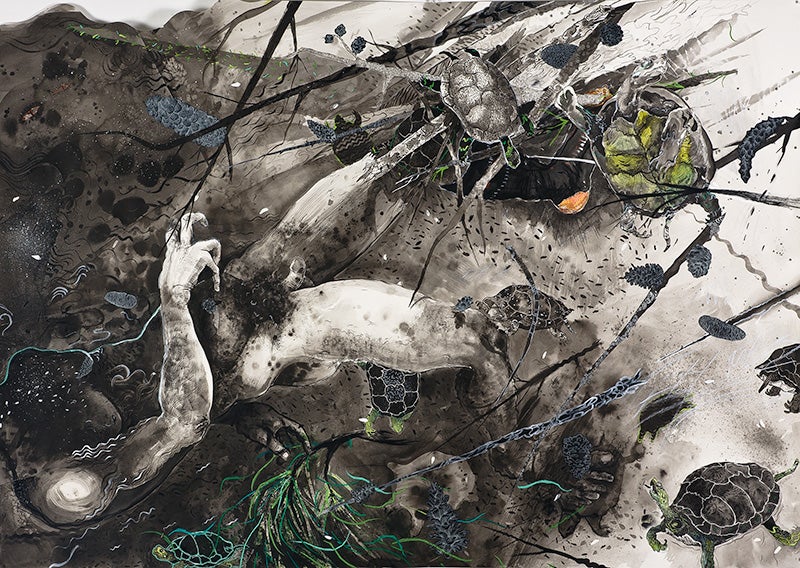 Above: Bryan Putnam's Drift, 2014, sumi ink, etching, cut paper collage, gouache, and pastel on paper, 70 x 48 in.
"Working side-by-side over the last three years, these artists have benefitted from a strong community, engaged in the hard work of the studio and the challenges of critical discourse," says Laura Vandenburgh, associate professor and head of the Department of Art. "Pushed by their peers, faculty, and remarkable visitors, these artists leave the program well-equipped, with promising bodies of work and the tools for ongoing inquiry." 
In Medias Res also refers to the literary device of relating a story from the midpoint, which has a specific resonance for this year's graduating class. "All are engaging narrative tensions of one sort or another," Vandenburgh says. "Storytelling and voyages abound. There are stories of wilderness, of domestic unraveling, of the open ocean, of survival. And there is the puncturing of narrative by the phenomenological or poetic moment."
Artists in the show include Jonathan Bagby, Bryan Putnam, Samantha Cohen, John Whitten, and Alex Keyes.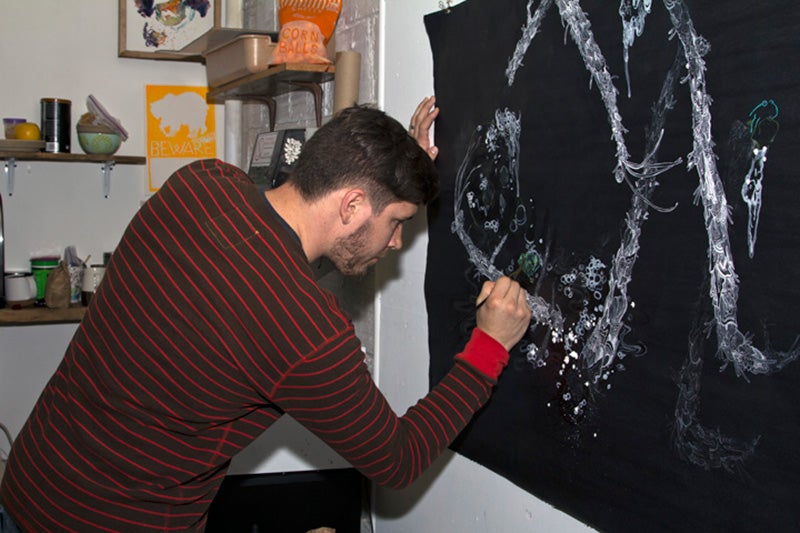 Above: "I craft an idiosyncratic tale of wilderness and man," says Bryan Putnam. "As a primal 'site of imagination,' drawing allows me to materialize visions of my folk–myth as feverishly as they appear in my mind. My hope is to catalyze a nuanced process of speculation, to wander and to wonder."  Photograph by Cody Rappaport.
Jonathan Bagby's practice "is one of playful deconstructivism and critical dialogue, exposing the indexical and illusionary potency of the medium of photography," writes Katlyn Beaver, a graduate teaching fellow and master's degree candidate in the UO Department of the History of Art and Architecture who specializes in contemporary art and who wrote the essay for the show's catalog. "For this exhibition, Bagby shows new works from his series of trompe l'oeil digital photographs, Varying Degrees of Truth. This series exemplifies Bagby's concern with preconceived impressions that often inform ideological interpretations of formal relationships between physical objects," Beaver notes.
Bagby says in his artist's statement that "my explorations of the photograph are grounded in photography's varying capacity for representation in relation to perception and memory. I am drawn to the tension created by the photograph's ability to be poetic or indexical and its possibility for both flatness and illusory space. I construct new physical relationships between phenomena and collapse them into photographic space to exploit the slippage of meaning between objects, perceived space, and a viewer."
Samantha Cohen's work for In Medias Res "presents the most recent chapter of the artist's exploration of materiality through an autobiographical lens by way of a stop motion animation installation," Beaver writes. "The construct of the installation permits the context for the animation to be viewed as a set without characters, highlighting the elements of fabrication while also allowing them to be seen autonomously."
Cohen writes in her artist's statement "through autobiographical narrative I explore the complex realm of cartoons, creating tragi-comic stop motion animations that rest on themes of displacement, heartbreak, and catharsis. Using the language of cartoons and comics, I build domestic installations with rejected furniture using painted bold outlines in order to fictionalize objects. By blurring the line between artifice and reality, I attempt to make sense of the boundaries within our imagination."
Alex Keyes's current project "spans media including sculpture, drawing, woodcut and installation, in order to examine a nonlinear narrative," Beaver writes. "The narrative—both in form and in content a playful one—is intended to expose a certain naïveté at the core of human intellect, one that is often shed or abandoned in the process of becoming. As a point of departure, Keyes draws from imagery of the sea monster the Kraken as a mysterious and unknowable entity, using familiar materials to provide visible form for an otherwise ephemeral organism."
As Keyes describes his project, "From the Depths looks to the sea as a representational and symbolic unknown as I confront the liminal space that exists between fantasy and reality. Through models of both the sea and my vessel, built in fervor from the dreams of escapist fiction, I explore the unknowns of the world and the mind. Conjuring fear and apprehension from the depths of the human psyche, my work examines the walls behind which we cower in the face of potential horror." Keyes' father works as a merchant mariner, working at sea four months at a time twice a year. "[My] relationship with the sea developed as a spectator—hours of standing at the shoreline and looking out to an endless horizon," he says. "[I] cannot help but picture the ocean as an image of longing simultaneously for adventure and comfort."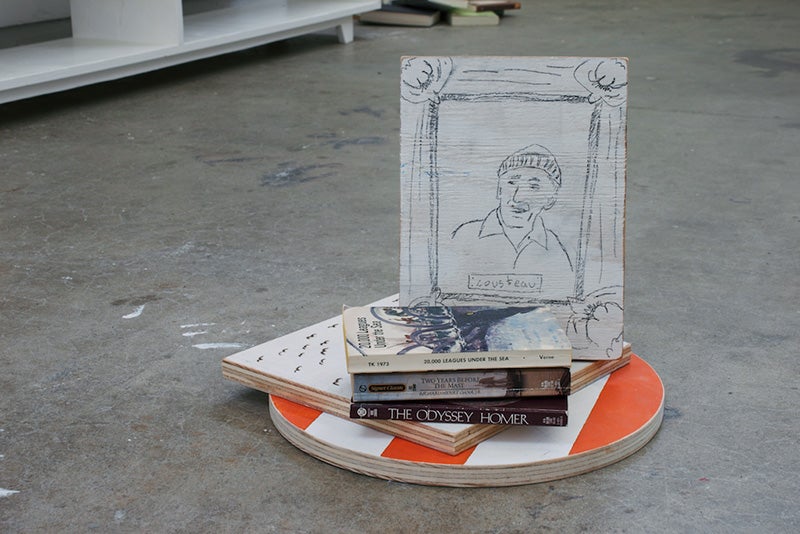 Above: A detail from From the Depths by Alexander Keyes. "By looking to the sea as a representational and symbolic unknown, my work is a confrontation with the anxiety of transitions and rites of passage we face from birth through death," Keyes says.
Bryan Putnam's practice "fuses mixed media paintings, costume performance, archival prints, drawing on paper, performance and installation, in order to create a visual narrative that speaks to his concern with ecosystems, localism, and the inherent structure of surrounding environments," Beaver states. "Influenced by his time spent in the Pacific Northwest, Putnam's current project unfolds like a fairy tale of decadent and carefully designed images intended to draw attention to the subtle—and sometimes obvious—failures resulting from inattentiveness to one's surroundings."
Putnam notes in his artist's statement that "relishing in the narrative tendencies of drawing, I craft an idiosyncratic tale of wilderness and man. As a primal 'site of imagination,' drawing allows me to materialize visions of my folk-myth as feverishly as they appear in my mind. The works themselves trace this process—as mark and line act as cairns in a roundtrip voyage between imagination and image. My hope is to catalyze a nuanced process of speculation, to wander and to wonder."
John Whitten's current practice "explores the metaphysical implications of wandering. The artist's project A Life on the Ocean Wave displays a series of intricately pictorial miniature drawings tandem to video installation," Beaver states. Whitten's drawings "speak to an investigation of the relationship between human rationalism and natural chaos. Each pencil drawing features natural forms—clouds, bodies of water, landscapes—paired with imagery of human attempts to navigate challenges imposed by natural disaster and the elements."
Whitten describes A Life on the Ocean Wave as work that "mines survival manuals, distress signals, and stories of misadventure to explore both the psychological allure of being lost at sea and its philosophical implications. Through drawing and video I mediate and objectify safety instructions and signs of duress (e.g. flares, smoke signals, rescue dye), dislodging the hope placed in them to embrace what is revealed when faced with failure."
In Medias Res will be at Disjecta, a nonprofit organization dedicated to contemporary art, through May 25. Gallery hours are Friday through Sunday from 12–5 p.m. Disjecta Contemporary Art Center is located at the Kenton Street station on the MAX light rail line.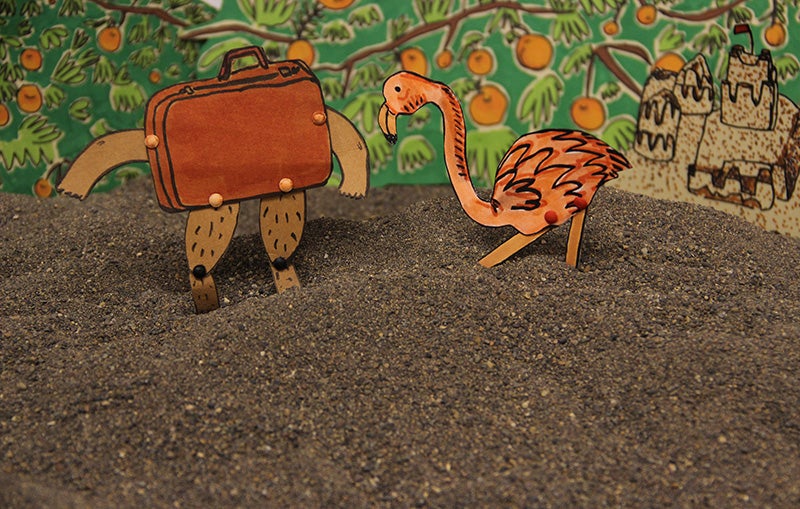 Above: Samantha Cohen's Wet Socks and Cheeseburgers, 2013-14, animation still, paper, marker, sand.
We Are Here, the concurrent exhibition of second-year students' work, runs May 2-25 at the White Box, 24 NW First Avenue in Portland. This exhibition opens with a free public reception Thursday, May 1, from 6-8 p.m. Artists in We Are Here include Farhad Bahram, Matt Christy, Chen Fei, Alex Krajkowski, Anne Magratten, Andrew Oslovar, Megan St. Clair, Brandon M. Siscoe, John Tolles, and Jessica Vala.  The exhibition is curated by Ashley Gibson, White Box coordinator and former curator at the UO Jordan Schnitzer Museum of Art. The ten artists and the curator will give a gallery talk on their work during the opening reception.
The UO Department of Art offers an innovative art curriculum reflecting contemporary practices. Students and faculty employ a fluid continuum of practices using old and new media in surprising ways to speak to compelling questions. The department fosters breadth and interdisciplinary engagement, along with depth and discipline within media. The curriculum encompasses a broad range of media including ceramics, digital arts, drawing, fibers, jewelry and metalsmithing, painting, photography, printmaking and sculpture. Within and across these media, students encounter diverse practices including video, installation, letterpress, performance, alternative materials and processes, and emerging technologies.
The Department of Art acknowledges support of the following contributors to the MFA program: the late Susan T. Ballinger and family, The Duck Store, and Gamblin Artists Colors.

Above: Jonathan Bagby's Untitled 6 (from Varying Degrees of Truth), 2012, digital photograph, archival pigment print, 40 x 26.5 inches.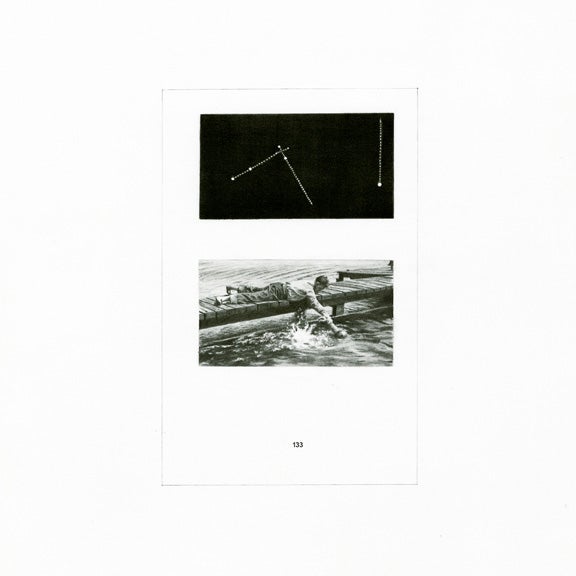 Above: John Whitten's 133, 2014, graphite on paper, 11 x 14 in.