"Look up from your screens. The only adventure is resistance."  
That sentiment, by writer-philosopher-anarchist John Zerzan, accompanies the most recent art installation by Department of Art Assistant Professor Christopher Michlig. Michlig asked Zerzan to collaborate with him on the installation for Portland2014, a biennial exhibition that celebrates artists who are defining and advancing contemporary art practices.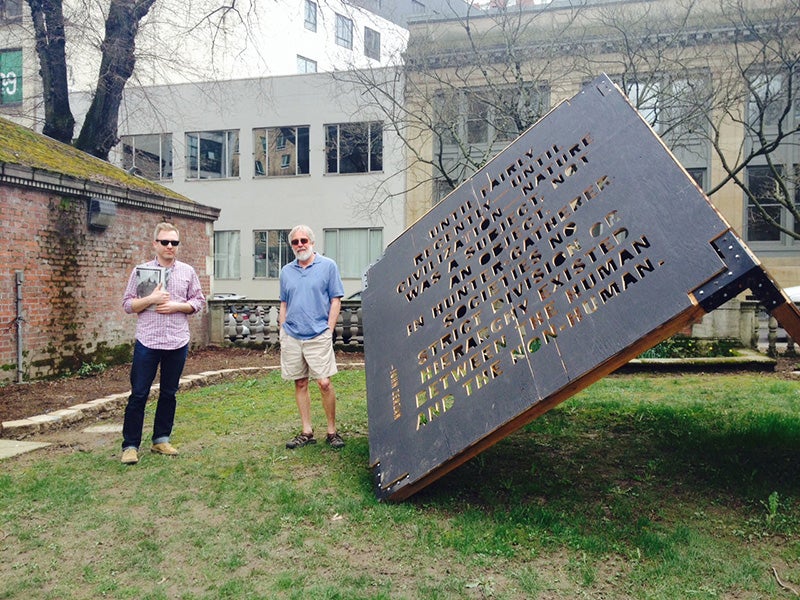 Above: Department of Art Assistant Professor Christopher Michlig and writer-philosopher John Zerzan with their Burnside Avenue kiosk. Photograph by Amy Spiker.
Portland2014, which runs through April 27 and is presented by Disjecta Contemporary Art Center, includes exhibitions, events, public lectures and panels, and performances in multiple locations throughout the city. The event is designed to engage diverse audiences by activating new contexts for contemporary art.
For Portland2014, Michlig and Zerzan created three public sculptures installed throughout the city, addressing the theme of technology's impact on individuals and society.
"I'm in the generation that experienced the shift," Michlig says of the change from analog to digital and now cloud-based technology. "Because I came of age during the rollout of email accounts as the new norm of communication, I have always retained what I consider a healthy scrutiny of the kinds of technology we currently can't imagine life without. I feel a critical responsibility that goes along with how I talk about technology."
Michlig and Zerzan's kiosks combine a rotated cube structure, familiar to public sculpture, with quotes selected by Zerzan. The pieces are upended cubes standing on three points. Panelized sides provide the opportunity for image and text content. Each piece is scaled differently but related by design.
Michlig sought out Zerzan—who has called for the destruction of technology and who is interested in the "discursive potential of contemporary art practice," Michlig notes—to collaborate on the project, titled "Kiosk Kiosk Kiosk." LAXART curator Amanda Hunt, who curated Portland2014, told Oregon Public Broadcasting that Zerzan "is on the extreme end of the mainstream political spectrum; even anarchists say his views are unrealistic." In addition to sculptures, pamphlets designed by designer Brian Roettinger featuring text and images by Zerzan and Michlig are distributed from broadside boxes adjacent to each kiosk. "These are not soft neutral statements being made in a public context," Hunt told OPB reporter April Baer. "It might anger some people. … I was open to all of that and what it might mean." 
Says Michlig of the collaboration with Zerzan, "we're optimistic about the communities and interactions that are possible through this type of project. It opens up a social dimension that can be very personal and encouraging of unexpected conversation. Both John and I share that as a value."
Both also sense aspects of absurdist humor in where technology sometimes takes us—or at least tries to. Michlig notes an anecdote he recently heard during the keynote for a transmedia conference "about a climatologist who was asked what it would take to develop a global real-time climate modeling system. He determined that the hardware-server space would be roughly the size of Paris and that as a result, the dominant climatological event that it would be using most of its energy to model would be its own existence. So that's where we are headed. In order to achieve the technological efficiency we desire, we have to first create the infrastructure to support it, which itself contradicts the goal."
Michlig works in a wide range of media, primarily focusing on the manipulation of public formats of communication to explore, expose, and upend the aesthetics of urban space. His work has been exhibited internationally; his upcoming exhibition of collage works, Processed World, opens on May 8 at Gallerie Giuseppe Pero, Milan. His work has also been published and reviewed in a number of publications, and he is the co-author of the recently released book, In the Good Name of the Company: Artworks and ephemera produced by or in tandem with the Colby Poster Printing Company, published by ForYourArt/Picture Box and distributed by D.A.P.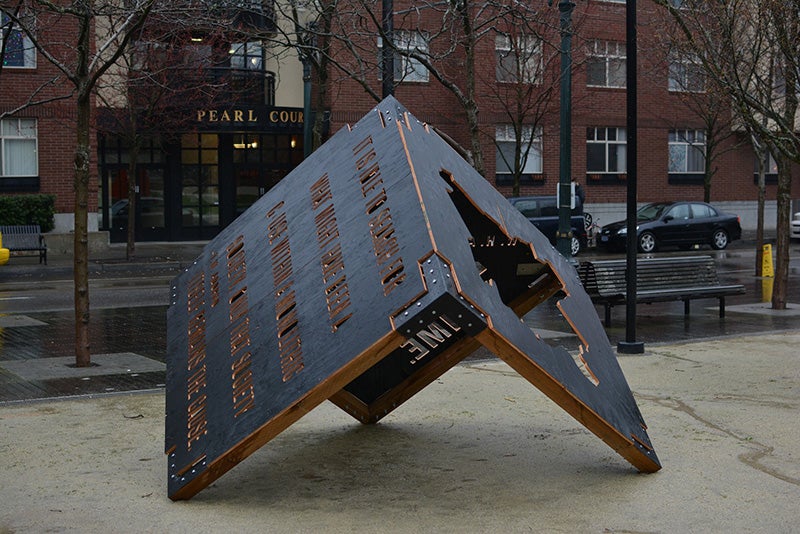 Above: The installations focus on the theme of technology's impact on individuals and society. Photograph by Kristen Heldmann.