University of Oregon Professor Craig Hickman's tinkering to create a computer drawing program that his 3-year-old son could use has landed him a prominent niche in the 30th anniversary celebration of the Macintosh computer.
Hickman, a professor of digital arts in the School of Architecture and Allied Arts, created the Kid Pix program in 1988. He "saw how frustrated his son was with early drawing tools for computers [so] was inspired to create the breakthrough, easy-to-use program Kid Pix," the Apple website says. "He chose to build it for the Mac because its intuitive interface let kids draw what they saw in their heads. His son loved it, and so did a lot of other kids, making it a best-selling application that still inspires young imaginations today."
He began distributing a free, black-and-white version in 1989, then a $25 color version in 1990. Later that year, the program was published by Broderbund Software, and Kid Pix went on to become a multigenerational favorite.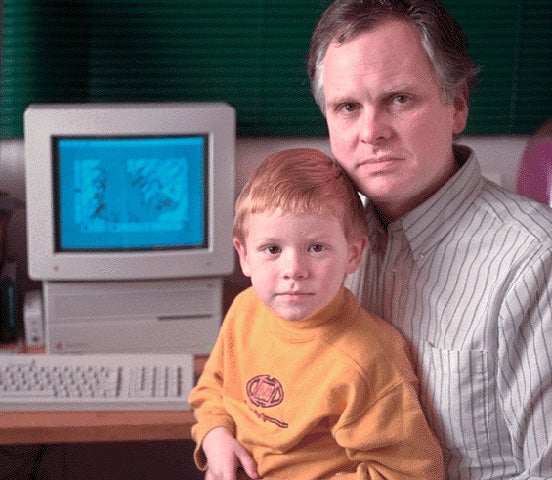 Above: Craig Hickman and his son, Ben, just after Kid Pix was 
released in 1991. Photograph courtesy Craig Hickman.
Apple is featuring Hickman on its "1990" page for the Macintosh 30-year celebration. From the Macintosh inception in 1984 through 2014's "creating the future," each year has its own web page for the celebration.
The Macintosh timeline also features Tinker Hatfield, BArch '77, the designer behind many of Nike's most popular shoes. "The Mac allowed Hatfield and his team to collaborate more freely and come up with shoes that weren't like anything else at the time," his entry for 1996 states. "His unprecedented styles and shapes influenced countless other shoemakers and took an iconic brand down a new path." (Hatfield was the A&AA's 2008 Lawrence Medalist.)
Hickman, who joined the UO Department of Art in 1984, was a photographer at The Evergreen State College in Washington when he got his first taste of computer programming in 1972. "I heard a clattering noise coming from what was labeled the 'Terminal Room.' Inside, a friend was sitting at what looked like a large typewriter. He said he was programming and asked if I would like to see how it was done. I said 'yes' and have never been the same since," he notes on his website.
He began his serious programming hobby on an Atari 400 computer. "My wife says that the day it arrived was the happiest she's ever seen me." He began to experiment with user interface and program design, hoping "to discover the simplest and most effective way to perform any task on the computer. This is when I began my quest for software design beauty."
When the Macintosh was introduced in 1984, Hickman was an early convert. "It was totally graphical so the visual possibilities were much greater. Most of all, the Mac seemed to have people with a consistent and enlightened vision behind it."
He gave away his first Mac programs, "which were designed to help me learn the Mac QuickDraw routines. They did nothing useful but were mildly entertaining." One of them, "Fido," was an animated dog that spoke in graphics. He also created two artist's books, Signal to Noise and Dry Reading. But his most successful program from this time was "Camera," an educational title that interactively demonstrated the relationship between F-stop and shutter speed. He put "Camera" in public domain and it was distributed widely.
The first real inkling of Kid Pix came one day in 1988 when he was working with MacPaint and his son, Ben, 3, asked to try it. "I was surprised at how quickly he got the knack of using the mouse and how easily he was able to select tools. The problem was that he didn't have total control of the mouse and would occasionally (like every five minutes or so) pull down a menu and bring up a dialog box," which he couldn't read. "If I stepped out for a few minutes I would come back and find Ben kicking on the floor in frustration. This was not what I had in mind for his introduction to the computer."
So Hickman decided to write a simple paint program for Ben. "Since I was going to give the program away I decided I could design it exactly the way I wanted." That included fifteen guiding principles, such as being "extremely easy to use" (no manual needed), using "tools that would be surprising and visually unusual," having a button for undo, and, while geared for kids, be interesting enough that adults would also have fun using it.
He ran every aspect past Ben's approval, and one day also took several computers to Ben's pre-school, where most kids had never used a computer. "Within ten minutes of having the children use the program I had accumulated a long list of small user interface changes for the program."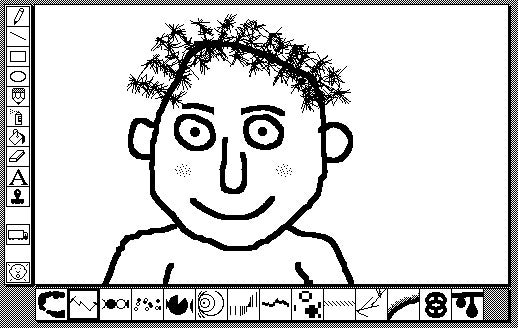 Above: The original Kid Pix. Photograph courtesy Craig Hickman.
Critically, Hickman's friend and fellow UO Professor Ken O'Connell insisted that Hickman sell the program rather than give it away. So by June 1990 "I was starting to get $25 checks in the mail for Kid Pix Professional. It was a real treat to walk out to the mailbox every day and find checks and letters. I ended up selling about 100 copies of Kid Pix Professional. If vintage software is ever collected, it should make one of the really rare finds."
In January 1991, John Sculley featured Kid Pix in his keynote speech at MacWorld. In the following issue of Macweek, a headline read "Kid Pix Vrooms past Sculley at Expo." About the same time, software publisher Broderbund started work on Kid Pix for DOS. 
In March 1991, Kid Pix 1.0 was released for Mac. Sales were significantly above expectations and the reviews were exceptional. Very positive reviews appeared in MacUser, The San Jose Mercury News, The Wall Street Journal, The New York Times and The Whole Earth Review. A MacWorld Magazine review stated, "Pros: Brilliant; hilarious; innovative; inexpensive. Cons: None." An article in the Wall Street Journal referred to it as "a startling product for the Macintosh that uses color and sound."
Kid Pix also won a number of awards, including the 1991 MacUser Eddi for best Children's Program, the 1991 Software Publishers Association Awards for Best User Interface in a New Program and Best Early Learning Program (presented on stage by Bill Gates, who went on to create a competing product), and the MacWorld World-Class award for Best Education Program.
Kid Pix was sold around the world in about a dozen languages, including Finnish and Hebrew.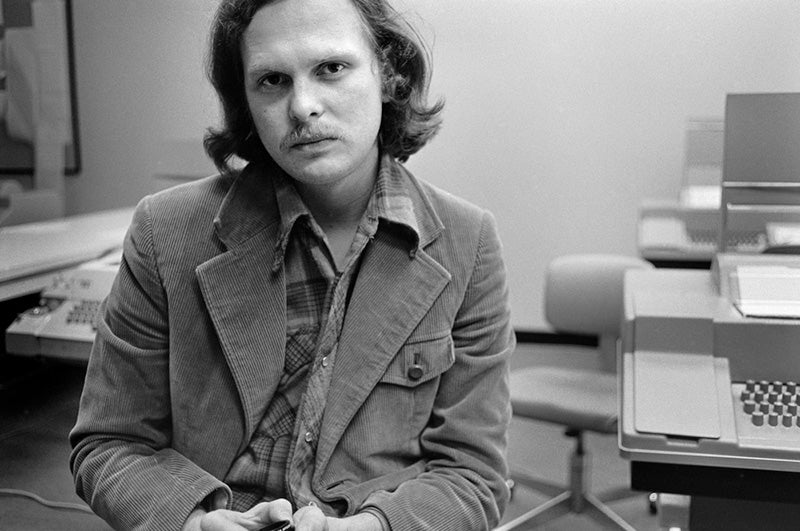 Above:  Hickman, circa 1972, next to a computer terminal shortly after he was introduced to programming. In 1975, Hickman cofounded Bly Sky Gallery in Portland. In 1984, he joined the UO Department of Art. Photograph courtesy Craig Hickman.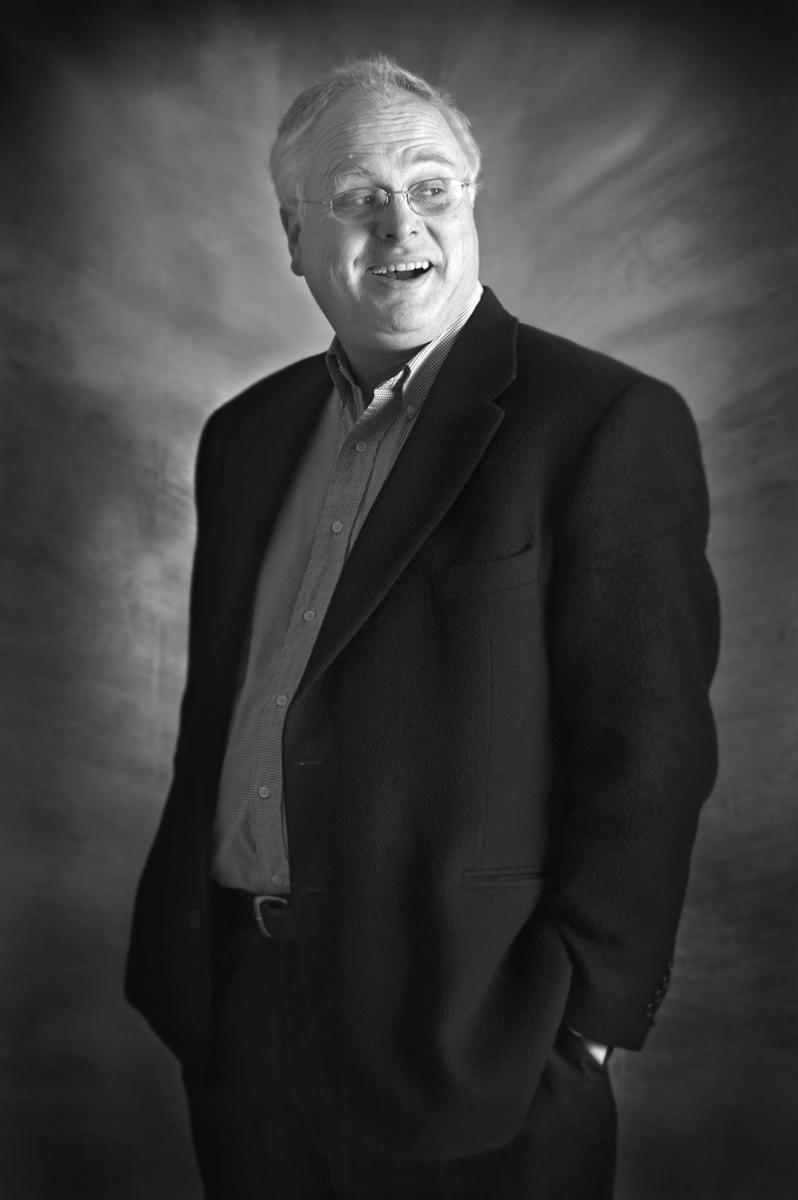 Above: Professor Craig Hickman.