The White Box at the University of Oregon in Portland will present "Picturing Global China," an exhibition of contemporary photography and video art from the People's Republic of China. The show opens Thursday, February 6.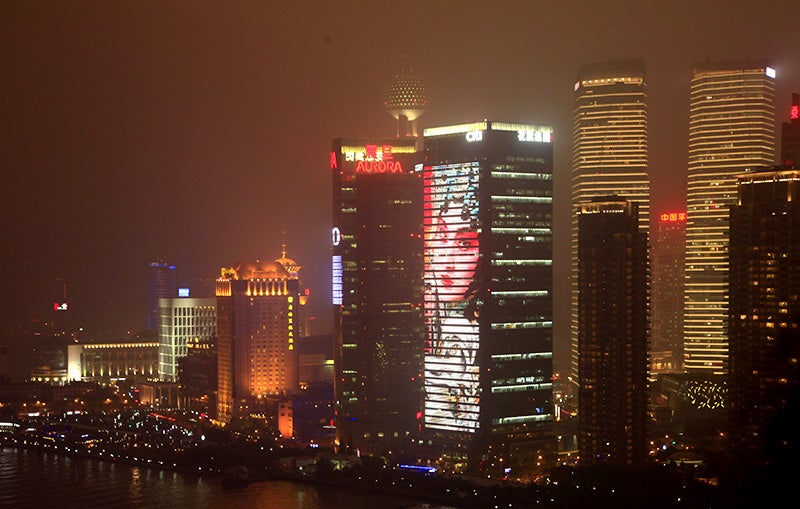 Above: Untitled (Shanghai), 2013, by Liu Yuanyuan, shows an image of the Shanghai skyline from the water, with a video projection of a woman's face onto one of the skyscrapers. Liu Yuanyuan has traveled from Shanghai to be at the White Box opening Thursday night, February 6, performing a short musical set with her sister.
Over the past few decades, China has developed at breakneck speed, with many Chinese cities emerging as world centers of thriving economic and cultural activity. Nonetheless, general perceptions of Chinese culture within the United States remain vague, and are often filtered through local media and biases. Seeking to complicate grand narratives and mythologies attached to China's global rise, this exhibition showcases images by dozens of artists, photojournalists, professional and amateur photographers, and people from all walks of life from all over China.
"Picturing Global China" reflects China's incredibly diverse and radically altering landscape, highlighting images and artistic interpretations of the Three Gorges Dam, ethnic minority villages in Yunnan Province, Chinese Communist Party cadres, punk youth culture, the seaside tourist industry, daily life in rural communities, urbanization in booming cities like cosmopolitan Shanghai, and much more. These surreal, quotidian, experimental, and quixotic pictures map the dreams and realities of China's unprecedented development amid globalization.
Featured artists include John Alexander, Chang He, Patty Chang, Chen Fei, Chen Xiaofeng, Chen Yina, Chen Yuan, Gu Zheng, Hai Liang, He Pei, Hu Chengwei, Huang Shizun, Huang Xiaoliang, Ji Tao, Jin Xu, Jing Yi, David Kelley, Liu Jiajia, Liu Jianhua, Liu Jie, Liu Kai, Liu Tao, Liu Wanyi, Liu Yanpeng, Liu Yuanyuan, Luo Dan, Ning Zhouhao, Tong Dazhuang, Wang Wenlong, Wang Peibei, Wu Pengfei, Xie Ying, Xu Yang, Jay Yan, Yan Yibo, Yang Ming, Ye Baoliang, Zhang Wenfeng, Zhang Xiao, Zhang Yujiao, and Zi Bai.
The First Thursday opening for "Picturing Global China" will feature a reception and live performance by visiting Chinese musicians and featured artists Liu Yuanyuan and Liu Duoni. This exhibition is curated by Jenny Lin, assistant professor in the Department of Art, in conjunction with her fall 2013 course "Contemporary Art Amidst Globalization, Asia Focus."
The exhibition and related events are made possible with support from UO's White Box, Center for Asian and Pacific Studies, Confucius Institute for Global China Studies, Jordan Schnitzer Museum of Art, Department of the History of Art and Architecture, Oregon Humanities Center, Department of Art, Office of Academic Affairs, National Resource Center for East Asian Studies, School of Architecture and Allied Arts, Department of East Asian Languages and Literatures, and Asian Studies Program.