bachelor of arts '11
Young alumnae designs accessories for Steve Madden in New York
Annah Kessler broke into the New York City fashion industry within two years of graduating from the University of Oregon's Product Design Program. She had interned during school then was hired as a design assistant at Will® Leather Goods in Eugene upon graduating. Less than two years later, she became one of the youngest designers at Steve Madden. The shoes and accessories corporation is globally recognized as a leading company in the fashion industry. Kessler now works in the heart of the U.S. fashion industry, from designing belt hardware to forecasting trends with European magazines. A&AA writer Cari Johnson interviewed Kessler in June 2013.
Q: What do you do at Steve Madden?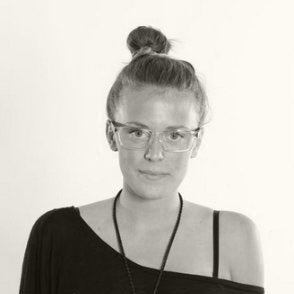 AK: I am an accessories designer at Steve Madden at an associate level. I'm in the belts division right now. I design for a bunch of different accounts, for example, Betsey Johnson. There are four markets a year and we need anywhere from thirty to fifty styles per market. "Market" is a week where all of the buyers come in and select which products they want for the season. So for each of those accounts I need to design and develop—from the inspiration process to designing plans to the actual communication with factories to make sure samples come in, to select materials, etc. I design a lot of hardware as well.
Q: What does a typical day look like for you at Steve Madden?
AK: I get to work at 9 a.m. Since we work with companies overseas, most of our mornings are catching up on emails they sent during our nighttime asking about products, materials, etc. Depending on how close we are to market, I'll design all afternoon for any of our various accounts. I can usually get out ten to fifteen specs [information on a product's material, color, size, hardware, etc.] a day. I spend a lot of my afternoons researching trends and shopping the market both online and actually going out to stores. We tear out pages of magazines and put together a [fashion] spread [to forecast trends, useful for pitching a style].
Q: So you have to be ahead of the game!
AK: Yes, very ahead. Usually Europe is ahead of the trends, so we get Vogue from Italy and magazines from all over that help us forecast trends.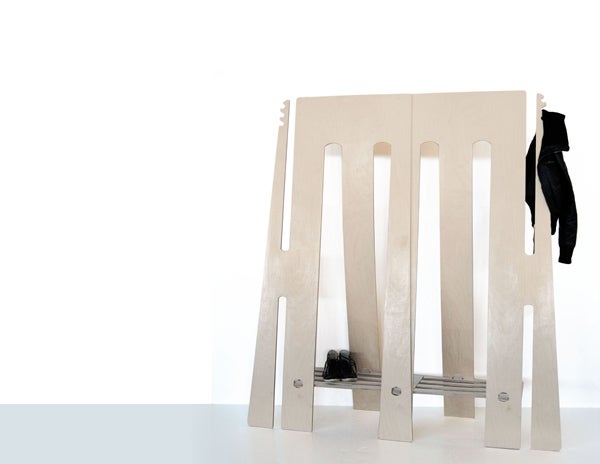 Above: Pocki "modular" Room Divider, which Kessler co-designed as a student at UO. The product showed at the 2010 International Contemporary Furniture Fair in New York. It comprised two sheets of 4' x 8' birch plywood and featured flatpack construction. No screws, nails, or glue were used; all joints and connections are natural. Photography courtesy Annah Kessler.
Q: Can it be hit or a miss with certain designs?
AK: Absolutely. We will design something we think is so great because we see it coming—and it just tanks.
Q: Can you tell me about a specific project you are working on?
AK: Betsey Johnson is doing a runway show for September Fashion Week and I'm working with her to develop belts for it. It's fun to work with the designers at Betsey Johnson and with others who have "made it," who have gone through so many different experiences in the industry.
Q: What skills do you use today that you took away from the UO School of Architecture and Allied Arts?
AK: The Product Design Program opened my mind so much. It taught me how to see things differently, even to this day when I'm with my colleagues at Steve Madden. When we are having a design session, I feel like I almost have a special power because of how I was taught to think about things as a whole and with the little details. That came from the curriculum. It didn't come from just one class—I had to take a range of classes, from the history of Asian art to woodworking. Totally different ends of the spectrum, but it all came together. It gave me one huge skill of how to think about things and to put them together in the right way. It's more holistic than any specific skill.
The UO Product Design Program sets you up to do anything creative. It teaches you about the creative thought process to get you from point A to point B. It enabled me to do anything I wanted, so now I feel like I can do anything.
Q: Where were you professionally before you were hired at Steve Madden?
AK: I had an internship at Will® Leather Goods in Eugene when I was finishing up my senior year of college. The day before I graduated I got three job offers: two of them in Portland and one with Will® Leather Goods. I really, really didn't want to stay in Eugene but I knew the company had positions in New York and I wanted to move there. So I decided to go with Will as a design assistant. I literally did everything, from merchandising to sales, from planning to design to branding. I even redid their website.
Above: Kessler designed the Genuine Leather tote bag for Will® Leather Goods in 2012. It was manufactured in China. Photography courtesy Annah Kessler.
Q: And then you moved to New York?
AK: In 2012, I bought a one-way ticket to New York. I told my boss that while I wanted to stay with the company, if I couldn't move then I would have to quit. And he let me stay! So I moved to New York with Will® Leather Goods in June 2012. I stayed with Will for six more months, then decided I wanted to have onejob instead of seven [laughs]. I worked with a headhunter to get to Steve Madden.
Q: How did you decide that New York was the place to be?
AK: Honestly? Because I couldn't move to Copenhagen, Denmark. I studied abroad there and fell in love with it. But it's really hard to move there and work if you aren't Danish. So I kind of ruled that out. It's funny, because when I was looking at colleges, I did not want to move to the East Coast [Kessler is a native of Portland, Oregon]. It wasn't even an option. But during my sophomore year of college, I visited New York with a girlfriend and the energy just caught me. I think the energy catches everyone. So I made it a goal. I needed to move here.
Q: What excites you about your job?
AK: It's very different than Will® Leather Goods, which is a niche company. The most exciting thing was the change, moving from a family-owned company that's run by a creative lunatic genius to a corporate company. [Will® Leather Goods is run by the Adler family, an entrepreneurial and creative group. William's wife of 35 years, Sandy, is a UO yoga and meditation teacher. The family also owns a Eugene yoga studio, Freedom Yoga.] It's giving me experience I'm not used to. It's so new, designing for these big department stores. And the most exciting thing is what I learn every day—the differences between markets, the preferences of customers who shop from Anthropologie to Walmart. It's almost like anthropology. That's the exciting part.
Q: Is your career what you expected it to be when you were a student?
AK: My freshman year I was a business major and I really didn't know what I wanted to be. I've always had an entrepreneurial spirit. I took an art class my sophomore year as an elective and my instructor referred me to the product design program. So I applied on a whim, and I got in. I started taking design classes but I honestly had no idea what I wanted to do. When I studied abroad in Denmark, that's when I started to get into fashion. I was never super into fashion before. I appreciated clothing and I liked shopping (as any girl does), but there was something about Denmark that really inspired me. So I came back in my senior year really wanting to get into fashion. So I am where I plotted myself out to be—but I'll be honest, every day I'm not sure what I want to do. [Laughs.]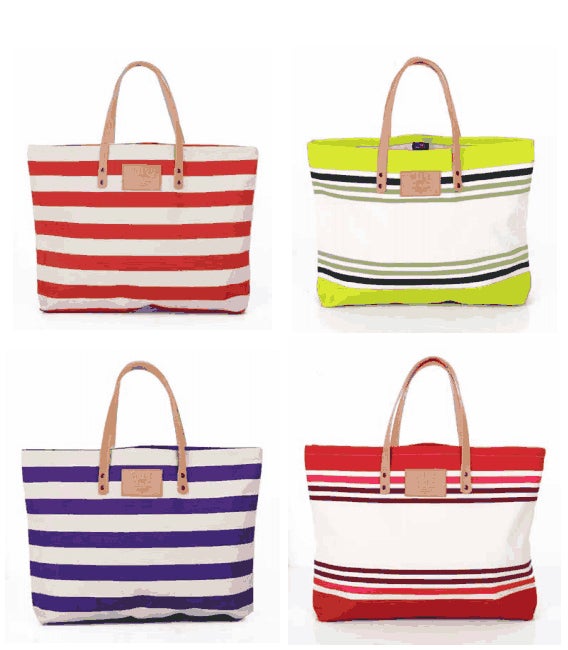 Above: Kessler designed the Canvas Striped tote bag for Will® Leather Goods in 2012. It was made in the United States. Photography courtesy Annah Kessler.
Q: Was there a specific moment in your life when you realized you wanted to go into design?
AK: The most specific moment was in Copenhagen, where I studied textile design at the Danish Design School [the Royal Danish Academy of Fine Arts— Schools of Architecture, Design and Conservation School of Design]. I was already studying design but that's what inspired me to go into fashion. Ever since I was little I would design things. My dad was a carpenter so we had a woodshop while I was growing up and I'd always be in there tinkering with things. I've always been very creative and had a sense of design.
Q: Did you do anything in particular to prepare for your job at Steve Madden?
AK: For this specific career in this industry, I'd say that it was fifty-fifty preparing myself and the program that prepared me. For example, I didn't take any fashion classes at the U of O. But the school taught me what I needed to know. I refined my sketching skills, refined my presentation skills, and took a class on portfolio making. So I prepared myself but I definitely couldn't have done it without what I was taught.
Q: Did you have a specific mentor or faculty member that helped you during your time at the UO?
AK: Yes—the product design program director, Kiersten Muenchinger. She was instructor of the first product design class I took. She really inspires me by how successful she is. She's professional and business-like but at the same time creatively brilliant. So I always looked up to her. She was always engaging in class and I respect her very much.
Q: Since you are very design-oriented, do you have any projects outside of Steve Madden that you are working on?
AK: Absolutely. I've always been into communication design and I'm starting to apply that to user-experience design for websites. I'm starting a free-lance company with my roommate, who is in the art world. We are starting a branding and PR company that works in the creative industries like fashion, art, and design. Right now we are working with a plant company.
Q: What are you most proud of professionally?
AK: I'm the youngest person on my team by far. Everyone I work with is quite older. I feel like a lot of people either get intimidated or feel oppressed because they are young. I've worked really hard to get to where I am. I have tons of room to grow—I can only go up! It feels good to work with people who are very experienced. I'm able to make up for my lack of experience with my determination and skill.
Q: What advice would you give to students at the University of Oregon?
AK: First and foremost, be involved. During school I was involved with the Industrial Designers Society of America. I liked keeping up with things in the industry. It's so important to be involved, because at the end of the day it's about who you know. That's what I've learned so far. Build connections while you're at school—whether it be with your professors or your teaching assistants or peers. Keep those connections and take advantage of them. It's very crucial. I got my internship with Will through a peer.
Q: Are there any awards or credentials I should be aware of?
AK: In my senior year one of my projects was in the ICFF (International Contemporary Furniture Fair), which goes on every spring in New York. It's a pretty big deal and UO has showed in it three years now. One of my projects (with a peer) was in it. I'm really proud of it – we did a good job.
This story was published as part of the 100 Stories collection, compiled to celebrate our 2014 centennial and recognize the achievements and contributions of our alumni worldwide. View the entire 100 Stories archive on the College of Design website.