2020 Research Highlights
Hiba Ali was featured in online exhibitions "Moving Ether Way" curated by Holly Chang and Karina Iskandarsjah at Trinity Square Video's V/Art Projects and Abra: Digital Exhibition in Left Contemporary, Windsor, ON and also completed residencies in the ADA DADA Residency program in Toronto, ON and the Squeaky Wheel Artist and Mentor in Residence, Squeaky Wheel, Buffalo, NY.
---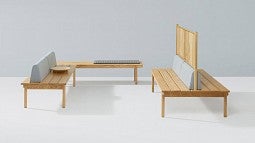 John and Wonhee Ardnt/Studio Gorm launched Maru Collection for Memo, Seattle, WA.
Image: John and Wonhee Ardnt/Studio Gorm, Maru Collection
---
Jonathan Bagby curated the exhibition "Paper Dagger" and helped design and facilitate the inaugural season of the Transformation Residency, a residency program supporting transgender and gender-diverse visual artists in Oregon at Tropical Contemporary.
---
Mika Boyd participated in the Ayatana Art and Science Research Residency "Germinate" in Ottawa, Canada, "Common Ground" at Eugene Contemporary Art, and the Mid-America Prints Council Biennial Conference, Power of Print, Themed Portfolio: "Banner Flags of Resistance and Revolution" at Kent State University.
---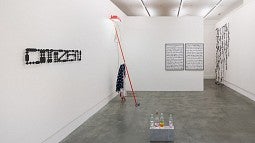 Tannaz Farsi had a solo exhibition "A More Perfect Union" at Holding Contemporary in Portland, OR and was featured in group exhibitions including "Migrating Bodies: For(Saking) Life, Liberty, And The Pursuit Of Happiness" at the Schneider Museum of Art in Ashland, OR and "[In Flux :on influence, inspiration, transmission and transformation]" curated by Zahar Vacks at Ortega Y Gassetin Brooklyn, NY.
Image: Tannaz Farsi, "A More Perfect Union" installation
---
Brian Gillis was featured in the 2020 Terrain Biennial, Enos Park, Springfield, IL, the 2020 International Conference on The Image Pop-Up Exhibition at the University of New South Wales, Sydney, Australia and his work was included in "Porcelain and Bone China" by Sasha Wardell, Crowood Press Ltd, UK.
---
Colin Ives' project "Aleph Earth" premiered at currents new media festival and was featured in an interview in Early Music America. He was an Oregon Arts Commission 2020 Individual Artist Fellowship recipient.
---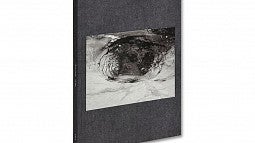 Ron Jude's monograph "12 Hz" was published by MACK, London and was included in "Fact and Fiction in Contemporary Photography" curated by Toby Jurovics at the Joslyn Art Museum in Omaha, NE and in "Camera Austria: 'What's at Stake/What's Missing?'" issue 150/151, 2020.
Image: Ron Jude, "12 Hz" monograph
---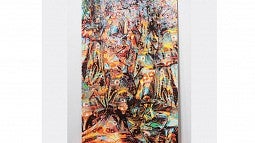 Charlene Liu's work was featured in the presentation "Another Beautiful Country: Cross-Cultural Hauntings in Chinese American Art" during a two-part symposium "Feminism in American Art History" supported by the Wyeth Foundation for American Art, The National Gallery of Art, Washington, DC and included in "Surface Impressions" at LUX Center for the Arts in Lincoln, NE.
Image: Charlene Liu, "Cascade" screenprint and acrylic paint on aluminum with wood ledge
---
Donald Morgan received a 2020 Hallie Ford Fellowship.
---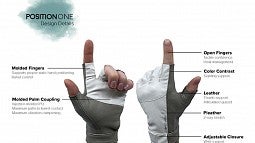 Kiersten Muenchinger's "Position One Shooting Glove" (image) was a 2020 International Design Excellence Award (IDEA) finalist, presented "UOPD x Prison Blues" at the Design Principle & Practices Research Network conference at Pratt Institute, Brooklyn Campus, Brooklyn, and was awarded a UO Remote Teaching Award.
Image: Kiersten Muenchinger, "Position One Shooting Glove"
---
Jack Ryan, Anya Kivarkis, and Tannaz Farsi were featured in "[What Needs to be Said]: Hallie Ford Fellows in the Visual Arts" curated by Diana Nawi Disjecta Contemporary Art Center, Portland, OR.
---
Stacy Jo Scott received a Career Opportunity Grant through the Oregon Arts Commission and Ford Family Foundation that will support an Artistic Researcher-in-Residence position at Oslo National Academy of the Arts in Norway in Fall 2021.
---
Erdem and Hale Selek/Selek Design received a 2020 Grey Magazine award in the product design category and were longlisted at Dezeen Awards 2020 for "Emerging Designer of the Year" and for "Homeware Design."
---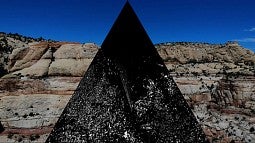 Rick Silva was included in "State of the Art 2020" at the Crystal Bridges Museum of American, Bentonville, AR, in 150 Media Stream in Chicago, IL and in Hors Piste, which opens January 22, 2021 at the Centre Pompidou, Paris, France.
Image: Rick Silva, "Western Fronts" digital film still
---
Susan Sokolowkski received an Applied Human Factors and Ergonomics (AHFE) 2020 Best Research Paper Award for "Investigation of 3D functional grip shape to design products for dog walking and hiking" and had over Over 240K reads of "Making masks at home – what you need to know about how to reduce the transmission of coronavirus" published in "The Conversation", The Chronicle of Higher Education.
---
Jessica Swanson participated in a residency at Createspace Wales, UK.
---
Jessie Vala participated in the Archie Bray Residency in MT and collaborated with Carla Bengston in "Every Word was Once and Animal" at the JSMA, Eugene, OR.
---
Ty Warren participated in the Transformation Residency with Tropical Contemporary, Eugene, OR.
---
Amanda Wojick was selected for a commissioned project for the City of Salem's Public Library to be installed in 2021.