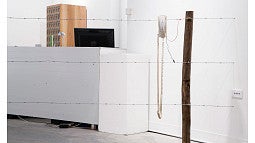 David Rueter: Barbed Wire Fence Telephone, 2014, telephones, fence posts, barbed wire, test leads, 9v battery, work gloves. Viewers who pick up the telephone receivers can use them to talk with one another, through a network formed by and limited to the fence itself. This work was produced through a collaboration with artist Phil Peters.
---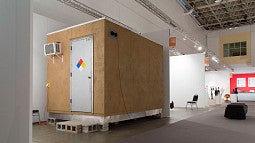 David Rueter and Marissa Lee Benedict: Dark Fiber (EXPO Chicago), 2015, single-channel video installation. To screen Dark Fiber at EXPO Chicago 2015, Benedict and Rueter constructed the Contestational Infrastructure Research Annex (CIRA), a mobile theater disguised as a telecommunications equipment shelter.
---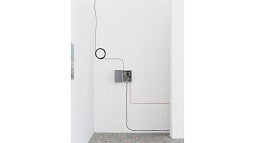 David Rueter and Marissa Lee Benedict: Dark Fiber (Brussels), 2014-2019, 10-minute single-channel video installation featuring the artists drilling, burying, and threading fiber optic cable through various landscapes of the western and midwestern USA, and through industrial, commercial, and home interiors.
---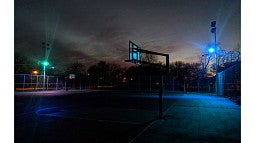 David Rueter and Marissa Lee Benedict: Gary Lights Open Works (Gary, Indiana), 2016-present. The ten streetlight installations, in conjunction with a series of public workshops for youth, adults, and seniors, comprise the artist's collaborative research initiative Gary Lights Open Works (funded in 2016-17 by the National Endowment for the Arts and the Legacy Foundation). The installations and workshops question the idea of the standard streetlight by developing alternative visions, such as lights that can produce any visible color, blink and fade, react to speech and music, or communicate with other lights.
---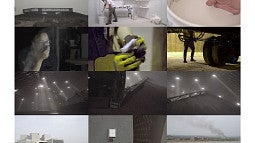 David Rueter: I Can Only See Shadows, 2016, three-channel video installation. Following the dusty, spiraling motions of particulate matter, the installation erratically traces the logistical routes that petcoke (a dust-like waste product produced from refining bituminous sand) takes as it moves from its origin in Canada's Athabasca oil sands through southeast Chicago (where it is processed and stored), to northern China (where it is burned as a low-cost alternative to coal).