bachelor of fine arts '74
Sculptor creates public art
On an old dairy farm in the secluded town of Sedalia, Colorado, there is an overwhelming feeling of nature. There are big, blue skies. There are the Rocky Mountains to the west. There are goats roaming in the fields. But there is one fairly unnatural corner of this farm—the artist's corner.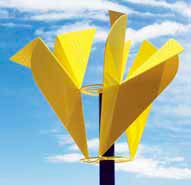 Bill Mueller, who graduated in 1974 with a bachelor's of fine arts in sculpture, uses this old farm and its surroundings as inspiration for his behemoth, steel public art creations. The industrial-looking pieces may seem out of place, but Mueller says his work always responds to the surroundings.
His sculptures are geometric, folded forms of metal that are sharp and clean-cut in shape. The angles attempt to play with the light in the area. "They look very free-form, but they're very precise pieces," said Mueller. "It's kind of like putting together a 3-D puzzle."
Mueller also uses glossy, bold hues to manipulate light. "I use the colors more indigenous to the area," said Mueller. "The way the light interacts with the glossy pieces is just amazing."
Currently, his pieces are scattered all about the west coast. Towns in Oregon, Idaho, and Colorado own a number of these large-scale works. In March Mueller unveiled his latest commission for the public library in Redding, California.
This story was published as part of the 100 Stories collection, compiled to celebrate our 2014 centennial and recognize the achievements and contributions of our alumni worldwide. View the entire 100 Stories archive on the College of Design website.