bachelor of science '15
Product Design alumnus hits ground rolling at Arcimoto
As a freshman at UO, Collin Lafayette lost interest in his stated major, business, fairly quickly. Instead, he found himself regularly helping out his roommate with his Product Design Program homework. Lafayette taught his roommate about line weight—for example, how a thicker line could distinguish a border—and how subtle use of shading can offer 2D drawings depth and realistic detail.
"I was always interested in design, and my parents were saying 'You should be an artist!' I was like, 'I don't want to be an artist. I want to try to make some money,' " Lafayette says, whose passion for design eventually got the better of him. "I feel like I developed a creative eye for aesthetics at a young age, and [the] Product Design [Program] gave me the opportunity to pursue this skill."
Product design came naturally to Lafayette, who, as a sophomore in high school, morphed a block of pinewood and a CO2 gasket into a functioning racecar during an architectural and technical drawing class. "It was pretty much the Pinewood Derby on steroids," he says.
The teacher held onto the winning car design to save it for the following year when it would compete against a new batch, and Lafayette's car won the race two years in a row.
By the time he was a sophomore at the University of Oregon, Lafayette had compiled a portfolio and was accepted into the Product Design Program. He enrolled in Assistant Professor Trygve Faste's courses that focused on designing conceptual vehicles.
During his senior year, Lafayette enrolled in a winter term studio taught by Faste. Students worked in groups to submit designs to the 2016 Michelin Challenge Design competition, which asked them to create a conceptual car with the theme "Mobility For All."

Above: Product design graduate Collin Lafayette, along with fellow students Connor MacFarlane and Cole Watson, designed an electric golf-cart sized vehicle called the URRU for a Product Design Program studio. The design was submitted to an international Michelin competition, where it placed as a finalist.
Lafayette, BS '15, along with project partners Conner MacFarlane, BS '15, and Cole Watson, BA '15, designed an electric golf-cart sized vehicle called the URRU. This design was ultimately submitted to the international Michelin competition, where it placed as a finalist. Lafayette and his group were one of two winning teams from the United States. The competition included more than 900 entries from university design students, freelance designers, professional design studios, and automotive companies from around the world.
In January 2016, the group's design was featured at the International Automotive Show in Detroit, Michigan. The vehicle design directly launched Lafayette's career at Arcimoto, the Eugene-based electric car start-up company founded by Mark Frohnmayer, son of the late UO President Dave Frohnmayer.
Lafayette's group researched Third World environments, discovering that travelers in many of those regions often overstuff their vehicles with too many passengers or precariously secured cargo. Lafayette and MacFarlane wondered: What's a convenient car that can whip around town and park anywhere but still carry a decent payload on questionable road surfaces?
"So we literally went out to a parking lot and measured a Smart car," he says. "We used that as a reference."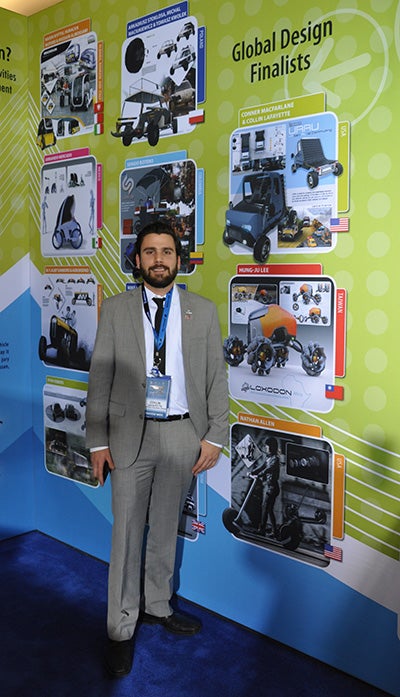 Above: Lafayette and his project posters at the International Automotive Show in Detroit, Michigan, in January 2016, where his design for the URRU was exhibited. Discovery Channel Canada news program "Daily Planet" also featured the URRU in a science program featuring groundbreaking transportation concepts. Photo courtesy Joleen Lafayette.
After several weeks of planning, the URRU was born. Its namesake is a hybrid of "urban-rural commuting" named for the different road grades that the vehicle could trek, like the perilous, rutted terrain commonplace to Third World countries. The compact URRU features a collapsible flatbed storage space. The team created a prototype from cardboard to demonstrate its capacity for practical cargo transportation.
"They did a wonderful job with a very difficult concept," says Faste. "I was struck by their dedication to making the concept believable and the attention that they gave the details. Ten weeks is a short amount of time for a large project like this, and they did an outstanding job."
When Lafayette and MacFarlane showed off the URRU design during a class critique, a representative from Arcimoto was present among reviewers checking out the projects.
"You could tell he put a lot of effort into the design and it was well thought-out. It's hard to stand out in that program; they have a lot of talent," says Joe Morgan, production manager for Arcimoto, who critiqued the class designs.
MacFarlane says that without the URRU design, Arcimoto probably wouldn't have hired Lafayette.
"Our design was relatively simple and solved some issues in a relatively simple way," MacFarlane says. "I think [Arcimoto representatives] saw potential, and that is what people want when they hire somebody."
Lafayette graduated in June 2015 with a degree in material and product studies, and persistently reached out to Morgan for an internship.
"One of the first things they said was, 'This is not going to be a normal internship. People are going to be counting on you to get stuff done,' " Lafayette says.
He eventually landed a gig as an industrial design intern at Arcimoto and was hired full time the summer after he graduated.
Says Morgan of Lafayette's work at Arcimoto, "Here he learns seventeen new things a day. He's a great team player."
Within the growing electric vehicle industry, Tesla Motors, Chevy Volt, and Nissan LEAF offer different car styles for different consumers.
While Tesla has conceived an all-electric luxury vehicle with self-driving capabilities, Internet access, and a dashboard interface with innumerable settings, Arcimoto has taken the reverse approach to figure out how to engineer a very simple, minimalistic and affordable, all-electric vehicle.
Technically, it's classified as a three-wheeled motorcycle. The reverse tricycle-style design (two wheels in front, one in back) prevents it from easily toppling over when turning. Its newest model—the Generation 8 SRK—has two motors located under the front wheels, giving it a low center of gravity. Handlebars replaced the steering wheel. This simplification of a car's bulky, superfluous features gives the Gen 8 SRK an agile weight of 1,023 pounds, compared to the previous generation's 1,750-pound design.
The Gen 8 SRK can reach a top speed of 85 miles per hour and hold an electric vehicle equivalent of 230 miles per gallon. Its battery pack provides a 70-mile range on a full charge. An additional battery pack pushes it to a 130-mile range.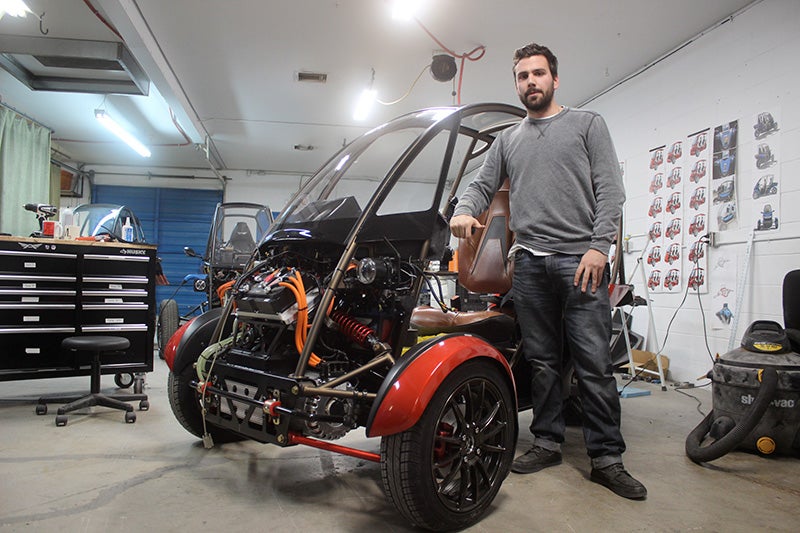 Above: Product design graduate Collin Lafayette stands beside an Arcimoto Gen 8 SRK in the electric car start-up's development garage, where he works as an industrial designer. Lafayette designs concepts on paper, refines them in computer-aided design, and played a major role in the production of the Gen 8 SRK's fiberglass body parts. Photos by Emerson Malone.
Lafayette's role at Arcimoto is as an industrial designer. He develops concepts on paper then refines them into a detailed computer-aided design (CAD) draft, which is used for production. He works directly with vendors to detail CAD models, to make sure parts are machined to the highest quality. Lafayette also had a major role in the production of the Gen 8 SRK's fiberglass body parts.
"It was really awesome to see the whole design process come full circle," says Lafayette. "Starting with rough sketches and seeing parts I designed come to life in a finished form is really cool."
Gizmag, a technology news site, stated that the Arcimoto SRK may be "the elusive inexpensive electric vehicle" that the car industry has attempted to master for years.
"Collin is a great example of a student who really stuck with his design education even when it was challenging for him. … I'm really happy that he is contributing his design energy and ideas in the professional world," says Faste. "I'm sure he will continue to do well."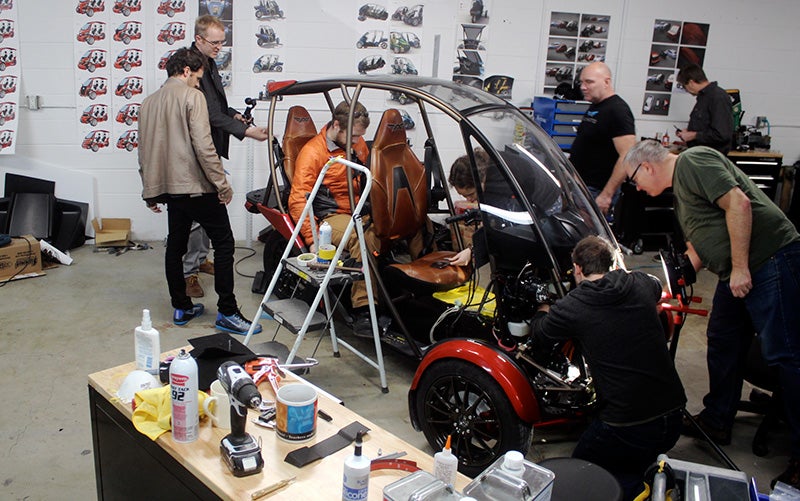 Above: Various team members in Arcimoto's development bay apply some finishing touches on the Gen 8 SRK prototype before it's sent to San Francisco and Los Angeles during a public unveiling in December 2015.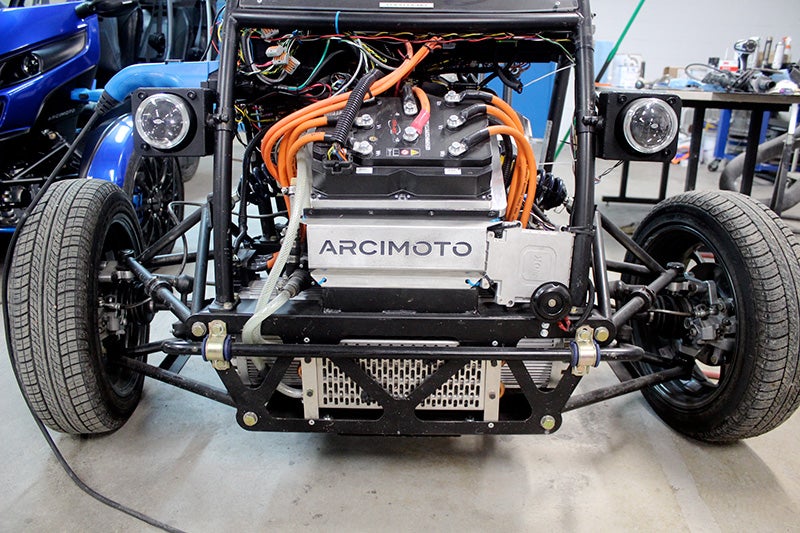 Above: The exposed interior of an Arcimoto Gen 8 SRK prototype, with its motor and battery pack revealed, sits in the Arcimoto development garage.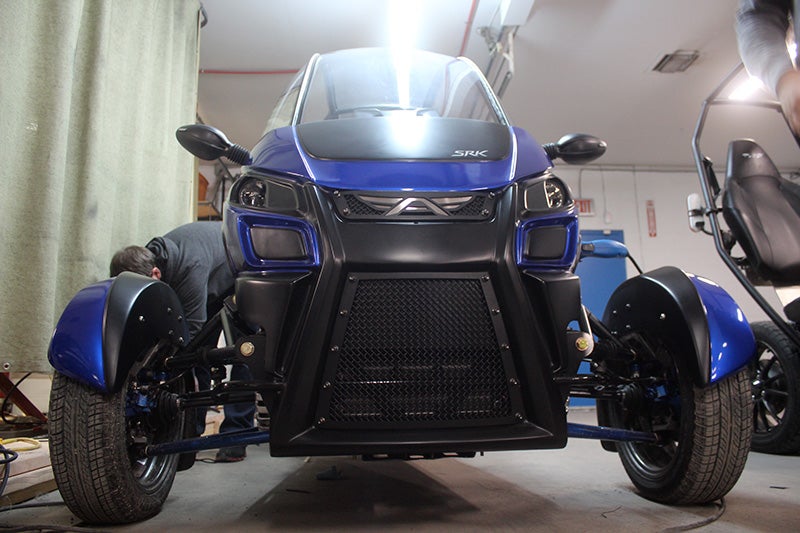 Above: The front of an Arcimoto Gen 8 SRK prototype.
Published August 31, 2016