master of fine arts '40
A champion of Northwest Regionalism in painting, printmaking
When asked in a 1947 interview about her lifelong love of education, Constance Fowler said "I have found congenial people with seriousness of purpose and enthusiasm for discussion and experimentation. At the same time, I have been able to continue my own work. So you see, I teach to paint and paint to teach."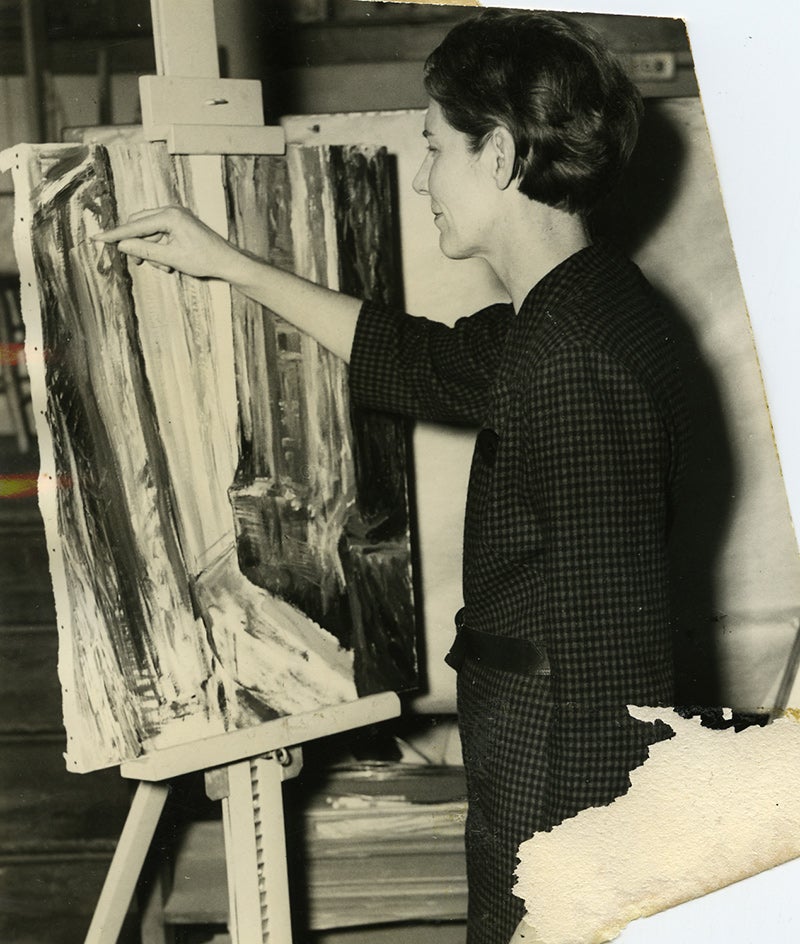 Constance Fowler in the 1940s. Image courtesy Hallie Ford Museum of Art.
Fowler was born in 1907 in Minnesota to immigrant parents. In 1923, the Fowlers settled in Pullman, Washington, with the hope that life in a college town would offer Constance and her sister, Margaret, a better chance at a college education.
In Constance's case, this proved true when she graduated in 1929 from Washington State College in Pullman.
After studying for an additional year at the University of Washington, Fowler and her family moved to Salem, Oregon. In the early 1930s, she taught art lessons for a dollar each, until she became a founding faculty member of Willamette University's art department. She would remain at Willamette until 1947.
In the summers of 1936-1938, Fowler received highly sought-after Carnegie grants to help her complete a master of fine arts degree. This was an exciting prospect for Fowler, as such grants were few and far between during the Depression.
Only two schools in the country had these Carnegie programs: Harvard University and the University of Oregon. As a result, Fowler found herself in Eugene.
While at the UO, Fowler had the opportunity to study architecture and social issues with philosopher W. R. B. Willcox and painter Andrew Vincent, as well as countless other emerging artistic minds like herself.
Fowler completed her MFA in 1940, with her final thesis project serving as what many consider to be her artistic peak. The project, a collection of twenty engravings depicting historic Willamette Valley sites, was titled The Old Days: In and Near Salem, Oregon.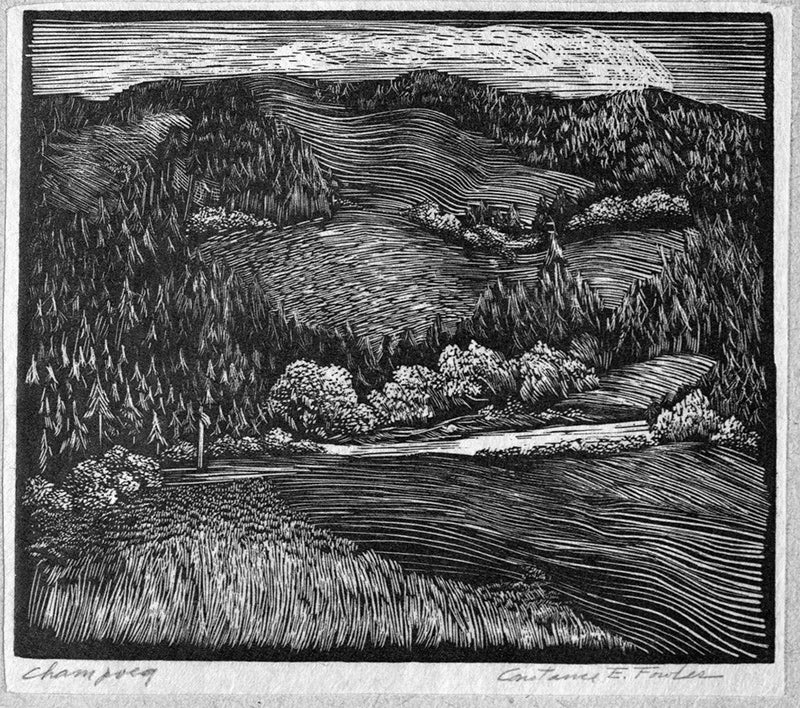 Above: "Champoeg," which Fowler completed for her MFA project at UO.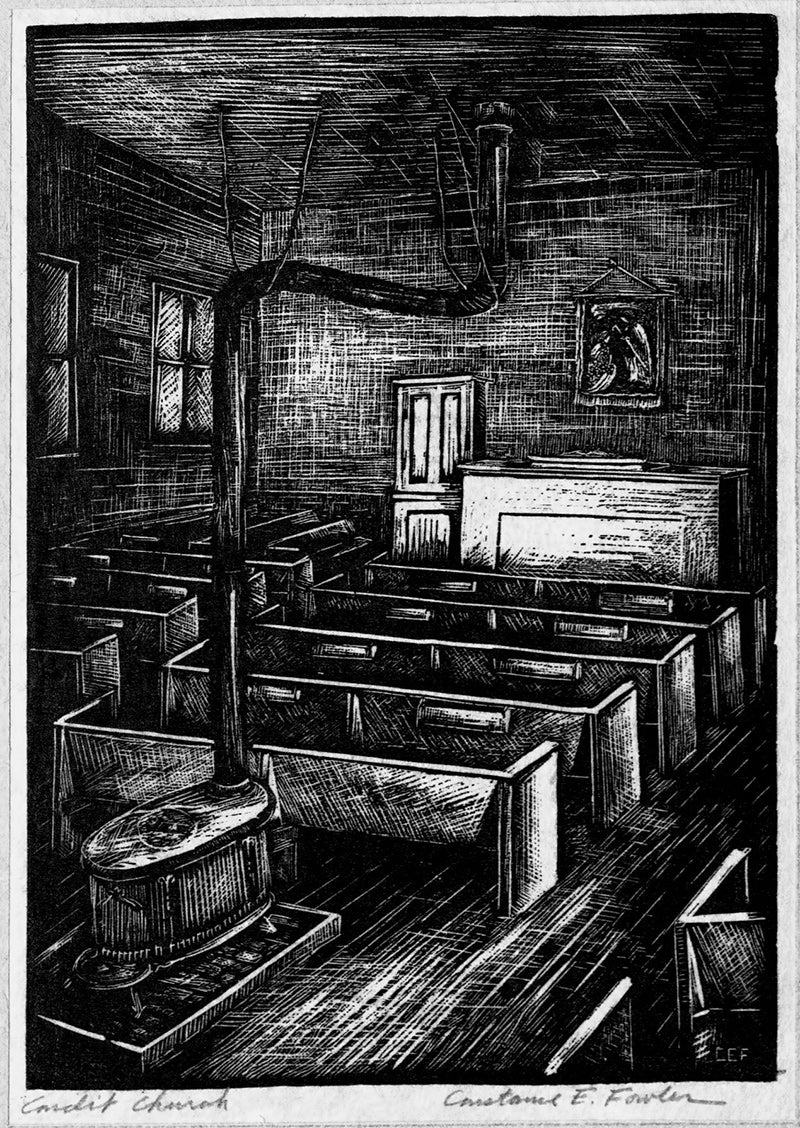 Above: Condit Church—From the Old Days In and Near Salem, Oregon, 1940. Fowler made the wood engravings and wrote an accompanying text as her MFA project at UO. The project was published in 1940 and again in 1969.
Her incredible artistic sensibilities and loving depictions of the Pacific Northwest caused the book to become very popular. Fowler became both a champion and practitioner of Northwest Regionalism, an expressive painting style that attempted to capture the natural beauty and wonder of the Pacific Northwest.
In a review of her work, writer Carl Hall noted that "nature, both as subject matter and as a condition of energy or growth and the corresponding implicating patterns and surfaces, is the prime image making force behind her work."
Her artwork was exhibited multiple times in both the Portland Art Museum and Seattle Art Museum, as well as at the New York World's Fair of 1939. Fowler's work was selected for San Francisco Museum of Art's "Oregon Artists" exhibition, showcasing some of the Pacific Northwest's most inspiring artists, including fellow Northwest Regionalists William H. Givler and Charles Heaney.
Through all of her artistic accomplishments, she retained her love for art education. After teaching at Willamette University for twelve years, she left for Albion College in Michigan in 1947. "Leaving Oregon in 1947 was a major step at a crucial moment in the cultural history of the United States, with World War II at an end and younger artists questioning the values of American Regionalism and realism," The Oregon Encyclopedia entry about her states.
This change took her to the Midwest, a far cry from the Oregon landscapes she so preferred. Fowler began spending her summers at Seal Rock, a small seaside village on the Oregon coast.
While in the Midwest, Fowler exhibited in many prominent art galleries and institutes, but still did not feel quite at home in the area. At the age of 59, she resigned from her position at Albion and moved to Seal Rock permanently.
She continued to exhibit and create new art throughout her retirement, selling pieces throughout Oregon. After retiring, Fowler published seventy-five additional copies of her MFA book, printed using the original cherry wood engraving blocks.
An inventory and review of her work was compiled by David Foster in 1993 in order to create a comprehensive collection of the art she dedicated her life to. This ensured that when she died, in 1996, her art would remain in the hearts and minds of fellow lovers of the Pacific Northwest.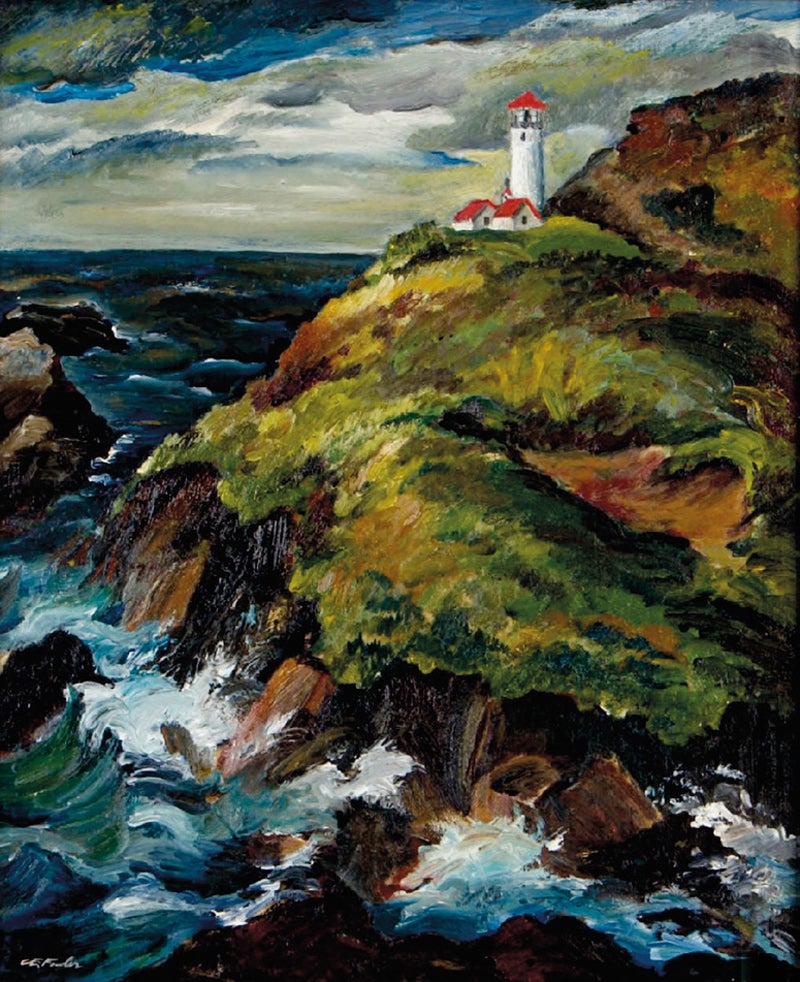 Above: Heceta Lighthouse, c. 1938, oil on canvas, 22 in. x 18 in., collection of the Hallie Ford Museum of Art, Willamette University, Salem, Oregon, gift of Connie Battaile, BAT97.001. Fowler was hired in 1935 to establish the Art Department in its modern form at Willamette. Image courtesy Hallie Ford Museum of Art.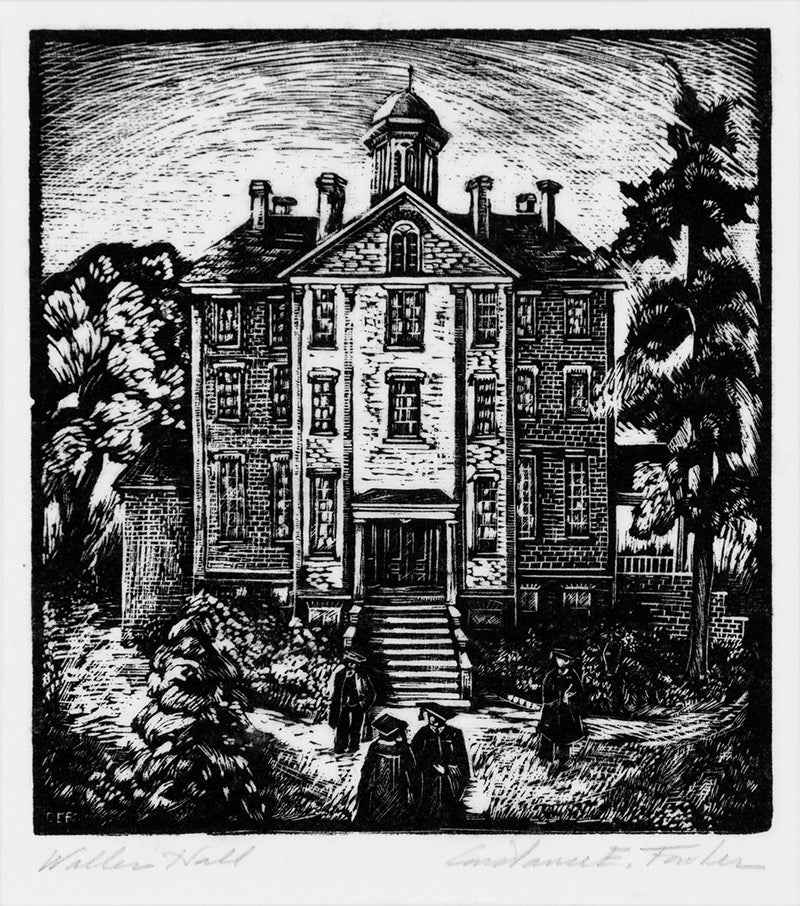 Above: Waller Hall, 1938-40 (reprinted 1969), wood engraving, 6 ½ in. x 6 in., gift of Constance Fowler, FOW92.003. Image courtesy Hallie Ford Museum of Art.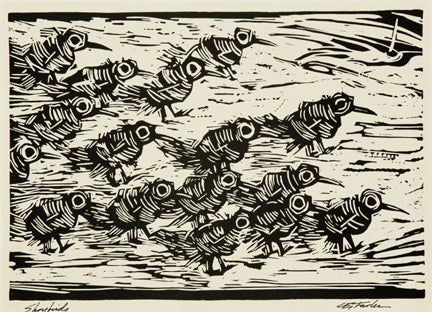 Above: Shorebirds, 1960, linoleum cut, 16 in. x 20 in., collection of the Hallie Ford Museum of Art, Willamette University, Salem, Oregon, gift of Linda and Greg Nelson, 2011.029.007. Image courtesy Hallie Ford Museum of Art.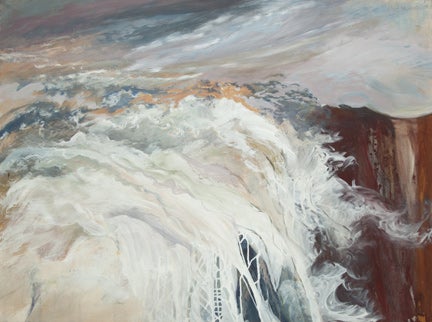 Above: Untitled (Wave and Spray), 1993, oil on Masonite, 36 in. x 48 in., collection of the Hallie Ford Museum of Art, Willamette University, Salem, Oregon, gift of Constance Fowler, FOW94.07. Image courtesy Hallie Ford Museum of Art.
This story was published as part of the 100 Stories collection, compiled to celebrate our 2014 centennial and recognize the achievements and contributions of our alumni worldwide. View the entire 100 Stories archive on the College of Design website.