Erin Gardner, bachelor of fine arts '07
Meg Drinkwater, bachelor of fine arts '07
The Opulent Project redefines luxury with discarded materials
Most people do not think of recycled light panel covers and used plastic nametags when they think of opulence. However, Erin Gardner and Meg Drinkwater, 2007 graduates of UO's metalsmithing and jewelry program, are changing that mindset. The two entrepreneurs are redefining lavishness with their young jewelry company that integrates mass production with luxury.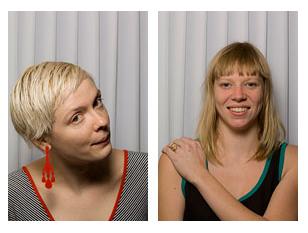 Gardner and Drinkwater are founders of The Opulent Project—the successful jewelry line known for its earrings that appear as silhouettes of chandeliers and jewels. The two designers are currently planning additional products such as rings, pins, and pendants.
"We attempt an analysis of the nature of luxury culture and the notions from which it is constructed," reads The Opulent Project's mission statement. The use of discarded industrial materials for luxurious-looking accessories challenges the idea of commodification while also creating a commodity.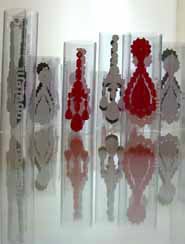 And they've definitely created a high-demand commodity. Initially, the pair designed their popular earring sets for the art department's annual Cheap Jewelry Sale. The earrings, the first laser-cut products at the sale, sold out. Gardner and Drinkwater knew the project was a gem.
It did not take long for the project to flourish. Soon after graduating, the Smithsonian decided to sell the artists' earrings at the Cooper-Hewitt National Design Museum. The October 2008 issue of Italy's Glamour magazine featured the accessories in a spread on museum gift shops.
The Miami University Art Museum has invited The Opulent Project to a 2010 exhibition where visitors can hope to see the newest additions to the trendy jewelry line, which are sure to be grand, divine and, above all, opulent.
Originally published A&AA Review, Fall 2009
Read more about Erin Gardner and Meg Drinkwater on the UO Alumni site.
This story was published as part of the 100 Stories collection, compiled to celebrate our 2014 centennial and recognize the achievements and contributions of our alumni worldwide. View the entire 100 Stories archive on the College of Design website.