bachelor of science '65
Master of illusion George Green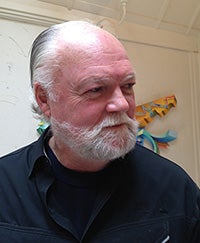 One of the "illusions" comprising George Green's exhibit at the Portland Art Museum was so realistic that the museum roped off one of his large paintings and guards had to keep people from touching it with their hands. At the bottom right of the painting, Green had painted a small piece of masking tape with the end peeled up in the air and casting a shadow. People were compelled to touch the canvas because no one could believe the tape wasn't real.
Art, at its fundamental, is about exploration, and Green has been a master at exploring the many aspects of illusion in his work. The illusions are tied to ideas, concepts, and themes from Green's imagination. In recent years, his work has drawn heavily on his love of the ocean; Green has spent much of his life living on the Oregon Coast.
In Thirty Years of Illusion, a 2005 article about the history of Green's painting, South Dakota State University Professor Leda Cempellin noted that in Green's work, what looks like wood is paint, what looks like beautifully carved wooden frames with deep shadows and a mat is paint, and what appears as cut-out solid shapes floating before you is flat paint.
"No matter how closely viewed, the illusion never breaks down," says Green. "I hand paint all the pictures using only hand-eye coordination. I don't use computers or projectors. These paintings approach the idea of beauty in a classical way and are conspicuously skillful to the limit of my ability."
On his website, his artist's statement notes that "…you will notice that my art has changed significantly over time. Some of these changes are so dramatic they suggest an entirely new approach, or even a different artist. In reality, however, the work is based on fundamental principals and a personal vision that has evolved over time," he writes.
His statement continues: "The considerable differences between the work from 1978 to the present is not a change in vision, but an evolution of small steps over the course of some 1,000 paintings. Sometimes the changes would be so small as to approach the threshold of notice. The engine of change was random activity; mistakes and problems of all kinds recognized as opportunities. True novelty requires an accidental element. In these paintings, no change was thought up as such. What appears to have been invented, has in fact, evolved."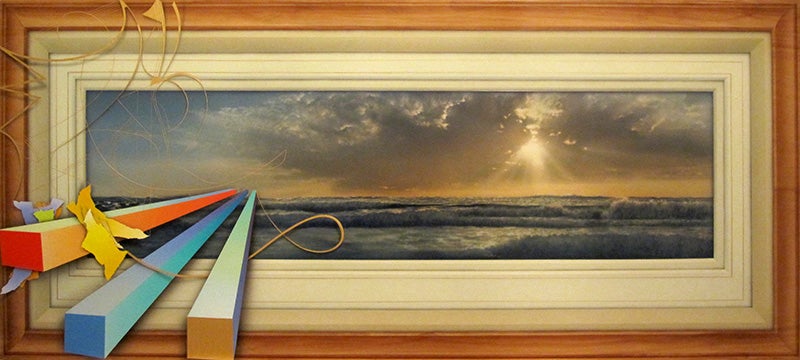 Above: "A long watch: A discernable gleam," 24 x 54 in., acrylic on panel. Detail from "The Poetry of HD Moe: "Giants of everything... Seven waves of the Oregon Coast," 2014.
Green has built an impressive international reputation. Anyone who has put together a one-person exhibition is aware of the many months of work required to produce a body of paintings. Green has had more than sixty-three solo shows in major galleries in the United States, France, and Sweden. He has participated in ninety-four group shows and exhibited his work the U.S., France, Sweden, as well as Belgium, Canada, and England.
More than eighty books, articles, and publications include his artwork and writings about him and his work. He is included in the collections of seventy-one museums and public collections including the Guggenheim, the Los Angeles County Museum of Art, and the Art Institute of Chicago.
Early in his career he taught painting and printmaking at the University of Texas, Austin, and chaired the painting department at SUNY, Potsdam. Today he is represented by the Louis K. Meisel Gallery and the Bernaducci Meisel Gallery, both in New York.
Born in Portland, Oregon, Green studied at Oregon State University, graduated from the University of Oregon (BS, '65), and received his MFA from Washington State University (1968). For part of his career he maintained studios in New York City and in coastal Neskowin, Oregon, working back and forth on the East and West coasts, not wanting to get too comfortable in one place because his imagination worked best when he changed environments. He now resides outside Portland, Oregon.
More information about Green's work can be found on his website or on a site developed by Cempellin that explores Green's work.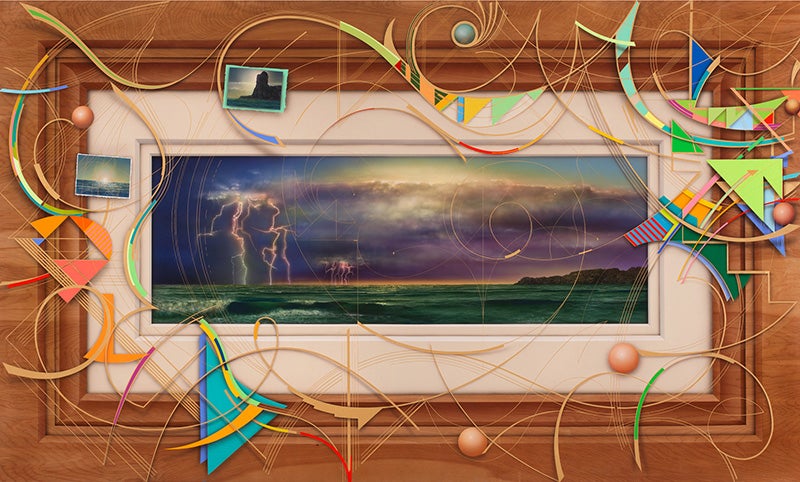 Above: "... Marooned in dreaming: a path of song and mind." 48 x 80 in., acrylic on birch, 2011.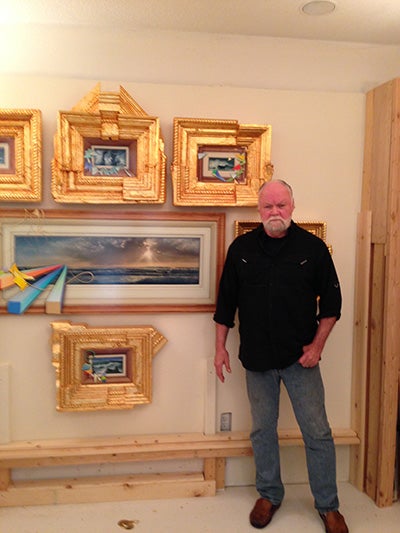 Above: Green and his "Wall poetry" installation.
This story was published as part of the 100 Stories collection, compiled to celebrate our 2014 centennial and recognize the achievements and contributions of our alumni worldwide. View the entire 100 Stories archive on the College of Design website.