bachelor of arts, 1988
CEO of Heard Museum shares his experience in museum curation, administration
What brought Pepper Henry to Arizona was his new position as director and CEO of the Heard Museum in Phoenix. Eighteen months after his appointment, he reflected on what brought him to Arizona and how he has settled into desert life.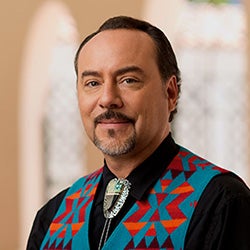 Just over a year ago, James Pepper Henry, '88, traded Alaska's icy tundra for Arizona's sweltering desert. The former director and CEO of the Anchorage Museum laughed, "Adjusting to the temperature was interesting."
Pepper Henry, originally from Portland, Oregon, attended the University of Oregon in the 1980s. He pursued a bachelor of arts degree from the School of Architecture and Allied Arts, studying fine arts and art history. Pepper Henry, who wanted to work primarily as a sculptor, admitted he was interested in working as curator but claimed, "I never knew I would work in administration. I was interested in the process of art, and every artist needs a day job."
A day job quickly turned into a career that eventually carried Pepper Henry to Alaska, where he oversaw the Anchorage Museum. He arrived at the museum with more than twenty years of experience, and during his time with the museum he helped facilitate a $110 million expansion, collaborated with the Smithsonian to open the Smithsonian Arctic Center, and supervised the absorption of the Imaginarium Discovery center—a hands-on science museum—all adding to his already impressive resume.
In early 2013, Pepper Henry announced that he would be moving from Anchorage to Phoenix, where he was hired to direct the Heard Museum. "Transitioning from Alaska, where the warmest it gets is in the 70s, to Arizona, where the coldest it gets is in the 70s, was a challenge," said Pepper Henry, who has since settled into life at the Heard.
The Heard Museum, dedicated to the sensitive and accurate portrayal of Native arts and cultures, houses more than 40,000 objects and includes key collections of Hopi katsina dolls, Navajo and Zuni jewelry, Navajo textiles, Southwestern ceramics from prehistory to the present, and baskets from the Southwest, California, the Great Basin, and the Northwest.
"I'm the first enrolled American Indian to be director of the Heard," said Pepper Henry. "That's huge in an institution representing American Indians, having American Indians at the leadership level. It's a big shift."
Pepper Henry, a member of the Kaw Nation of Oklahoma, is indeed described as a cultural liaison almost as frequently as a museum director. "The Heard Museum was a tremendous opportunity for me to see and promote the work of great American Indian artists," he said. He celebrates his own cultural heritage by participating regularly in his tribe's traditional dances.
In addition to his responsibilities with the Heard Museum and his activities with his tribe, Pepper Henry continues to pursue the dreams that shaped his undergraduate experience at the University of Oregon and informed his long career. He concluded, "I still create. I still sculpt and I still paint. But now I'm helping other artists as well."
By Lili Wagner. Wagner is a University of Oregon undergraduate student majoring in journalism. This story previously appeared on the UO Alumni Association webpage.
This story was published as part of the 100 Stories collection, compiled to celebrate our 2014 centennial and recognize the achievements and contributions of our alumni worldwide. View the entire 100 Stories archive on the College of Design website.