master of fine arts '10
Animation, illustration, storytelling just part of artist's repertoire
Jenny Kroik's creative expertise only begins with book illustration, printmaking, and teaching. There's also vibrant-hued watercolor story print series, puppets, and even animation that includes (with sound) a tiny grand piano and pianist performing a duet with – naturally – a duck.
"I have been trying to incorporate more animation into my work, combining it with my other interests such as collaborations, abstraction, 3D work, and film," she says. The duck was inspired by one of her students, but more on that later.
Kroik's wide range of artistic focal points (and a quirky sense of humor) is longstanding. While her 2010 MFA from UO is in painting, her BFA (2006, Art Institute of Boston) was in illustration, during which she focused on animation, "working intensively in that medium, day and night," she remembers.
Her broad interests are also rooted in not wanting to be pigeon-holed as an artist. Raised in Israel, she was born in St. Petersburg, Russia. "I came from a Soviet house where there isn't really a 'specialized' way of thinking about art. An artist does everything, like the Russian Constructivists, who were a big influence on me. They did fine art, children's books, textile design, theater – anything art-related. So it was strange to me when I started college that I had to choose a 'focus.' "
For graduate school, she chose painting because after her BFA she felt she "was getting too specialized too soon, and I was terrified of the thought of picking one style and one medium at the age of 23 and trying to market that as my 'style' for the rest of my career. I was also really interested in thinking about 'heavier' art concepts that I didn't feel I got enough of as an undergrad."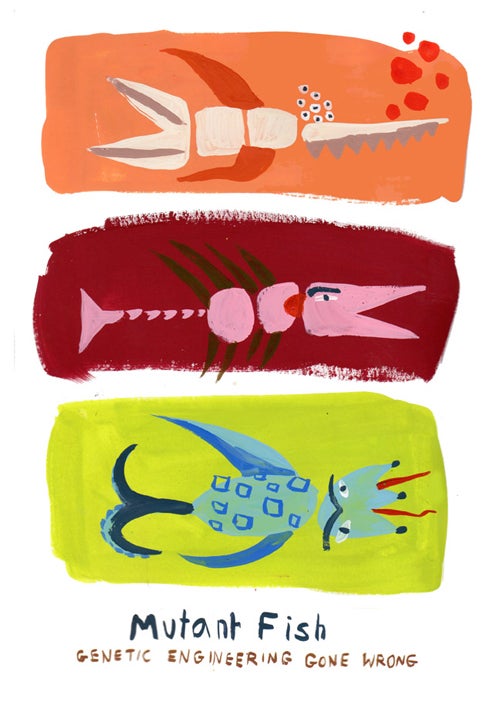 Above: Illustration/T-shirt design. Gouache on paper.
While in graduate school she taught drawing, watercolor, storyboard and narrative, and book illustration. She also worked as manager of the LaVerne Krause Gallery, and gave visiting artist workshops back at the Art Institute of Boston. All this while attending classes, creating her own art, and exhibiting a range of work statewide.
One of those exhibitions came the summer after she graduated from UO and was offered a solo show in Salem. The space was in a former department store. "I did not know the size of the space beforehand, and it was quite shocking to find out – 90 feet long and 40 feet wide. It was an interesting few months trying to create enough work to be a match for the space." To help fill it, she solicited ideas "on what others thought art should be about, summarized in two words, and I would attempted to represent these two words in either paintings, sculptures, and things that are neither paintings nor sculptures."
The show was also about "trying to think about what it means to create commissioned work, to cater to what a client wants, and what it means to have artistic freedom within a limitation."
To that end, she also added music by a band using unusual instruments such as a theremin, beakers and an udu. "The idea of the handcrafted adaptation of the mass-produced consumable, and reestablishing room for personal invention within a prefabricated, prescribed playing field, talks as much to music as it does to the visual arts and crafts," she says.
Kroik's recent work also includes abstract monotype prints and paintings. "I love modernism, and I also have a certain humor about it, which comes out of this love." One of her monotypes, entitled "Pollock's Ghost," was accepted into the UMKC National Print Exhibition (University of Missouri-Kansas City's National Print Exhibition sponsored by HandPrint Press) in 2012. In winter of 2011 she had a solo exhibition of abstract paintings at Latitude One Gallery in Dallas, Oregon, "where I had a chance to experiment with gouache on canvas with collage".
Above: Illustration for children's books. Acrylic on board.
Kroik has also designed costumes for theater, most recently for the annual play presented by the UO Russian and East European Studies department in March 2012 that covered a range of characters in a fairy tale. "Many of the costumes were constructed from found and free materials, often improvising with unconventional materials. (One) wig was made out of a fuzzy toilet seat cover."
Collaborating with other costume artists and actors on the project was a plus point, she says. "It was wonderful to work with other artists who executed my designs, especially when they came up with amazing and beautiful construction solutions to the things I just invented on paper and wouldn't have thought of making in that way in a million years."
That open sense of learning and experimentation and collaboration extends to her teaching. "I have even been introducing some animation in drawing classes at the U of O sometimes, things like flip books and animating with India ink."
As for the pianist and the duck: "The little duck animation was inspired by an amazing 13-year-old girl that I tutor in art," she says. "We were doing some improvised recordings with sound effects and musical instruments, and on one of the tracks I was playing piano and she was making strange noises in the background. I envisioned this animation of a very serious classical pianist doing a duet with a duck – so I had to try animating it."
The result can be viewed on Kroik's blog. The blog also has "a little tribute to Eugene" – in particular, its rain.
Visit Kroik's website to view more of her work.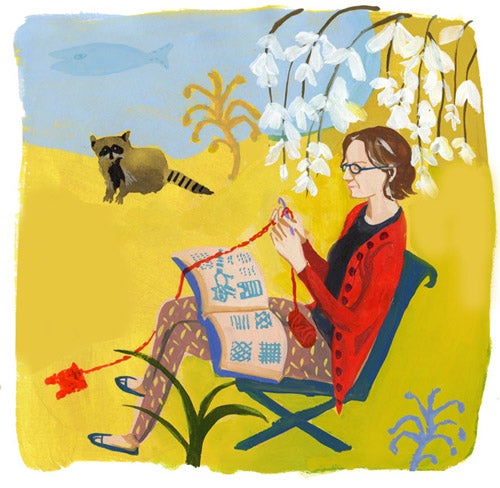 Above: "A portrait of my friend Jenna making a sweater for a raccoon – true story," Kroik says.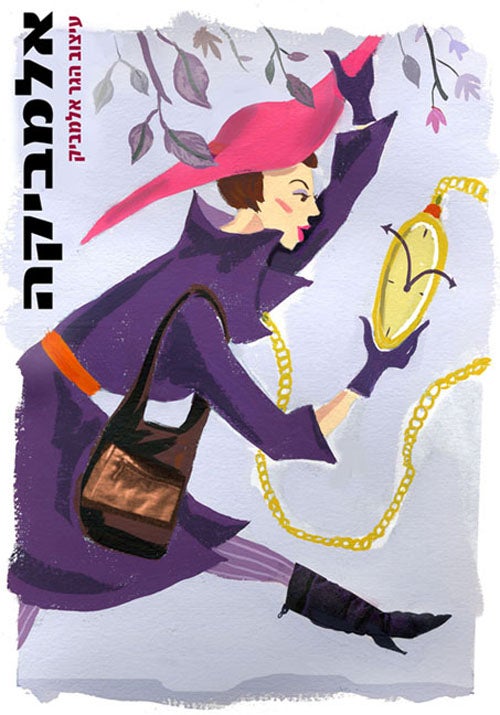 Above: A postcard for Alembika, a fashion chain in Israel, advertising a sales event  on the shortest day of the year. Gouache on paper and digital.
This story was published as part of the 100 Stories collection, compiled to celebrate our 2014 centennial and recognize the achievements and contributions of our alumni worldwide. View the entire 100 Stories archive on the College of Design website.