Emmy winner lauds UO for 'wondrous' time
Not even Kaz Aizawa could foresee, as a freshman pre-med major in 1978 at the University of Oregon, that he'd wind up being handed an Emmy Award for "Outstanding Individual Achievement in Animation" 33 years later.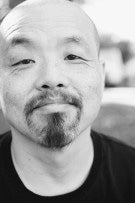 His Emmy was one of only four individual awards granted at the 2011 National Academy of Television Arts & Sciences' Annual Daytime Entertainment Emmy® Awards – so "I got to take mine home with me … and it's heavy," he says.
A background painter at Nickelodeon Animation Studio for the past six years, Aizawa credits UO for who and where he is today.
"My personal experience at UO is that it was a fantastic big step for me," he says. "Coming from an immigrant family from Japan, nothing came easy, but I learned so much and have great fond memories of being at the University of Oregon."
Although he later attended the Art Center College of Design in Pasadena for some intense design training, "There's no way a smaller private school can offer the type of life experience that a Pac-10 school like the University of Oregon can offer."
Encouragement from Art Professor Kenneth O'Connell (now Emeritus) helped Aizawa focus his career path.
"He told me he was planning to study art at the U of O and then go to Art Center to specialize in illustration," O'Connell recalls with surprising clarity after teaching thousands of students over dozens of years.  "I could tell he was focused and very motivated. It was clear to me that he was going to be successful."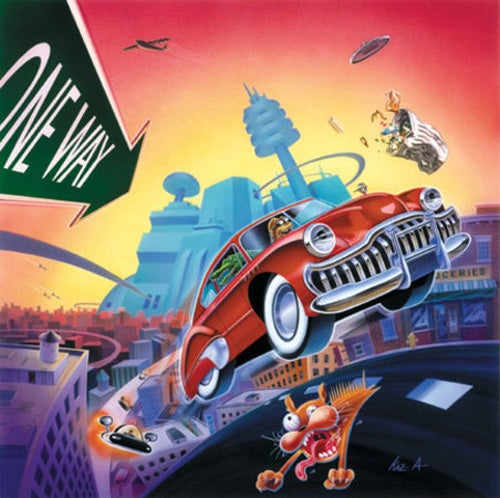 Above: "Leaping Red Car" is one example of Aizawa's versatility.
Finding his place at UO made all the difference for Aizawa. "I was loving the art classes, but was not doing well at all in my science classes," he says. "I changed my major to fine art after the first year, and immersed myself in the drawing and painting classes."
When he decided to switch majors, Aizawa was "very concerned that my father would oppose strongly, but to my surprise he was very supportive. I remember him saying, 'Good, now you've chosen your own path, that is what you should do.' "
As he advanced through UO's fine arts program, Aizawa found plenty to nudge him forward into a full-blown career as an artist. "It's absolutely a wondrous time for a young person to be surrounded by all sorts of different ways of thinking and possibilities," he says of his undergraduate years at UO. "I feel it has made me a better, well-rounded artist, which affects all that I create today."
"All that he creates today" began in a class taught by O'Connell. "Taking the 'Motion Graphics' class with him introduced me to the nuts and bolts of creating animation," Aizawa says. In 'Motion Graphics,' students worked on short films in drawn and cut-out animation and live action.
O'Connell credits the late UO Professor David Foster for introducing film and animation into the art, architecture, and art education departments in the 1960s and video in the 1970s. After pioneering that curricula, Foster went on to introduce computer graphics and computer animation to UO art students in the 1980s. "He personally provided his own equipment for most of these classes and drove to Portland to purchase the first Apple II computer sold in the state of Oregon," O'Connell remembers. "He brought it back to Eugene and let his students work with it."
Aizawa was so influenced by his UO professors that, when he heard he'd won the Emmy, he sent O'Connell a thank-you note.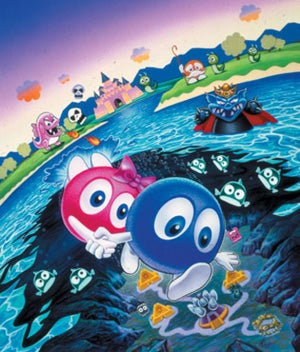 Above: Adventures of Lo Lo III was created for Nintendo.
"I recently thought about you since learning I won an Emmy," Aizawa wrote. "I'm sure my story will add to the list of all the students you had influenced over the years, and I still have fond memories of my time at Oregon."
O'Connell remembers Aizawa learning to design, film and in some cases process his own 16mm film in a lab at school. "The lab was in the basement of an old farmhouse called Wilkinson House on the north side of campus," O'Connell says. "David Foster had built a huge animation stand there that Kaz and other students used to learn the whole process of developing and testing ideas and how to best communicate those ideas. I worked individually with these students to help them bring their best insights into their work."
O'Connell notes that another UO student of that era, Gail Dolgin, went on to win the Grand Prize at the Sundance Film Festival in 2002 and was nominated for best documentary (for "Daughter From Danang") in the 2003 Academy Awards. (Dolgin died of breast cancer in 2010.)
Aizawa began a full-time career as an artist long before Pixar and blockbuster animated movies such as "Toy Story" and "Finding Nemo." So he initially earned his keep doing free-lance illustration.
"For about 20 years, I created illustrations for advertising, packaging, books and for magazines. Clients varied from small to large agencies and design studios.  I also created logos and trademarks, and even art directed for a small jazz label back in the eighties."
Aizawa's work has included illustrations of Gumby for the movie version.
Then video games came into being. "The artwork that people respond to the most are my video game packages I painted back in the '80s for Nintendo NES games – Joust, Millipede, Adventures of Lolo, etc.," he says.
Along with his commercial illustration work, he periodically took on assignments from animation studios needing background paintings.  Then one day, he says, "I get a call from a producer at Nickelodeon asking if I'd be interested in working in-house. It just was the right time in my life (he had a new baby) and the right offer. I've been here for over six years now, and it's been a great place to work."
Not bad for a first-generation immigrant from Japan who landed on U.S. soil at the age of 10 and moved around as a youngster to schools in The Dalles, Beaverton, Gresham and Clackamas. He stayed in Oregon until he left UO in 1982, later earning a BFA with honors from the Art Center College of Design in Pasadena.
Too modest to submit his work into competitions (Nickelodeon selected him to submit work for the Emmy competition), Aizawa's art has nonetheless appeared in the Society of Illustrators Los Angeles Annual show, and one of his art-directed albums appeared in the Creativity 18 annual.
He also has illustrated books, including "The Amazing Sandcastle Builder's Book and Sandcastle Building Kit" by authors Jane Kobayashi and David Ritch, with illustrations by Aizawa.
His Emmy Award was for "Toast of Tuff: Bread Dog," an episode in the Nickelodeon cartoon show "T.U.F.F. Puppy."  A video is available on YouTube.
Aizawa's young son doesn't watch much TV, but as for his dad's show ­– well, that's on the approved list.
This story was published as part of the 100 Stories collection, compiled to celebrate our 2014 centennial and recognize the achievements and contributions of our alumni worldwide. View the entire 100 Stories archive on the College of Design website.