master of fine arts '97
UO sculpture alumnae recipient of Pollock-Krasner Foundation grant
The Pollock-Krasner Foundation has awarded UO sculpture alumnae Maki Hajikano a grant to further her research and artwork.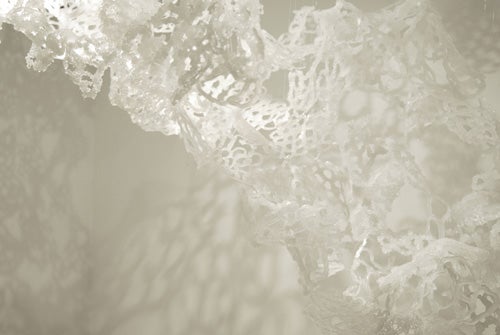 Above: Hajikano was awarded $17,000 in grant money from the Pollack-Krasner Foundation. Detail from Maki Hajikano's "Accumulation #4," 2010, rubber.
"Reaching a particular stage in my artistic development, I wanted a new challenge and wanted to explore and to experiment with a new series of work, a series that would hopefully surprise myself and change my way of being," explains Hajikano, now Associate Professor at Stephen F. Austin State University in Nacogdoches, Texas.
Hajikano was awarded $17,000 in grant money from the Pollack-Krasner Foundation.
After receiving her MFA in Sculpture in 1997 from UO, Hajikano completed three artist-in-residency programs the first two years after graduate school. Her work during this time appeared in a number of exhibitions and art competitions, including the Tacoma Art Museum in Washington, the Pleiades Gallery Contemporary Art in New York, and the International Exposition of Sculpture and Functional Art in Chicago. In 2003, she began teaching a 3D Design class at UO as an adjunct assistant professor until 2005, when she left to teach sculpture at Stephen F. Austin State University. Just this past year, she was awarded tenure and promoted to associate professor.
Hajikano plans to use the Pollock-Krasner grant to purchase materials and equipment for her research, which is now incorporating digital and installation elements. An exhibition of her work will be featured in the Fort Worth Community Art Center in Fort Worth, Texas, in 2012.

Detail from "Accumulation #1" 2008, cast glass.
"The theme I will be investigating in this new series of work concerns constructed beauty, prototype, copy, gender and culture in society," Hajikano says. "In order to reinforce the connection between the visual and the concept, I will be using a combination of casting and printmaking processes."
Hajikano's work utilizes casting techniques that incorporate glass molds and multiple objects, where she repeats her patterned processes again and again to match each final sculpture to her artistic vision. In her installation pieces, she constructs what she calls "illusionistic environments," where lighting and voided space play a crucial role.
"Multiple components generate repetition and gradation, which often gives rhyme and movement in compositions," says Hajikano. "Also, I think multiple images are very compelling visually and cause an inevitable emotional impact on the viewer."
Hajikano says her work wavers between the spontaneous and pre-meditated controlled processes.
"For instance, when I create the original form, most often I am spontaneous, but when I cast the original form into something else, I become very controlled and exact, since the process requires me to be meticulous in order to achieve optimum results," she says. "Also, when I create an installation, I become spontaneous by responding to the existing space, within which the work will be seen."
Hajikano says the fusion between the physical object and the digital elements will be a reoccurring theme in her work. Between teaching and exhibitions, receiving the Pollock-Krasner grant, Hajikano says, will be a huge help in furthering her art exploration.
The Pollock-Krasner Foundation awards grants based on artistic merit and demonstrable financial need, whether professional, personal or both. According to the foundation's mission, it intends to internationally aid "those individuals who have worked as professional artists over a significant period of time." For more information, visit www.pkf.org.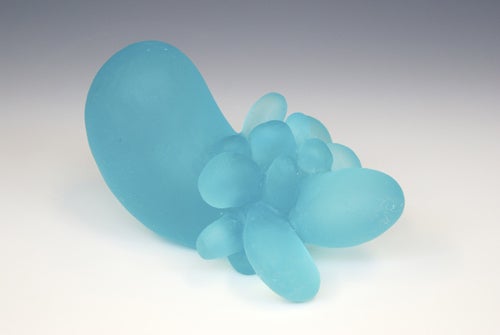 Above: Detail from "Accumulation #1," 2008, cast glass.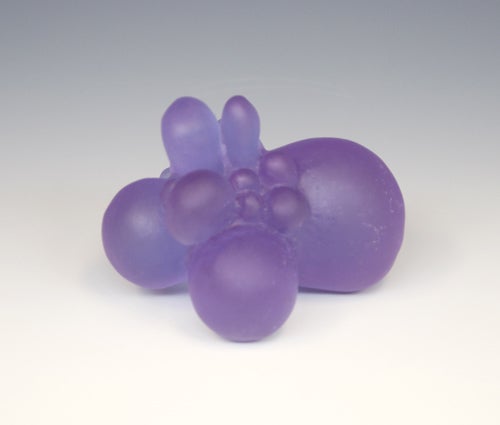 Above: Detail from "Accumulation #1," 2008, cast glass.
Originally published December 14, 2011
This story was published as part of the 100 Stories collection, compiled to celebrate our 2014 centennial and recognize the achievements and contributions of our alumni worldwide. View the entire 100 Stories archive on the College of Design website.