bachelor of science '66
Jay Lindsay helped complete da Vinci's 500-year-old dream
In 1492, the Duke of Milan, Ludovico Sforza, commissioned the great sculptor Leonardo da Vinci to honor Sforza's father in bronze. Standing 24 feet tall, the bronze was to be the largest statue of a horse ever sculpted. Leonardo spent years studying and sketching horses before finally sculpting a full-sized clay model. Unfortunately, in 1499 da Vinci was forced to flee Milan when it fell to French invaders. When he left, he abandoned his great horse project.
It was not until 500 years later, in 1966, that sketches of the unfinished masterpiece were discovered in Spain. An American company formed to raise money to complete the colossal work of art and give it back to Italy as a gift from the United States. After several million dollars had been raised, the foundation hired the Tallix Metal Foundry in New York to complete da Vinci's commission.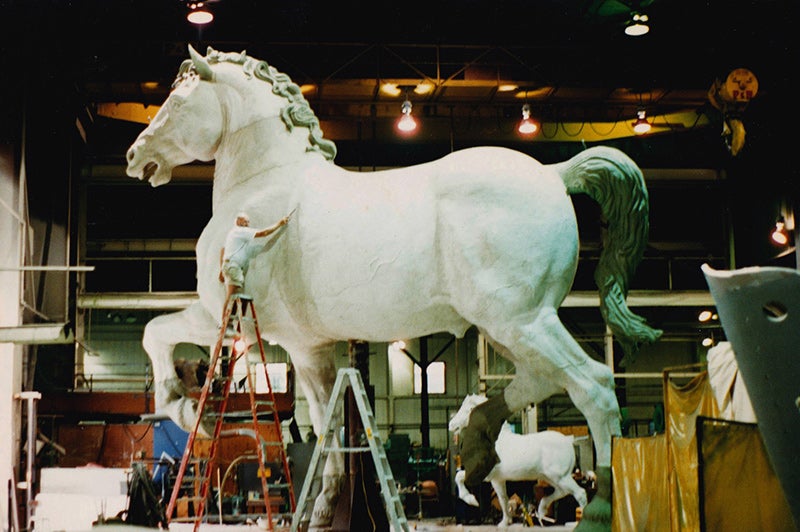 Above: Jay Lindsay on the ladder working on the da Vinci horse.
By then, Jay Lindsay was chief enlarger for Tallix Art Foundry, where he'd worked since 1984. He was assigned the job helping translate smaller models of the horse into Leonardo da Vinci's 24-foot charger. Lindsay says that due to his education at UO, he was able to develop a very accurate enlargement technique—with no thanks to his employer who, years earlier, when Lindsay had said he wanted to be an enlarger, simply replied: "Great … Figure it out." Lindsay credits his most influential professors at UO—Jack Wilkinson, Bob James, and Dave Foster—for his critical thinking skills and initiative.
Leonardo's horse is accurate to within ¼ inch over its entire 24-foot height. During the enlargement process, Lindsay worked with artists to "figure out the particular aesthetics and foresee the changes in proportions." Leonardo's horse posed extra challenges. Since Lindsay could not work directly with the artist, he relied on present-day sculptors' knowledge to interpret Leonardo's vision. In addition, the 24-foot bronze horse, expected to weigh around 15 tons, had to be cast in twenty pieces, nineteen more than da Vinci had originally planned. Eventually, two large cast bronzes were made and are now in Milan, Italy, and Grand Rapids, Michigan.
While at UO, Lindsay says he not only learned about art and design but also how to build the tools that he would need throughout his career. As a result, he has built more than thirty ceramic kilns in the Northeast, making tens of thousands of pots and sculptures. His education at UO also taught him the value of confidence, starting shortly before his graduation from UO, when he sought advice from then Fine and Applied Arts Department Head Jack Wilkinson. Wilkinson told him to "Move to New York and do your artwork and never come back!" Lindsay followed his advice and moved to New York City, where he built pottery and sold his work in galleries. After sixteen years of the usual ups and downs of an artist's career, Lindsay decided to seek a more stable income, and that's when he went to work at Tallix.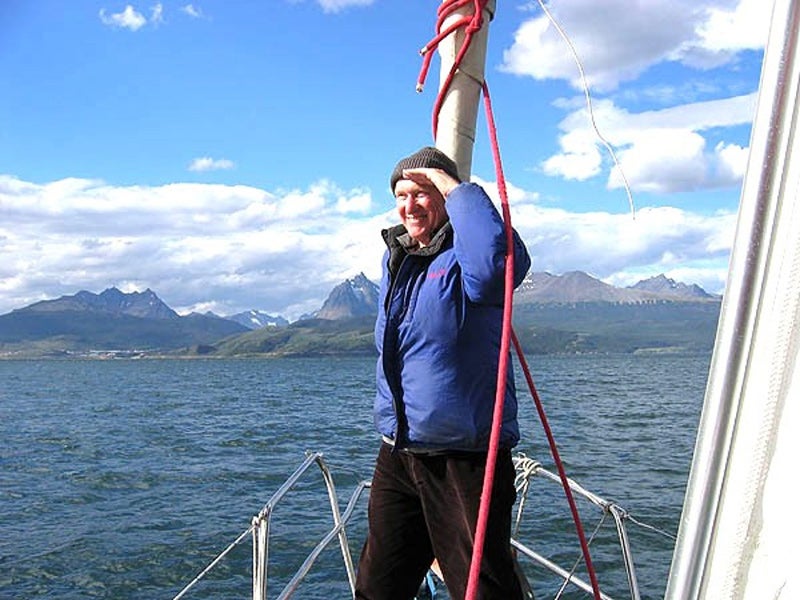 Above: Jay Lindsay sails in the Beagle Channel along the southernmost tip of Argentina.
Lindsay has since journeyed all over the world and kept sketchbooks on each trip to more than two dozen countries, traveling to all the continents except Antarctica. His adventures and sketchbook watercolors appeared in the 2013 book, Jay Lindsay: Travel Sketchbooks by Kenneth O'Connell and Robert Emmons. (His earliest publishing experience began when, as a student in 1966, he illustrated Bill Bowerman's 18-page booklet, "Jogging.")
Lindsay's artwork has been exhibited in the Elements Gallery, Fairtree Gallery, Ed Levin Gallery, and Contemporary Crafts Center in New York City, as well as Yamato House, Garrison Art Center, and other museums and galleries in the Northeast. He taught and was director of The Garrison Art Center along the Hudson River and had Pete Seeger's daughters as ceramic apprentices. His throwing techniques were demonstrated in more than fifty photos in the fifth edition of Glenn Nelson's book, CERAMICS: A Potter's Handbook.
He has been a visiting artist at various schools including the University of Oregon and helped build a foundry at the School for the Visual Arts in New York.
He recently exhibited his sketchbooks, pottery, and sculpture at the Hammond Museum in North Salem, New York.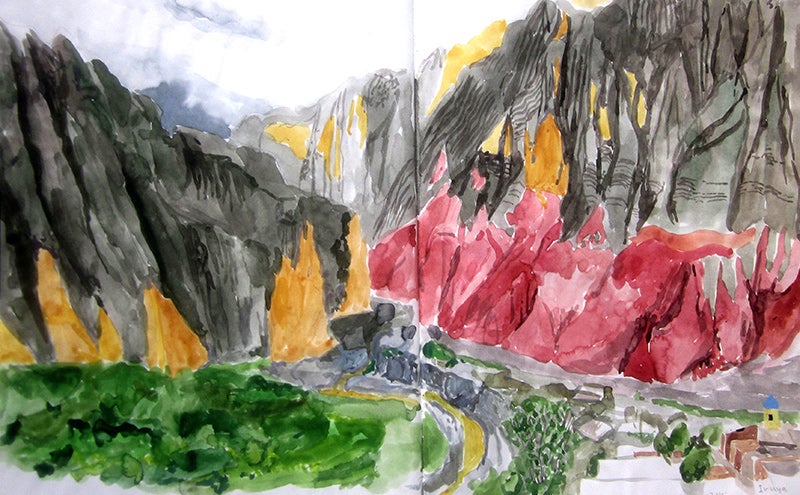 Above: Watercolor from Lindsay's sketchbook of Iruya, Argentina.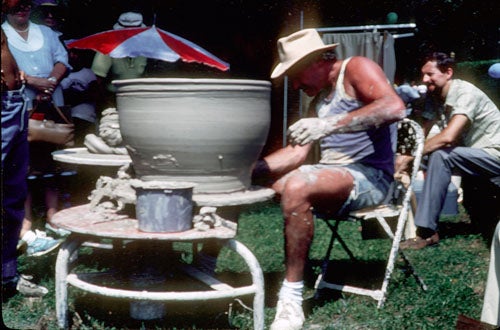 Above: Jay Lindsay throws one of his large planters at an outdoor craft fair.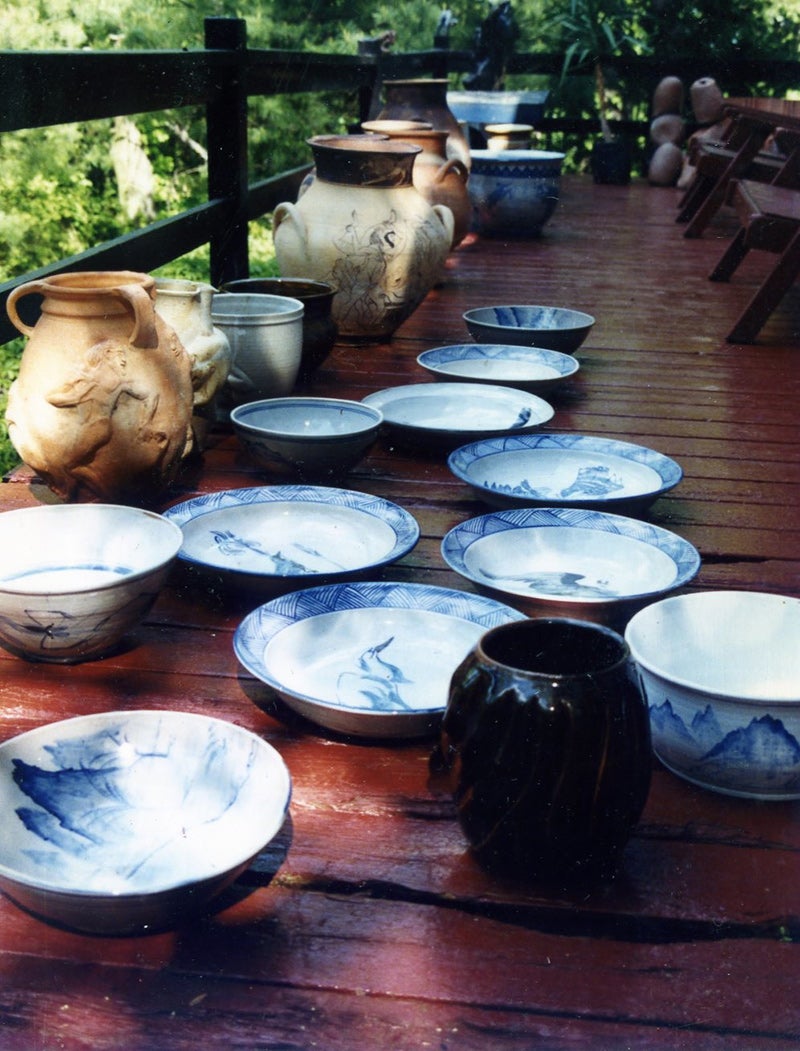 Above: Large glazed pottery sit on Lindsay's deck outside his house in New York.
This story was published as part of the 100 Stories collection, compiled to celebrate our 2014 centennial and recognize the achievements and contributions of our alumni worldwide. View the entire 100 Stories archive on the College of Design website.