In honor of A&AA's 100th birthday celebration, the Jordan Schnitzer Museum of Art (JSMA) on the University of Oregon campus is hosting three exhibitions featuring former A&AA faculty member David McCosh and former A&AA student Gordon Gilkey, all commencing in October.
Also as part of A&AA's 100th, we're pleased to present our "100 Stories" project, which features profiles of 100 outstanding A&AA alumni. One of those is Gordon Gilkey, who you can read more about here.
The special exhibits at the JSMA are:
• From the Ground Up: Gordon Gilkey's University of Oregon Library Construction Series runs October 28 to January 25, 2015, in the Harold and Arlene Schnitzer Gallery. From the Ground Up honors the Department of Art's first master of fine arts recipient, Gordon Gilkey '36. For his thesis project, Gilkey secured funding from the Works Progress Administration to document the construction of the University of Oregon's new library, designed by campus architect and Dean of A&AA Ellis Lawrence (American, 1879-1946), who also designed the JSMA. After Gilkey's distinguished service during World War II as a member of the "Monuments Men," he enjoyed an illustrious career as an educator, curator, collector, and arts activist.
• David McCosh's Eugene also runs October 28 to January 25, 2015, in the Harold and Arlene Schnitzer Gallery. McCosh arrived in Eugene in 1934 as a new faculty member in the Department of Art. Inspired by the rugged environment of his new home, he began to pursue a method of painting based purely on direct observation of nature. Local landmarks around the university's campus, including the banks of the Millrace stream, a popular restaurant known as the Anchorage, and his own lush, hilly neighborhood near Hendricks Park appear frequently in his work. McCosh in Eugene is organized entirely from the McCosh Memorial Collection, established by McCosh's widow, painter Anne Kutka McCosh (1902–94) to preserve and promote the understanding of his works.
• McCosh In Europe runs October 28 to February 01, 2015. McCosh in Europe features works he made in the late 1920s while traveling in England, France, Ireland, and Italy on a scholarship from the Art Institute of Chicago. The exhibition also features works created during his sabbatical from the UO in the late 1950s, when he returned to many of these places as well as Spain. McCosh in Europe traces the evolution of McCosh's style from the more naturalistic landscapes and urban scenes of his days in art school to the more abstracted evocations for which he became so recognized.
More information is available on the JSMA webpage.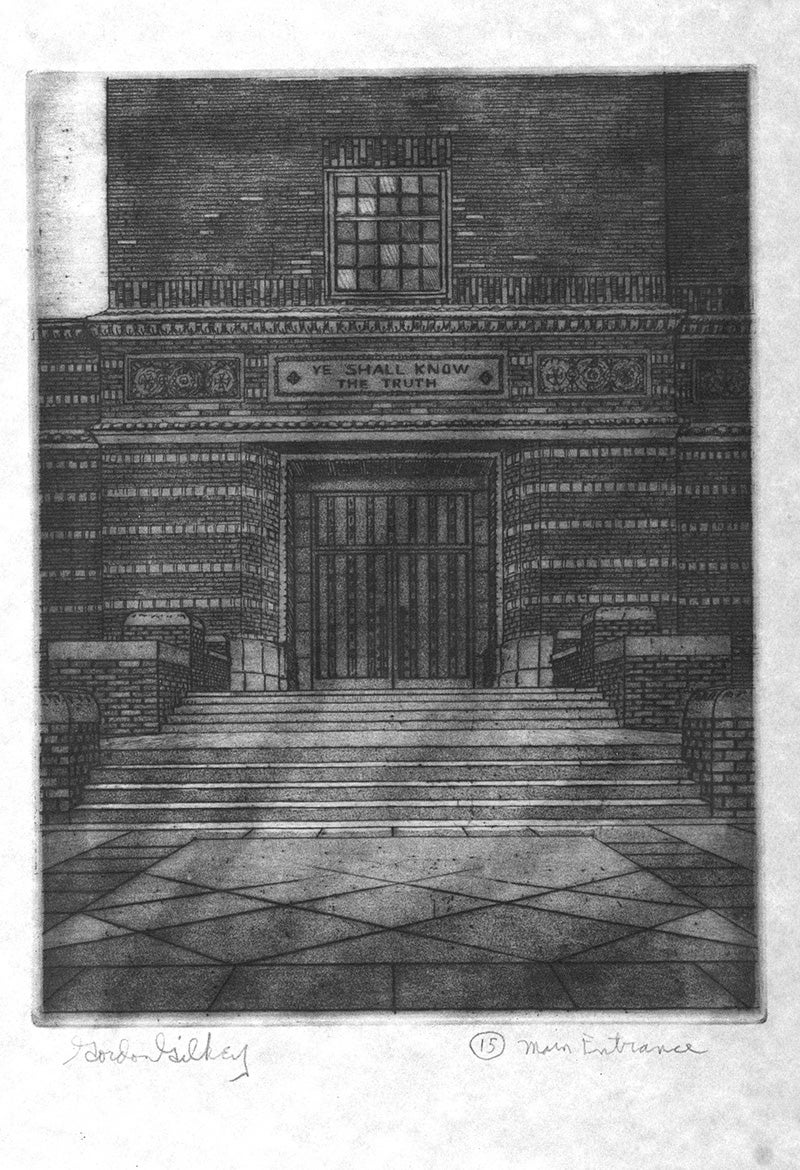 Above: Main Entrance, by Gordon Gilkey. For his graduate thesis, Gilkey created a volume of original etchings documenting construction of the then-new University of Oregon Library.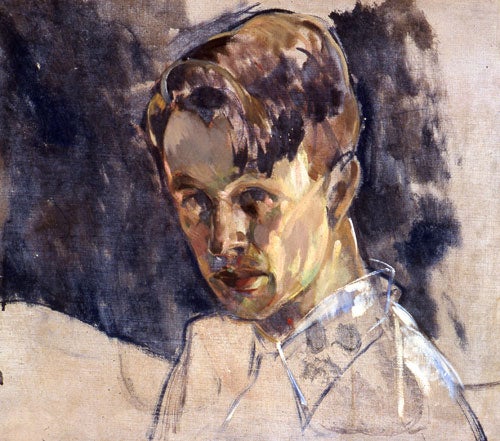 Above: Self-Portrait (Unfinished), 1928. Oil on canvas. David John McCosh Memorial Collection.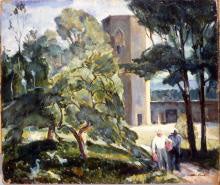 Above: French Countryside, 1928, oil on board, 20 x 23 ½ inches, by David McCosh. Gift of Anne Kutka McCosh; MMC.0189.