Associate Professor Carla Bengtson has accepted a three-year term as head of the Department of Art effective July 16, Dean Frances Bronet announced Monday, June 16. 
Bengtson has served as director of graduate studies for the department since 2012 and is also an associate member of the Environmental Studies Program at UO. She has taught at all levels of painting, drawing, and special topics courses for the Department of Art, and has co-taught courses focusing on interdisciplinary approaches to environmental art, literature, and philosophy.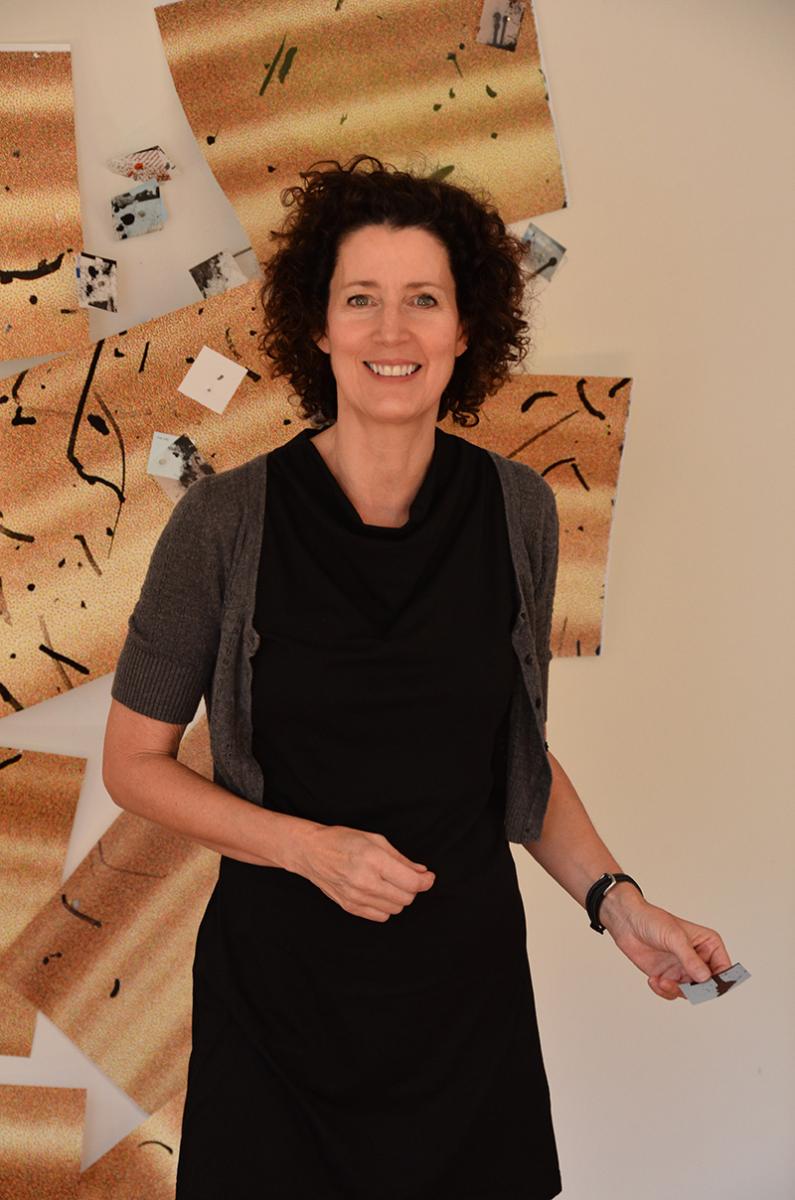 Above: Associate Professor Carla Bengtson. Photo by Sabina Poole.
"I look forward to working with Carla and I know she'll be a strong advocate and leader for the department and school," Bronet said.
A recipient of numerous awards, Bengtson has had an Ucross Residency Fellowship, a Signal Fire Outpost residency, and multiple residences at the Tiputini Biodiversity Station in the Amazon, as well as an Oregon Arts Commission Fellowship grant and a National Endowment for the Arts Individual Grant for Artists.
Her selected exhibitions include POP Gallery; JayJay Gallery, Sacramento; Art Fair Miami; RKL Gallery, New York; The Painting Center, New York; the Portland Museum of Art, Portland, Oregon; and multiple university exhibitions.
Bengtson has been a guest lecturer at Brown University, Reed College, Pratt Institute, the Chicago Art Institute, the University of Washington, and the Rhode Island School of Design, and has lectured on environmental thought at International Association for Environmental Philosophy conferences and international biodiversity conservation conferences in the U.S., Canada, and South America.
She holds a BFA from Tyler School of Art, an MFA from Yale School of Art, and was a participant in the Whitney Independent Study Program twice. Bengtson joined the UO faculty in 1995.
Previously to coming to the UO, she taught at Yale University, Connecticut College, Wesleyan University, and was head curator of the John Slade Ely House, Center for Contemporary Art, in New Haven, Connecticut.
"I'm excited to take on this new challenge and I see it as a chance to make a larger contribution to the department after having invested in many small ways," Bengtson said. "I feel fortunate to be part of such a collegial and innovative department and am appreciative of all the hard work that our previous head, Laura Vandenburgh, has done to put us on such a solid footing with an amazing amount of forward momentum."
Bronet thanked outgoing department head Laura Vandenburgh for "the important service [she] has provided since 2008. I am deeply grateful for her dedication, collaborative spirit, and keen intellect. Laura will assist with the transition of duties this summer through August 15 and will then embark on a well-deserved sabbatical."