Lawrence Medal '14, bachelor of science, fine and applied arts '70
Need to repair a van Gogh? Gamblin makes the paint
On the back of Robert Gamblin's iPad is engraved a six-word quote. It reflects an epiphany he had about ten years ago thanks to his friend Nathan Oliveira, then a professor of studio art at Stanford University. Gamblin had flown from Portland to San Francisco that morning. "We went out to breakfast and I said 'I've got something I want to talk to you about. I've been at this now for twenty-five or thirty years, and it's not getting any easier,' " Gamblin, an artist and master paintmaker, recalls telling Oliveira. " 'It's really hard.' And this is what Nathan said to me: 'It's not supposed to get easier. If it gets easier, then you're not pushing.' "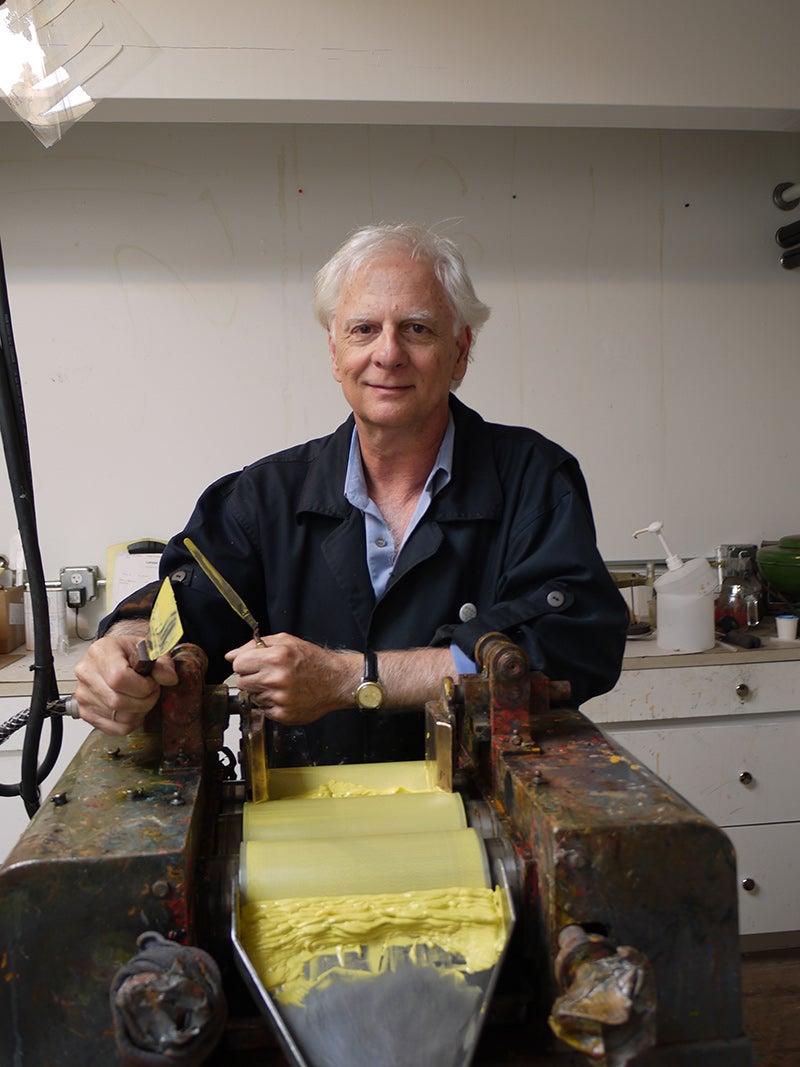 Above: "How do you get new paint to act like 400-year-old paint? Our lampblack, suspended in certain media, will mimic that depth of color, that depth of darkness and also depth of space. We help them to get the look right," says Robert Gamblin, founder of Gamblin Artists Colors and Gamblin Conservation Colors.
Gamblin has been "pushing" ever since graduating from the UO Department of Art in 1970 with a bachelor of science degree in fine and applied arts. The firm he founded in 1980, Gamblin Artists Colors, is now one of the premier artist paint companies in the world, and the only independent American company completely dedicated to oil painting materials. Renowned for their working properties, Gamblin Artists Colors are used by some of today's great painters, including Wolf Kahn, Chuck Close, David Knapp, Emily Mason, and Kevin MacPherson. A separate enterprise, Gamblin Conservation Colors, develops paints used routinely to restore the likes of Van Eyck, da Vinci, and Van Gogh at museums including the J. Paul Getty Museum and the National Gallery.
Gamblin graduated from UO during the height of the Vietnam War. "This was a time in culture of America that was very unsettling, especially for a young man. We didn't dare take a gap year because that meant we would end up having two years in Vietnam. That's what I faced upon graduation: You weren't making any plans because you may end up in Vietnam and you may be dead." 
Fresh out of art school, "I was still very much in a phase of trying to find a visual voice for myself. I did not graduate as a hotshot artist thinking I'm going to New York and I'm going to be the greatest thing that ever hit Manhattan," Gamblin says. "But I had totally bought the program of being involved with art [as a career]. Even though I wasn't very good as an artist, the thought of not doing it, of taking this part of my identity and just chucking it out, 'I want to do something else now,' was a definite No. By that time I was an artist. That was my identity. I was going to build a life around that so I could be as closely connected to art-making as possible."
But, he says, "it took thirty more years before I could get a voice, get confidence, get some momentum."  
He focused initially on practicing his art and learning its history. In 1971, Gamblin was accepted into the graduate painting program at San Francisco Art Institute, San Francisco California. While most students at SFAI were neo-expressionistic studio painters, Gamblin saw the beauty in Golden Gate Park. He began his lifelong relationship of painting landscapes at that time—and then dropped out of SFAI. He spent the next year in Europe visiting the major art capitals from London to Istanbul to Crete to see for himself the foundations of art in history.
"I spent essentially the bulk of the '70s trying to solve the problem of how to make a living at [art]. I had different jobs in San Francisco—worked as a cook, was a plant man, in plastics fabrication. I finally thought I should get involved in materials, because I didn't have those kinds of interests or people skills for working in galleries. That wasn't where I was coming from. But I had a strong relationship to raw materials."
Once the thought of making paint came to him, "I latched onto it like crazy. I really liked that idea. I bought materials to make paint by hand, and I spent about six months just making paint by hand, trying to get better and better at it." He worked out of his garage in southeast Portland using recipes from history books. His Sicilian family had always cooked from scratch and he thought he might try making oil colors from scratch, in the manner of the finest European manufacturers.
"I would mix my paint, throw it into five-gallon buckets, put it in the back of my station wagon, and drive it to commercial inkmakers in town, and I would pay them to run it through their three-roll mill." Eventually he bought a secondhand mill "and all of a sudden I had a factory in my garage:  I had a mill, I had a mixer, I had a tube filler. That's all it takes."
Before long he realized he wanted to share what he'd learned. "Very early on I realized I want to go to an art school and talk to them about this, so I started lecturing in art schools about paintmaking." He would demonstrate how to grind the pigment with the oil, telling the students "the only reason you should make oil paint by hand is to intimately know a color. And you'll never make it again, because it's too hard. You'll just go buy it."
After a while "I realized they need to know how to choose the right colors more than they need to know how to make it. So the lecture became more about, 'Here's 100 colors in front of you. How do you know which ones to take home?' " His company now has an "organizational color chart [showing] mineral pigments, modern organics—they each have their strengths and weaknesses and we try to help people understand those differences and to choose that way. That's how the lecture evolved, to help people understand how to make informed choices, and then to use things properly."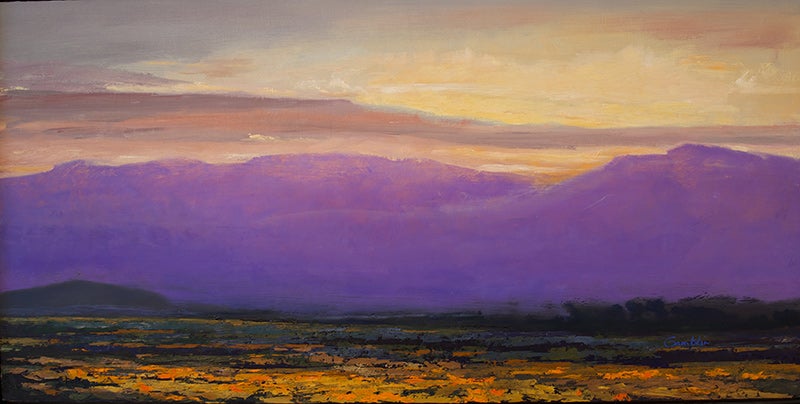 Above: Tetons at dusk, oil on linen, 2006, 36" x 48." Collection of Riverlake partners. 
He has since focused his lectures to appeal to conservation students—the people learning to restore paintings by renowned master artists. "How is that lecture different from the one to art students? It's really different. We expect them to have everything we make, rather than choosing," he says. "Most of their departments will buy the whole [Gamblin Conservation Colors] palette."
That palette includes three different blacks. "There's a notorious problem with old Dutch paintings, where the backgrounds are totally black but intensely transparent," Gamblin notes, "so you can't just take a roller and roll it black and think it's done because the blackness is going to be up here (he gestures to show where the viewer looks) where the blackness is going to be coming back from there (toward the back of the canvas). Part of why it looks that way is because the painting is 400 years old and the paint is interacting with light differently. So how do you get new paint to act like 400-year-old paint? Our lampblack, suspended in certain media, will mimic that depth of color, that depth of darkness and also depth of space. We help them to get the look right. Here's three blacks, you need all three, you don't need one."
His first products, however, appealed to the greatest challenge for painters: the color white. He started with three varieties of white paint—titanium white, titanium-zinc white, and zinc white. Today his company makes more than 200 colors in an environmental and safe production method in southeast Portland. Gamblin Artists Colors' paints and the solvent, Gamsol—an odorless mineral spirit—are all nontoxic and lead-free. The air in the production areas where the company handles dry pigments is filtered so employees are not exposed to pigment dust.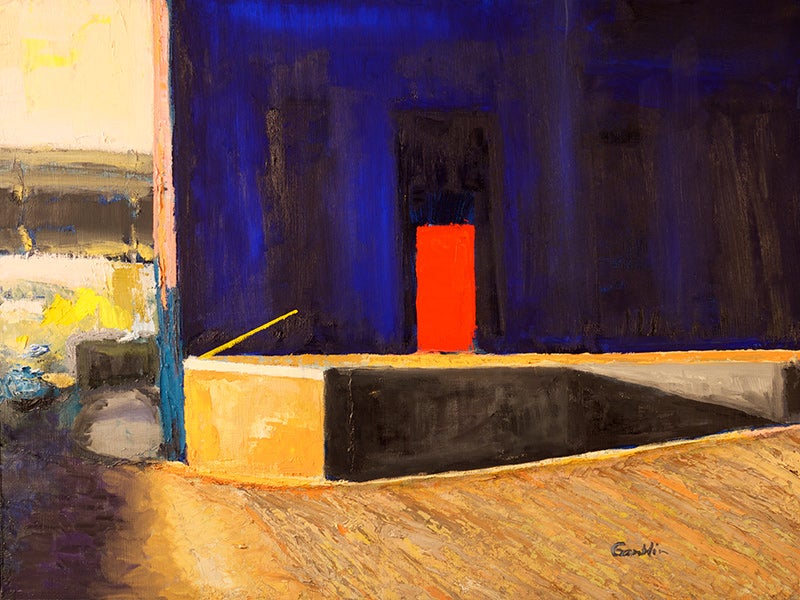 Above: Ankeny at 2nd, oil on linen on panel, 2012, 18" x 24".
In 1989, Gamblin was invited to give a talk about modern materials at the Smithsonian Institution during a conference for conservators. "That was my first time to get a peek at the world of conservation—and they blew me away. I couldn't believe these people. There were fifty-some conservators there from all over America and Caribbean. They were amazing. I said 'I want to know you guys better, I want to know what you do, I cannot believe your dedication to art, it puts to shame many artist's concern and respect for art.' Their standards are just amazing. How they collaborate and share information is just amazing. There's no 'This is my territory and this is what I know, and I'm not going to tell you about it.'  So I thought from that moment, I need to know these people better, I need to know what they're doing, and I want to get involved with it."
He began traveling "to all the major places in North America where conservation science was being done, where the top conservators gravitate toward. I went to the Getty and met all the people there. I started hanging out at the National Gallery and met people there. CCI in Canada in Ottawa, started going there. People at MOMA. The AIC meetings. I was spending 25 percent of my time traveling, so as I was going to New York for my paint business I would also check in there, Washington, Los Angeles, whatever. So I got to know them. Some of them became very good friends."
After five years on a research team with three internationally renowned conservators—Rene de la Rie, head of the science department, National Gallery of Art, Washington, D.C.; Mark Leonard, head of conservation, J. Paul Getty Museum, Los Angeles, California; and Jill Whitten, Whitten Proctor Conservation, Houston, Texas—Gamblin founded Gamblin Conservation Colors in 2000. 
The goal was to develop a restoration color that did not change over the course of hundreds of years, and make the work safer for the conservator through lower solvent requirements. More than 250 museums around the world now use Gamblin's colors to restore rare art works. In addition, Gamblin—who served on the UO School of Architecture and Allied Arts' Board of Visitors from 1994–2000—has authored a chapbook on color, and created 150 antique paints from the 17th, 18th, and 19th centuries for the Smithsonian Institution.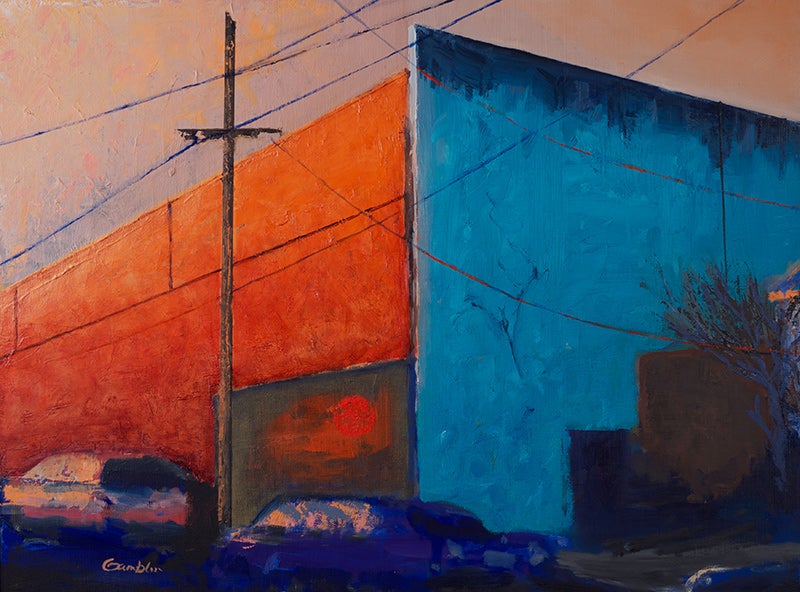 Above: Grant at 10th, oil on linen on panel, 2012, 18"x 24".
Gamblin has been a subject of fine art publications as well as television broadcasts including the History Channel's Modern Marvels and Oregon Public Broadcasting's Oregon Art Beat. He has been written about in Smith Journal, Fine Arts Magazine, American Artist Magazine, and the Portland Tribune. In addition, he created Navigating Color Space, a DVD on color mixing that takes artists from a two-dimensional color wheel into three-dimensional "color space."
In 2014, the UO School of Architecture and Allied Arts honored him with the Lawrence Medal, the school's highest honor.
Gamblin says that his career story honors the work and values of A&AA administrators and faculty members. He cites the late Professor Emeritus David Foster as an influential teacher and mentor. Gamblin studied with Foster in the late 1960s and credits Foster with teaching him that image making was a medium of communication. "What is implied is you have something to say, and second that you say it in a way it can be understood by your audience," Gamblin says of Foster's advice. "I was so fortunate to learn this at the UO before I started my career."
A landscape painter, Gamblin has maintained a studio practice since 1967. "I've been working series for many years. The last three or four years have been all city-based. On my website you'll see a series on Venice, a series in Bruges, I just finished one on Amsterdam, I just added eight paintings to the Venice series, and then inner southeast Portland."
When asked how he feels about the far-reaching scope of his influence through Gamblin paints, Gamblin deflects the inherent personal praise of the question to defer to his company. "We've got a tagline for that: the mission of our company is to take painting and paintmaking into the future. What we've tried to do is make all of our materials true to historic working properties, yet safer, and where possible more permanent. That's our work. It has been a lot of work but it's worked because there was a real need for it. I came to [the idea of making paint colors] from the perspective of graduating from art school never actually having been taught how to make a painting. I realized I'm not alone. There is so much to teach that the materials and technical side of it get sort of squeezed out of the process."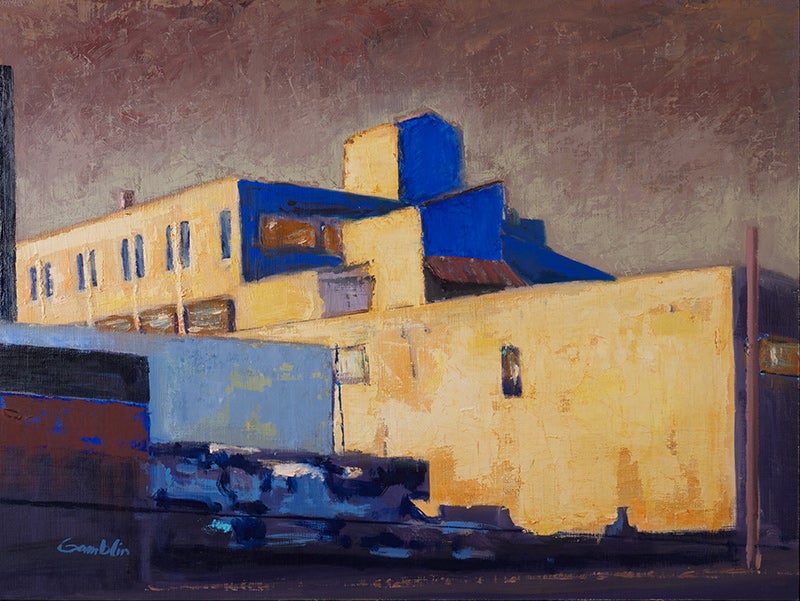 Above: 2nd at Stark, oil on linen on panel, 2012, 18" x 24".
Gamblin's reason for getting into paintmaking was not because he eschewed the quality of paints already available. "You could buy great stuff when I started making paint, but you couldn't really find anyone to help you choose it properly. We make 100 colors but we don't expect you to buy 100 colors. We expect you to buy six or twelve or maybe fifteen. But we want to help you choose the right six or twelve or fifteen because if you choose the wrong ones, it's going to be so hard. And by the way, you need a painting medium and we're going to help you choose the right one for that, too. And after that we need to help you finish this painting properly because you didn't learn it in school because I went to school too and I didn't learn it. That's what the whole company's been about, making quality materials but putting tremendous amount of resources helping artists choose materials appropriate to their needs. And then to use them in the manner that's going to allow them to get there."
About half of Gamblin's work day is spent working on the conservation colors side of the business, while the other half is in the studio, often with his wife, Catherine Gamblin, who is a painter in her own right as well as co-partner in the business. "I've got a really good situation now in that my partner, Pete Cole, who is president of Gamblin Artists Colors, is young and well educated and very talented as a manager. So Catherine and I spend most of our factory time working on Gamblin Conservation Colors. We recently gave up most of the production [duties] but we keep research and development and sales and marketing. So it's about half time in the factory and half time in the studio."
The couple frequently travels together to conferences where Gamblin is a speaker. "Conservators come up to him and treat him like a demi-god because finally they have a product that they can use that they know they can trust will be a certain way," Catherine Gamblin says. "These products have been given to the greater world to be used, and they love it. In the conservation world, they haven't had a product like this that really spoke to them and where they find the ease of working with it."
Of her husband personally, she says, "He's the most unassuming kind of person who has such a big outer persona in terms of how much effect he's had out in the world with what he's done. He makes breakfast, lunch, dinner, we go out in the garden, we play with the grandkids, they just know him as Grandpa."
"And they don't know that you have helped influence how people view da Vinci," an interviewer says.
"They don't care," Gamblin replies with a laugh. "They just say, 'Make me another sandwich.' "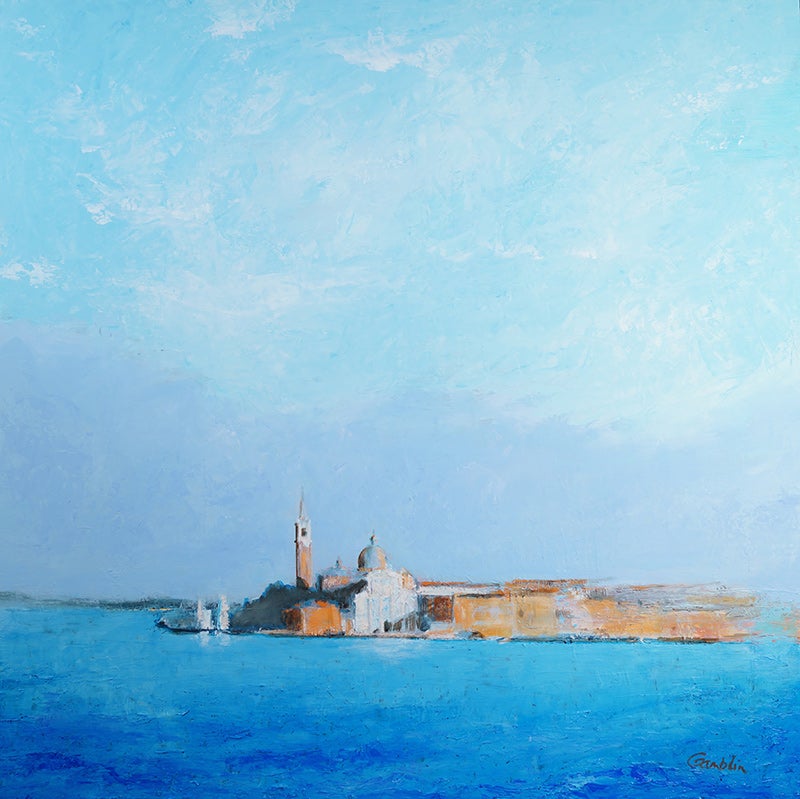 Above: San Giorgio Floating in Blue, oil on linen on panel, 2014, 48" x 48".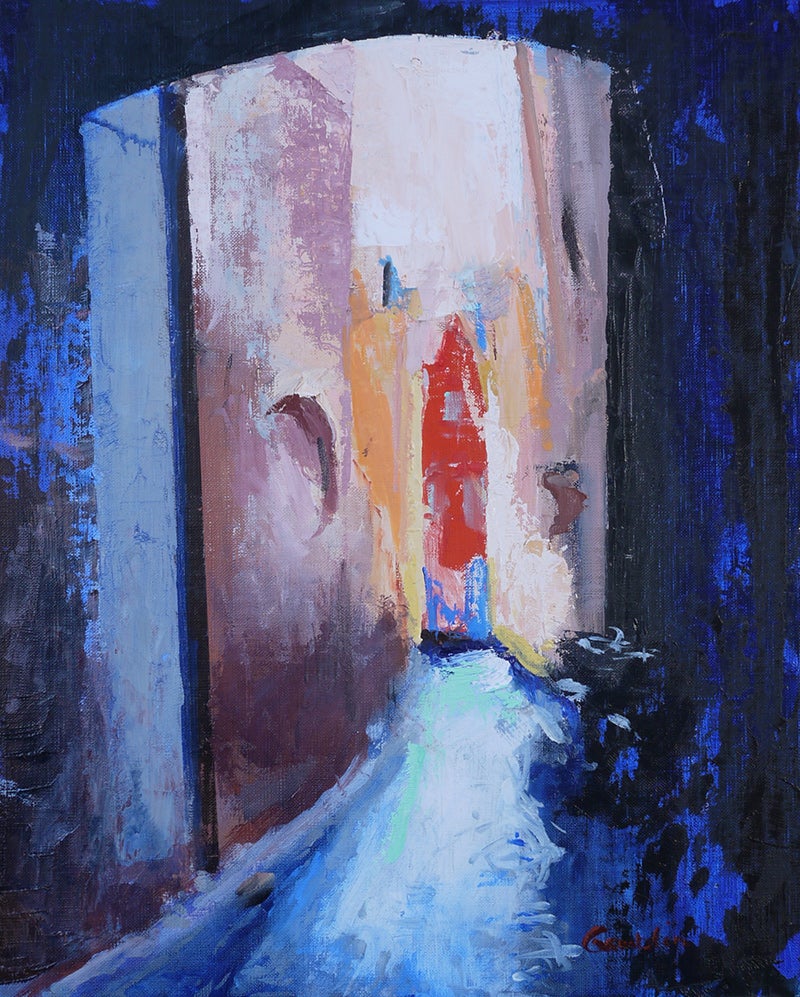 Above: Bruges VIII, oil on linen on panel, 2011, 16" x 20".
This story was published as part of the 100 Stories collection, compiled to celebrate our 2014 centennial and recognize the achievements and contributions of our alumni worldwide. View the entire 100 Stories archive on the College of Design website.