bachelor of science '12
Product design graduate crafting car of the future at Tesla
Anyone who has noticed an all-electric Tesla vehicle on the road in recent years has also been witness to the work of a recent UO graduate.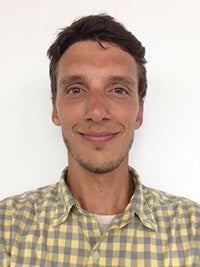 University of Oregon alumnus Ryan Lynch now works for Tesla Motors. Lynch, a 2012 graduate of the UO Product Design Program, was hired in 2013 to work in the company's Vehicle Quality division. There, he analyzed the state of each car's condition and took one last look at it before it was shipped to the customer.
He was soon promoted and works today as an engineer technician, heading the Craftsmanship Studio in the company's Fremont, California, factory. Lynch works with a five-person team to improve the quality of the car by scrutinizing and correcting problems in details and prototyping all engineering changes. The studio is a small-scale fabrication studio with a 3D printer and hand-prototyping supplies.
"What we take ownership of is the very, very minor issues with the car," says Lynch. "Not issues that would spring out to the customer—that's where [the Vehicle Quality division] comes in—but in Craftsmanship, we try and take ownership over every problem for [CEO] Elon [Musk]. To fix these problems, it comes down to tens of different variables of things."
These variables could be anything from the aluminum body of the car being out of specification or a part that turned out a few millimeters too short.
"Whatever the case, our job is to figure that out, find out why those issues are occurring in prototype, and come out with different engineering solutions and design ideas on how to fix it," he says.
Lynch credits the UO's Product Design Program and inspiration from program Director Kiersten Muenchinger for helping him get where he is today.
"She had a particular way of teaching that never failed to excite me about the subject matter," he says. "Having that enthusiasm in the classroom served as a tremendous reassurance that I was indeed following my interests."
Muenchinger wrote a recommendation letter for Lynch that helped him get hired at Tesla Motors.
"I think his job at Tesla sounds like a great place for a designer to be," says Muenchinger. "He's making, testing, observing, and repeating. He's making innovation happen every day."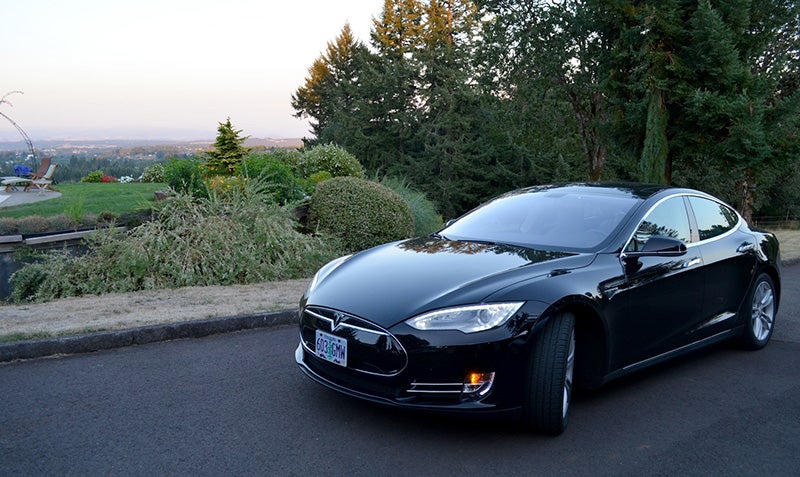 Above: The Tesla Model S four-door luxury sedan scored a 5.4 out of 5 safety rating. Photo by Emerson Malone.
Tesla, which has been building all-electric cars since 2008, assumes its name and patents from Serbian-American inventor Nikola Tesla, who patented the alternating current (AC) electric motor in May 1888. Tesla Motors was founded 115 years later, making cars that rely on the original Tesla's AC induction motor, which converts electrical current from a rotating magnetic field into motion. The company's ultimate goal is to provide affordable electric vehicles to the middle class, and make the combustion engine as antiquated as the horse-drawn carriage.
Tesla's Model S four-door luxury sedan and the forthcoming Model X utility van use a battery-powered motor connected to the axles, which turn the wheels. This all-electric operation nullifies the need for a driveshaft, tailpipe, and ignition switch. The only liquid that occasionally requires attention is the windshield washer fluid.
Unlike their gasoline-powered counterparts on the road, electric vehicles produce zero emissions. This is one of the car's most prominent features, as carbon output from traditional vehicles contributes to accelerating climate issues and rising global temperatures.
The car is charged by plugging into an electrical outlet at home or at one of the 105 free Tesla Superchargers located across the United States. About 98% of the U.S. and parts of Canada will have the chargers by 2015, according to the company's website.
The car has plenty of high-tech features. When the key is near the car, the door handles unlock and extend from the door for easy access. They retract once you're inside, for a more aerodynamic ride. The vehicle starts up once you're buckled into the driver's seat.
The car is almost completely silent. Since it doesn't need to change gears like an engine-powered vehicle, it accelerates at a constant, seamless velocity. A 17-inch touchscreen controls the windows, air conditioning, sunroof, stereo, phone, and navigation system. And instead of an engine under the hood, you'll find an empty storage space known as the front trunk, or "frunk," which complements the additional storage space in the rear.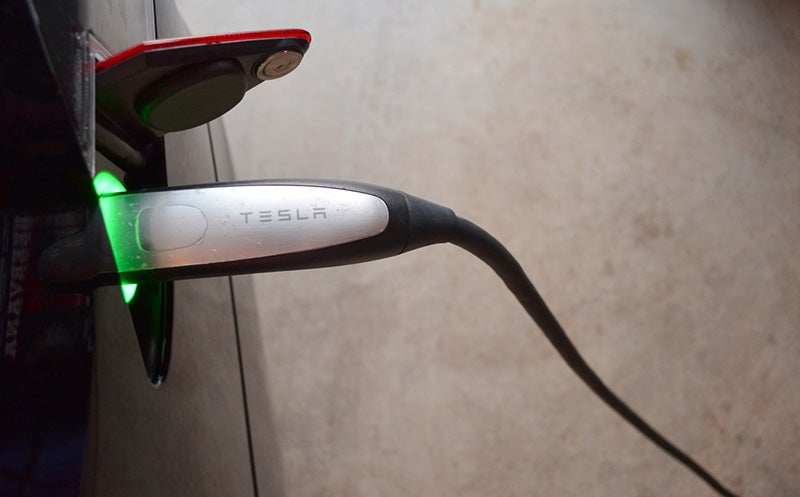 Above: Instead of a gas pump, Tesla drivers plug in to fuel up. Photo by Emerson Malone.
The Tesla Model S was named one of TIME Magazine's Top 25 Inventions of 2012, and scored a 5.4 out of 5 safety rating from the National Highway Safety Administration—the highest rating given to any vehicle. Motor Trend magazine, which named the Model S the 2013 Car of the Year, declared it to be proof that America "can still make great things." Consumer Reports rated the car a 99 out of 100. And owners love them, in one case drawing a series of cartoons about the car's features.
In June 2014, Tesla Motors released its more than 250 patents on its vehicles and technology, removing them "in the spirit of the open source movement, for the advancement of electric vehicle technology," CEO Musk wrote in a blog post. "Tesla will not initiate patent lawsuits against anyone who, in good faith, wants to use our technology. … Our true competition is not the small trickle of non-Tesla electric cars being produced," Musk stated, "but rather the enormous flood of gasoline cars pouring out of the world's factories every day."
This iconoclastic move will, in theory, make electric vehicles more viable in the long term.
"I think it's an excellent idea," says Lynch. "I think it instantaneously made a difference. … I don't think we're in a position to get taken down by any of the larger companies."
Lynch says that in releasing the patents, Nikolai Tesla's original inventions and plans for free energy have also been released.
"All sorts of companies are accepting our technology as well as some of the patents we had owned for Nikola Tesla's original inventions. Those are now free as well," Lynch says.
As Musk noted in his blog post, the company aims to provide an affordable electric vehicle to the middle class. The range of the Model S is directly related to the battery-pack size, which can go 208 to 265 miles without recharging. Other all-electric vehicles like the Chevy Volt or Nissan LEAF can go 38 to 78 miles on a charge, respectively.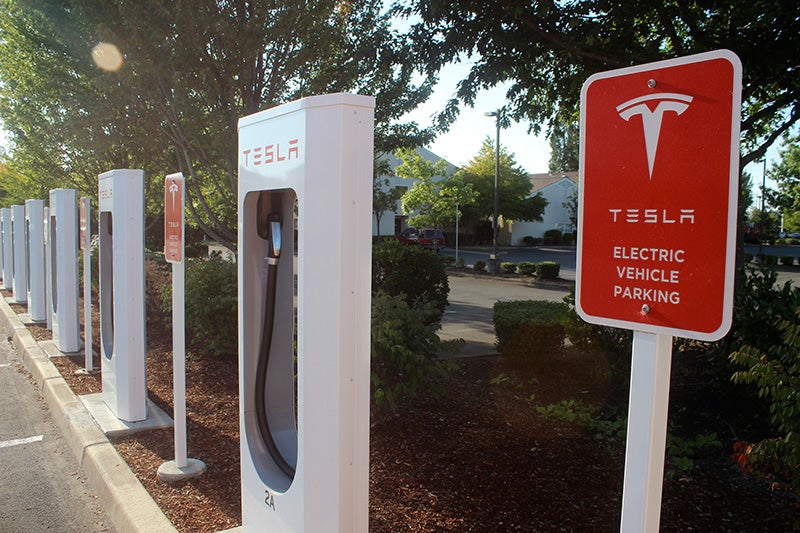 Above: A Tesla Supercharger station located in the Holiday Inn parking lot in Springfield, Oregon. Photo by Emerson Malone.
"We don't consider [those cars] to be our competition," Lynch says. Instead, Tesla's biggest competitors in the market are other luxury sedans, like those from the Mercedes S-class. The starting price for the Tesla Model S is $69,900 before federal tax credit. The recent patent release and continuing technological advances should help the car achieve its goal to enter the market for the average car customer and achieve a price tag under $40,000.
"Once more and more people come to [realize] electric cars are feasible, I think that'll be a huge turning point," Lynch says.
Telsa's upcoming Model X is still in its prototype stage. The all-electric utility van will start production in late 2014.
"It's another amazing vehicle that we're producing. It's actually a little bit larger, a little more versatile," he says. "People are definitely gung-ho about it."
Lynch says he has the freedom to make design decisions in the studio, as well as receiving a free education every day in novel vehicle design and engineering.
Asked if he ever sought a career in making cars, he remarks, "Yes, but only if it is Tesla!"
He adds, "I work for an amazing company that makes an amazing product, without exception."
Lynch's work will continue to progress Tesla's status in the automotive industry, as well as trends in the all-electric design.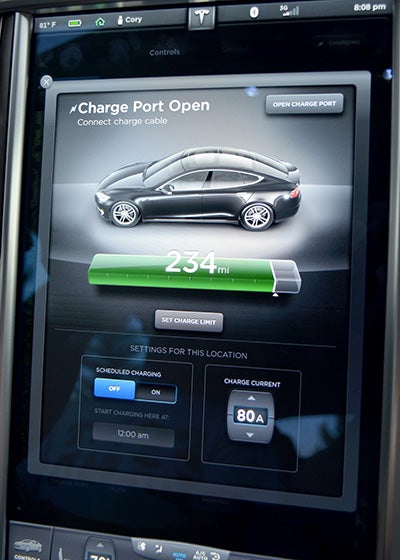 Above: A 17-inch touchscreen controls the Tesla's windows, air conditioning, sunroof, stereo, phone, and navigation system. Photo by Emerson Malone.
This story was published as part of the 100 Stories collection, compiled to celebrate our 2014 centennial and recognize the achievements and contributions of our alumni worldwide. View the entire 100 Stories archive on the College of Design website.