bachelor of fine arts, '11
Early Product Design Program alumnus credits serendipity
One alumnus of the School of Architecture and Allied Arts traces his interest in product design to a specific episode of Mister Rogers' Neighborhood.
"I think back to when Mister Rogers toured the crayon factory, which was totally mesmerizing," says Sean Kelly. "As a kid I had always been interested in making things."
In 2008, Kelly enrolled in the UO Product Design Program when it launched. He signed up for "Objects and Impacts," a course from program Director Kiersten Muenchinger.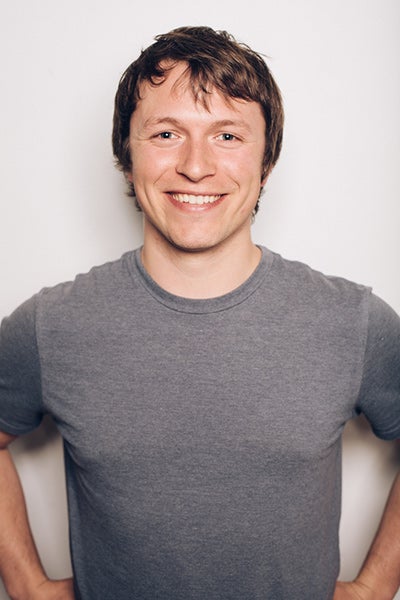 Above: Product designer Sean Kelly. Images courtesy of Sean Kelly.
"Something that really blew my mind about that first class was I had not really given much thought about how things were made before," he says. "Her class went deep into how products were made and how materials work and things like that. It was a really eye-opening experience. By the end my classmates and I were totally nerding out about things like parting lines and injection blow molding."
Muenchinger recalls Kelly being one of the first students when the program began.
"Sean had not only a high level of quality to his work, but a high level of questioning," she says. "He didn't do straightforward solutions, he did well-thought curveballs."
During the summer before his last year in Eugene, Kelly approached Spirit Leatherworks for a summer internship. At the time, the Eugene-based business was doing contract work for Nike Golf. The superstar of Nike Golf was none other than Tiger Woods, who sported the apparel and used the gear at every tournament.
Kelly designed a belt buckle for Nike Golf with a cutout of Tiger Woods's signature emblem during the internship. It was one of the first products Kelly designed, and the first product he'd created that was mass-produced.
Soon after the production samples of the belts arrived from China, news broke that Woods had had an extramarital affair. It was December 2009. Woods lost plenty of corporate sponsors and his infidelity resulted in a net shareholder loss of up to $12 billion, according to a study made that month. Although Nike continued to sponsor Woods, the belts are now discontinued.
"I actually still have one of the samples at my house," says Kelly. "I just keep it as a reminder as one of the first things I designed was actually made by a company, and how things out in the world can affect the products you make in interesting ways."
Spirit Leatherworks hired him as a designer by the end of the summer. He spent the next year designing leather belts, bags, and wallets for Nike Golf. Some of his products are still for sale on the Nike website.
After he graduated with a bachelor's degree in product design, Kelly attended the Product Design Program's BFA program in Portland, an intensive fifth year of design studio.
Kelly recalls a course led by UO adjunct professors Christian Freissler and Paul Backett of Ziba Design, now of Evolve Collaborative. He and his classmates learned what Backett referred to as "extreme empathy—the flexibility to inhabit the mind of someone dramatically unlike you," and incorporated it into their designs.
Students were assigned a specific user for whom their design would be made.
"We only know a few things about who they were; my user was a single mother with two kids living in Paris, and she had her own small business" Kelly says.
This limited information would help the students craft a backstory to this person and their needs and desires.
"This was an extremely valuable exercise, and one that I turn to often when approaching a new project or problem," he says.
While enrolled in the BFA program, Kelly started an internship with Portland-based business Grovemade. He was drawn to the company because they manufactured their products in-house. It was 2010 and the company's original product was bamboo iPhone cases. Kelly started on the production line, where he sanded the cases and operated computer numerical control (CNC) machines.
"What struck me about Grove was the constant drive to improve and the extremely collaborative atmosphere," says Kelly. "There was no set way to do any of the things we were trying to do. We learned as we went and created our processes together."
After finishing his internship with Grovemade, Kelly was hired as production manager and product designer and remains there today. The company expanded from bamboo iPhone cases and now offers materials such as Oregon-grown black walnut, bamboo, Eastern Hardrock Maple, and even recycled skateboards, which are fashioned into wood bumpers, charging docks, laptop and iPad sleeves, and leather notebook covers.
Above: Crafting a backstory for a specific user of a product he's designing can be "an extremely valuable exercise, and one that I turn to often when approaching a new project or problem," says Sean Kelly.
"Grovemade is the way it is today because of many amazingly creative and passionate individuals who have contributed to it," says Kelly. "I would say the best part about working there has always been the people. We are not just co-workers, we are friends."
Kelly's professional track took a recent turn when a friend from high school discovered Kelly through Grovemade. His friend had a business plan, and pitched his idea to Kelly.
The business venture, named Circle, looks to solve a practical dilemma of how to raise children in a world in which we spend our time immersed in screens and devices. It looks to create a device managed by an iOS app that helps families choose how they spend their time by using time management and filtering systems.
"The product he described to me was meeting a need I felt strongly about, just recently in my own life," says Kelly. "It feels silly to constantly be looking down connected to something digital, when we could look up and connect with the physical people and the world that is right in front of us."
He signed onto the project the next day.
Originally, software installation was the only method to control one's online experience. Whereas before only one computer screen was in the household, everyone now has personal devices. Software cannot be applied across the board to every single device.
"That's where the idea of a smart connected device came to mind," says Kelly. "With Circle, you plug it in and immediately you can select the devices within your home, create user profiles and settings for each family member."
Circle can monitor the time you spend and allow you to set better parameters and guidelines. It can even turn off or shut off a device if you've reached the time limit. The Internet can be paused during dinnertime so families can focus on each other or set bedtimes so kids and parents don't lie awake at night working on their devices when they should be sleeping.
"We're mostly catering toward families with children, in this case, but I definitely see applications where anyone can use Circle to help themselves manage their time on smart devices," says Kelly. "Our main focus is to help families find a balance between their physical and digital lives."
Kelly works as cofounder and industrial designer for the start-up. The device, which he designed, features an illuminated LED array circle pattern that provides families with visual notifications.
Elameno, the production company behind Circle, earned $31,000 of funding through a thirty-day Kickstarter campaign, which fell short of its $250,000 goal. However, the campaign helped with publicity, and a number of big companies and countless families have shown interest in seeing Circle become a reality. Every few days, Kelly says, he opens his inbox to find people asking if he's still working on Circle.
"When our Kickstarter campaign did not meet its goal, we were all disappointed," he says. "At that point a lot of people could have given up, but we all stuck together and continued working. We had great momentum from our campaign and word has spread about what we're doing."
He adds, "We're getting closer and closer every day. I still don't feel like it's a business yet, but it will be soon."
Kelly calls Elameno, as well as his work with Grovemade and Spirit Leatherworks, "an amazing learning experience."
He adds, "Don't be afraid to say yes to things when they come your way, even if you don't know how to do something. A lot of the stuff that's happened, at least so far in my life, has been serendipitous. If you open up to the possibility that you can do something, then you will."
This story was published as part of the 100 Stories collection, compiled to celebrate our 2014 centennial and recognize the achievements and contributions of our alumni worldwide. View the entire 100 Stories archive on the College of Design website.