master of fine arts '89
Clay, architecture, and sculpture meld at Revival Tileworks
Stephani Stephenson's career has taken a global path since she graduated from UO with an MFA in ceramics in 1989. She operated a solo studio in Montana for several years, then in 1997 spent six weeks on an arts fellowship in Spain, studying and working with traditional ceramic techniques, in particular the work of Spanish architect Antoni Gaudi. That experience left an indelible stamp on her, changing her focus to architectural ceramics. She moved her studio to the Southwest, working with homeowners and architects on projects large and small, including a commission for film director-writer Peter Jackson (the Hobbit series) in New Zealand. She has spoken at national conferences and holds workshops around the world, and makes time to teach in an after-school program in a nearby school district. "This area has high unemployment and poverty rates. There are no art classes in the schools and there are no real city-sponsored programs. So this is something I can contribute," she says. A&AA media specialist Marti Gerdes interviewed Stephenson in summer 2013: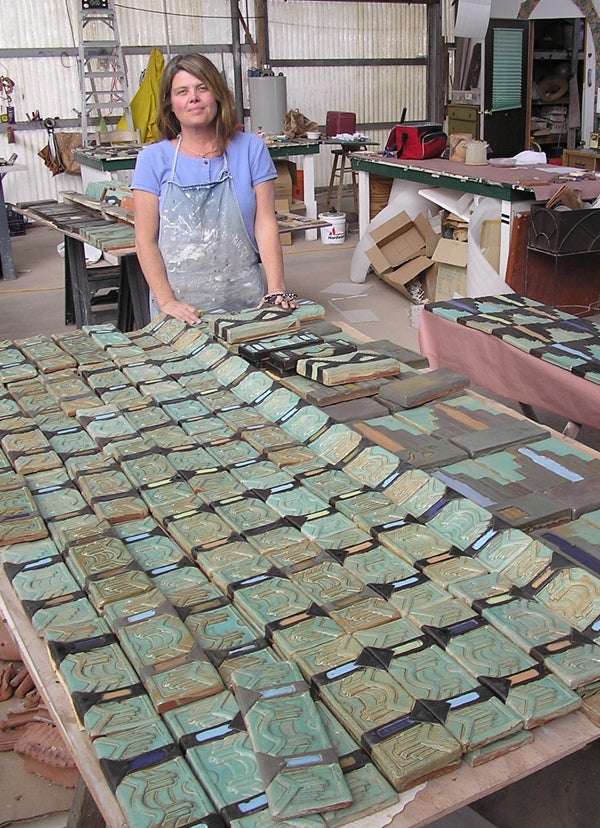 Above: Stephani Stephenson, MFA '89, now works from her studio, Revival Tileworks, in St. David, Arizona.
Q. The last time we wrote about you was in 1998, after you had been to Spain as a Montana Arts Council Fellow. What career path did you take from Missoula to the studio you now have in St. David, Arizona?
A. My career path changed dramatically. I moved from making hand-built, one-of-a-kind sculpture for galleries to working full time making tile and architectural ceramics. I moved to the San Diego area in 1998, working as a sculptor, designer, then manager for an architectural ceramics production shop. I met incredibly skilled tile makers and immersed myself in the history of the craft. I began taking on my own projects, initially focusing on restoring and reproducing period styles. I started a business, Revival Tileworks, in 2000 in San Diego. I relocated to Southeast Arizona in 2010.
Q. Do you have a particular memory of a UO class or professor?
A. I took classes from sculpture Professor Paul Buckner whenever I could. Aside from his excellent figurative classes, he taught an unusual evening seminar: We all met at someone's house and we knitted! As we knitted, someone would read an art-related article or excerpt out loud and the group would discuss it. Most art students have probably taken seminars where everyone was either self conscious or prone to pontificating, yes? Professor Buckner's seminar was the complete opposite. He knew that when one's hands are busy, the mind is freed. Our discussions were dynamic, engaging, and fruitful. It was a wonderful seminar.
George Kokis' "Mark and Image" class was also a unique, experiential exploration into the origins of art and craft. Whether we were role playing as early humans moving out from the forest to the savanna, making shelters and fire bundles from local materials, or interpreting dreams and capturing the ritual moose, the class left an indelible impression.
Q. Ceramic Arts Daily has featured you in several videos on their website, and last year introduced a 2-disc instructional DVD, "Studio-Scale Architectural Ceramics with Stephani Stephenson." How did that come about?
A. The American Ceramic Society approached me about doing a DVD. I said yes, came up with a project, and blocked in the content. They flew me to Columbus, Ohio, to record. We taped for about three or four days and it was edited down to a three-hour, two-DVD set.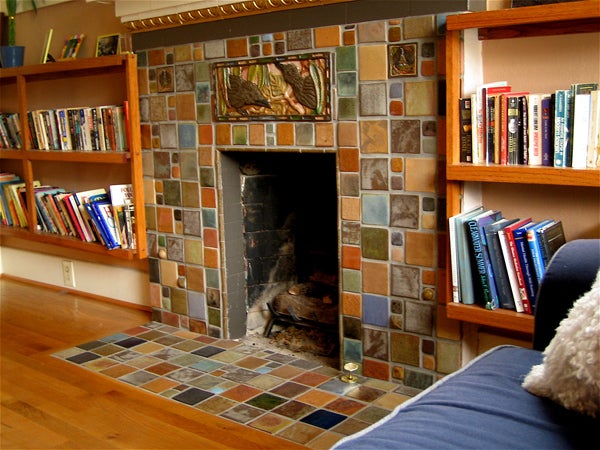 Above: "Two Crows Fireplace," glazed tile, a work Stephenson designed for a home in San Diego, California. Photographs courtesy Stephani Stephenson.
Q. You said in our 1998 story that UO art Professor George Kokis influenced your work, especially how myth is a source for artists. Could you speak to that a bit more?
A. During my senior year at UO, I underwent major surgery and had what was probably a near-death experience. The experience greatly altered my thesis/terminal project work. It provoked a spectrum of very vivid and meaningful imagery for me, including the image of the hearth and the fire in the center of the Earth. In the cauldron of that experience, my clay and creative work softened beautifully into mythological, psychological, and poetic matrices. I ended up calling some of that work Hestia, after the Greek goddess of the hearth. That experience propelled my sculptural work for a number of years. As I moved into business and production, the mythological aspect seemed to fade. Years later I had to chuckle—I was making tiled fireplaces for a living, so the mythology of Hestia and the hearth was still moving through my work in a very direct and yet profound way.
Above: "KiMo Dreams" 34" X 14" glazed ceramic, hand built by Stephenson."
Q. How did your interest in architectural ceramics develop?
A. My Italian great-grandfather worked with clay, tile, and brick in the Chicago area starting in the 1890s. He lived past 100. I knew him barely but felt kinship with him. I have always loved canyons, the architecture of the West, and the terra cotta canyons of the cities. I have always been interested in it, but did not realize how much—until I traveled to Spain to study ceramics and culture. When I saw the work of Gaudi, clay, architecture, and sculpture came together.
Q. Where has your work been shown/sold?
A. I had work in a national exhibit at the American Museum of Ceramic Arts and at Baltimore Clayworks, but in truth, I have had little time to exhibit. When I moved from sculpture into tile and architectural ceramics, I discovered a new and somewhat separate clay world, with different traditions in firing, glazing, production, and practices. For the past fifteen years I have been working directly with homeowners and architects on projects large and small. My largest project was for film director-writer Peter Jackson and Fran Walsh's home in Wellington, New Zealand. Most of my work is for private spaces all over the country. It is installed by professionals so I usually do not see the final installation, and often do not even see a photograph. When I do see the finished work, it is a revelation. A good setter is also an artist. The completed work is so much more vibrant than when I lay it out in the studio, and I love it!
This work may not bring the type of recognition that comes with gallery-style exhibition or public work. It can be immensely satisfying, however, to create something beautiful and enduring for an architectural or home environment. I am most satisfied when, for example, someone tells me their kids sit by the fireplace and tell stories every night, or someone is ecstatic about the results and tells me it looks like it was meant to be there. Every project has a story.
Q. Next year you are offering a workshop in Tuscany for the first time. Where else have you held workshops, and how did you branch out this way?
A. My first workshops were for Camp Make a Dream in Montana, then for the Tile Heritage Foundation and Southern California Potters' groups. Tile and architectural ceramics techniques differ in some ways from the typical college or studio approaches, and I wanted to share some of it. I started teaching in-house workshops at my studio in Leucadia (California). I had a wonderful greenhouse studio, several thousand square feet, about half a mile from the beach. I taught three- to five-day day workshops there. I have taught workshops in various states since then. This year I will teach workshops in New Mexico, South Carolina, and California.
Q. How did the concept of your creative flow workshops—which you describe as "guided exercises (to) connect hands, heart, mind and spirit"—come to be?
A. The concept came from a number of sources and personal experiences, but I would say that a weeklong workshop with M.C. Richards, at the U of O, is the main impetus and source. M.C. was an amazing woman—author, artist, explorer. She was fearless when it came to getting to the source. Over the years I have led some experiential retreats and workshops, and also included exercises in my classes or even at workplace training sessions, most often for people who have not worked much with clay.
Q. Is there anything you wanted to talk about that wasn't addressed in these questions so far?
A. Quite often, art graduates are baffled and frustrated as they consider how to pursue their work after graduation. Teaching? Galleries? Craft fairs? Public art?
When I discovered architectural ceramics it felt right. It allowed me to support myself full time in a way that gallery work never did. Though the challenges of self-employment have been real, there are rewards. Architectural ceramics is an integral and important part of ceramic tradition, yet I feel it has been neglected in contemporary ceramics programs. I would love to see it taught in depth at a few institutions, to keep the tradition alive and to infuse the field with new ideas and applications.
This interview again finds me in a time of change, at another crossroads: I want to dive back into sculpture, teach what I have learned to younger students, and take time from production to return to explore creative roots and growth. So, we'll see what the next chapter holds.
Q. Any idea why you think you're headed this way now?
A. It just has to do with that feeling that there is new work and it wants to materialize. Artists negotiate change differently. Once I was all about the hare—racing around, building this, discovering that, so much to explore! These days I am more the tortoise, making tile, making work so that I can pay the utilities, have food in my belly, and a little extra. There are nice plodding tortoise challenges and satisfactions—tweaking a glaze here, improving craft there. Yet I do my tortoise work each day so that I may carve out some time in the cycle of the week, month or year, to be the hare again, run with the ideas and materials, or perhaps the raven to soar a bit higher and try to get a bird's eye view.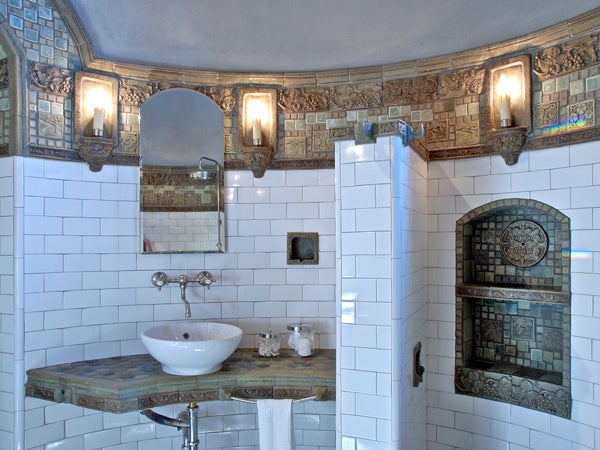 Above: Green tower bath with ceramic fixtures, sconces, and tile (excluding subway tile) by Stephani Stephenson. Design and photograph by Maddux Design in San Antonio, Texas.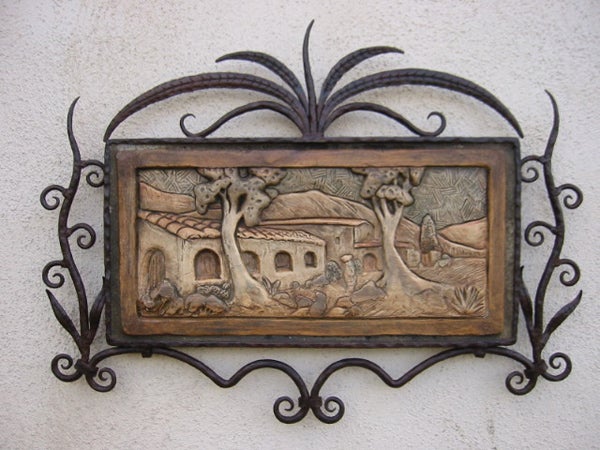 Above: Framed relief tile, 9" X 18" by Stephenson; wrought iron frame by Bushere & Son Iron Studio in Los Angeles, California.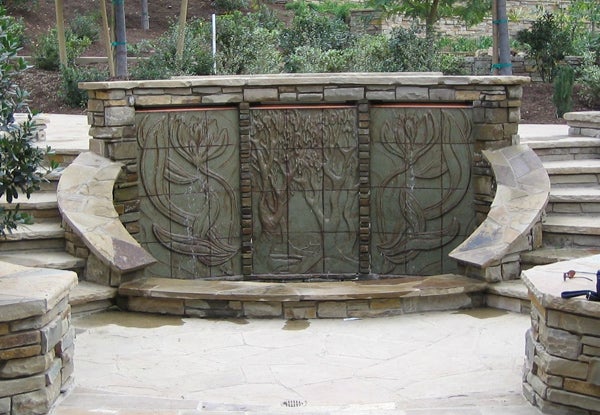 Above: Relief glazed block fountain—ceramic tile and block by Stephenson; stonework by Teresa Clark Design in Rancho Santa Fe, California.

Above: Fireplace, matte glazed tile by Stephenson, installed in Pasadena, California.

Above: "Mattybirds" 48" X 14" by Stephani Stephenson; installed in Wellington, New Zealand.

Above left: Art Deco shower, part of a larger installation in San Antonio, Texas.
This story was published as part of the 100 Stories collection, compiled to celebrate our 2014 centennial and recognize the achievements and contributions of our alumni worldwide. View the entire 100 Stories archive on the College of Design website.