bachelor of fine arts '78
'Duck Soup' was debut for award-winning design career
Steve Sandstrom "has very likely influenced your purchases of Tazo tea, Bulleit Bourbon, Full Sail & Session beer, Converse shoes, St. Germain liqueur, Moonstruck chocolate, and Kombucha!," blogger Aaron Rayburn wrote in FORTPORT in March 2012.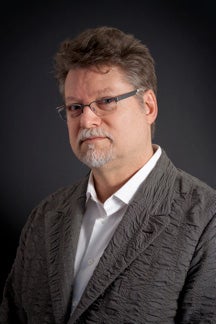 Sandstrom, a graphic designer and UO alumnus ('78 BFA in painting), founded Portland's innovative Sandstrom Design, now Sandstrom Partners, Inc. His clients have included Tazo Tea, Converse, Levi Strauss & Co., Nike, ESPN, Coca-Cola, Brown-Forman, Miller Brewing, Fiskars, Seagrams, Steppenwolf Theatre, adidas, Nissan, Virgin Mobile, Sony Pictures, Microsoft, Marriott, Full Sail Brewing and Cooper Spirits. Advertising agency relationships have included Wieden+Kennedy, TBWA/ChiatDay, Ogilvy, JWT, GSD&M, McKinney, BBDO, Y&R and Publicis.
His design expertise began in earnest while still at UO. In 1978, as a fine arts student, Sandstrom was part of a debate about UO mascot Donald Duck vs. Mallard Drake. As a cartoonist and graphics editor for the Oregon Daily Emerald, Sandstrom drew a strip called "Duck Soup" that ran each Friday and featured a swank, witty, and urbane duck named Mallard (pronounced Mil-LARD). Soon, students got organized and formed a committee to appoint Mallard Drake as the new mascot.
At issue was whether to change from the Disney Donald Duck as the representative of the university. Donald had been the university's logo to the outside world since 1947, and students were to vote at a spring election for a possible change of mascot. Sandstrom took this all in stride and said that when he graduated the Duck Soup strip would end. With his characteristic sharp humor, Sandstrom said "When I go, the duck goes."
Before he left UO in 1978, Sandstrom had won the Society of Professional Journalists' national Mark of Excellence Award for editorial cartooning.
After graduation, Sandstrom moved to Portland, free-lanced, and worked at a couple of small advertising agencies before getting a job at Nike as a senior art director. In November 1988, after four years at Nike, he started Sandstrom Design in partnership with creatively acclaimed ad agency Borders, Perrin & Norrander.
Sandstrom Partners has been featured in several publications including Graphis, CA, Adweek, Critique, ID, Novum (Germany), How, Creativity, and @Issue, and in numerous books on branding, design, packaging and corporate identity. He was integrally involved with the creation of Tazo, an eclectic premium tea brand, and the development of its brand personality, and he was primarily responsible for Tazo's award-winning packaging and general design aesthetic. Tazo is now owned by Starbucks. Sandstrom was part of the successful launch of St-Germain, a premium French liqueur developed by Cooper Spirits, and a strategic partner in the rebuilding of the Converse brand, which is now owned by Nike.
He has won numerous design and advertising awards including The One Show, Graphis Top Ten in Design, D&AD (London), Communication Arts, ID, Clio's, FAB, Andy's, Kelly's, Belding's, Type Directors, New York Art Director's, London International Advertising and the American Advertising Federation. In 1994, he was the youngest to be honored as Advertising Professional of the Year by the Portland Advertising Federation and the recipient of a Lifetime Achievement Award from that organization.
Sandstrom serves on the board of directors for The One Club and is a past member of the Board of Visitors for the University of Oregon School of Architecture and Allied Arts. He is a past board member and president of the Portland Advertising Federation, and past board member of BodyVox, a highly acclaimed progressive dance company.
When asked to reflect on key instructors at UO, Sandstrom cites a litany of highly regarded Department of Art faculty members:  Dave Foster, LaVerne Krause, Ken Paul, Ralph Baker, and visiting professor Tim Corkery from New York.
"Foster provided me with some terrific lessons about life as a teacher and as an adult. He would be reluctant to give you answers, but happy to point you in a direction so you could find your own way," Sandstrom recalls.
Sandstrom tells students today that education is what they make of it.  "It was my mission as a student to make school worthwhile" he says.  "I was responsible for my education and getting the most out of it.
"There was no coordinated graphic design program being offered at that time. I studied fine arts, not marketing or business. Most of the business of marketing I learned on the job and developed with each experience.  However, the development of ideas, concepts, and solutions—which have been a constant in my career—was always a part of the university."
This story was published as part of the 100 Stories collection, compiled to celebrate our 2014 centennial and recognize the achievements and contributions of our alumni worldwide. View the entire 100 Stories archive on the College of Design website.