bachelor of art '82
Art history degree serves well for design career with focus on American Decoration
This story first appeared February 16, 2016, in InCollect. It appears here courtesy author Brittany Good and InCollect.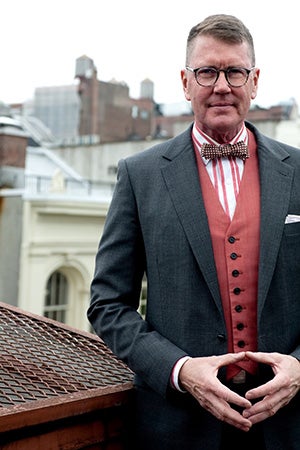 Above: Thomas Jayne. Photo by Kerri Brewer.
Thomas Jayne is a master at making the old seem new again. A graduate of the University of Oregon School of Architecture and Allied Arts, where he studied with the noted architectural historian Marian Card Donnelly and earned a bachelor of art history, as well as the University of Delaware's Winterthur program, where he trained in American material culture and decorative arts, Jayne initially set out to become a curator. After pursuing advanced fellowships at the American Wing of The Metropolitan Museum of Art, Historic Deerfield and the J. Paul Getty Museum, and a stint in Christie's Estates and Appraisal Department, Jayne found himself longing for more creative freedom. In a fortuitous turn of events, Jayne was offered a position at the legendary interior design firm and paragon of American style, Parish-Hadley & Associates.
After a period with the firm of the renowned designer Kevin McNamara, Jayne struck out on his own, establishing Jayne Design Studio in 1990 in New York City. Over the next two-and-a-half decades, Jayne continued to hone his singular style — a deft mix of historical elements and fresh, sometimes unexpected modern twists. His striking projects, which include everything from a shingled seaside home in Maine to a Fifth Avenue apartment in a historic building by McKim, Mead & White, are often featured in industry-leading publications. Jayne has been frequently named to Architectural Digest's venerable AD100 list of best American Decorators and Architects as well as Elle Decor's A-List of top American decorators.
Brittany Good of InCollect caught up with Jayne in February 2016 to discuss his inspirations, his past, and the importance of the future when it comes to interior design.
InCollect: Your academic and professional training is incredibly comprehensive and rooted in American culture and history. Can you talk a bit about your education as well as the progression of your professional endeavors?
Thomas Jayne: This is a huge question ... I offer that American Decoration is one of the most embracing and far reaching traditions, so knowing as much as possible about American design is a great education. And, of course, American design keeps changing and therefore our education continues.
Q: Are there any American design movements, periods, etc. that you are particularly fond of or find yourself returning to again and again?
A: The turn of 19th- 20th century when Americans starting looking back at early American furniture and reinterpreting the styles in new ways, adding Asian elements — that sort of thing. Kingscote in Newport, which combines Colonial details with exotic ornament, is a great example of this. I like cosmopolitan eclecticism presented in a very American way.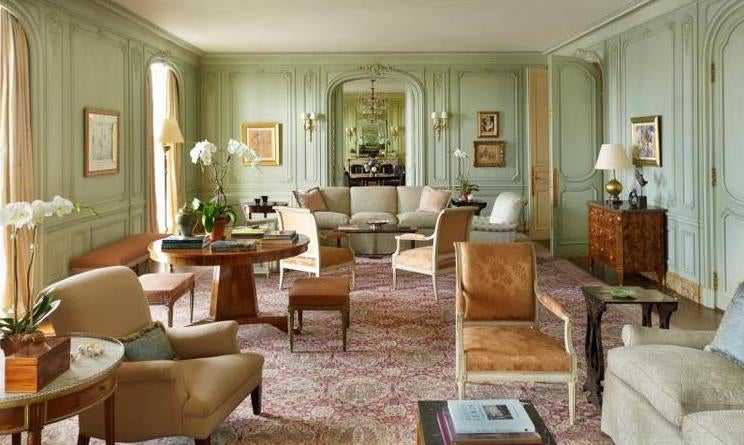 Above: An interior by Thomas Jayne. Photo courtesy Thomas Jayne.
Q: What was it like to transition from a more academic area within the design industry to interior design?
A: I was preparing to be a curator and being a curator is about 10 percent being creative and the rest is taking care of and protecting things. I'm still very much interested in curatorial matters, but I needed to be more creative.
Q: Was there a definitive moment when you realized you wanted to pursue interior design?
A: My mentors in the museum field had talked to me about it and when I was offered a great job at Parish-Hadley we decided it was a great opportunity. But it was more of a dialogue than one moment. I would've been a fine curator, but I think I've had a much more interesting career as a decorator than I would have had as a curator. Mr. [Henry] Du Pont always said that the ideal curator is part librarian and part decorator, but I like to flip it and say that the ideal decorator is part librarian and part curator.
Q: When did you first become interested in decorative arts? What sparked your interest?
A: As a child I was always attracted to old things. My family had inherited furniture and I liked how it looked and the stories connected with the pieces. The old things had more appeal than most of the new furniture around me—and there was a sea of modern in mid-century Los Angeles. Notably, when I was 12 after reading Mrs. Kennedy's guide book for the White House, I painted my room to match the Red Room and moved in an antique Lincolnesque bed.
Q: Who are some of your favorite designers (past and present)?
A: I admire John Soane, Henry du Pont, Albert Hadley, and Billy Haines. I would ask John Saladino to arrange my collections, although I do not fit well on his upholstery [Note: Jayne stands well over six feet tall]. I look at British designers because they often work in historic places and with antiques. I also admire very much the designers I work with here at the studio. They all have brilliant, inventive eyes that create beautiful rooms with the traditional mien.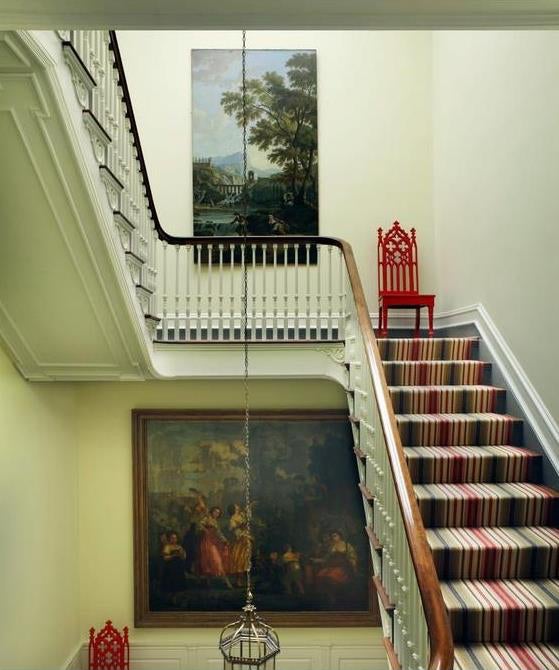 Above: An interior by Thomas Jayne. Photo courtesy Thomas Jayne.
Q: What is your favorite room to design? What about that room appeals to you?
A: I like to design sitting rooms, living rooms, dens, etc. as they have the most room for flexibility and creativity. They can be exotic or minimal and their function is not as fixed as, say, a bedroom or a dining room.
Q: Your interiors masterfully blend art, antiques, and decorative objects from a range of periods and styles. How do you find balance between the old and new, classic and cutting-edge, quiet and bold?
A: I see the arrangement of interior design elements much like sculpture — there needs to be a balance of texture and scale and shape that is pleasing to the eye, and, of course, it must function for the occupants. This is where decoration differs from fine art, though the principles are similar at the onset.
Q: What is your favorite part of working with a client on a project?
A: I like walking through a space we have decorated with a client and seeing that they are happy with what they're looking at and how it feels. That is incredibly gratifying. I take pride in understanding a client's personal narrative and expressing it in a physical way.
Q: What is something our readers might not know about you (i.e., a secret hobby, passion or interest)?
A: I am more California than apparently meets the eye. People on the East Coast that don't know are always surprised to find out that I'm from Los Angeles. But there's definitely an old-fashioned element to Los Angeles. All those great interiors from the '30s and '40s have been overshadowed by the modern era.
Q: What cities appeal to you the most, aesthetically speaking?
A: Obviously New Orleans, because I spend a lot of time there [Jayne owns a home in the city]. It's a living city, and it has a whole lot of historic architecture. It has a built tradition and a living tradition. Another great place like that is Monterey — the architecture of the '20s and the '30s — it's interesting to see how that remains today. Both cities have strong historical and modern elements as well as natural and manmade history.
Q: What are some of the shows, design events, etc. that you look forward to attending every year?
A: I look forward to the Winter Antique Show, Maastricht, and I am speaking at the 2016 Theta Show in Houston this November. I like the big shows, of course. But, there is also the thrill of the mossiest antique shop or thrift shop. One can find beautiful things almost anywhere. Some of my favorites are Ann Koerner Antiques and Lucullus New Orleans and Glen Dooley and Hirschl & Adler in New York City. But, one thing I've learned is that in my business, you have to go everywhere. You can't segregate yourself.
Q: Jayne Design Studio recently celebrated its 25th anniversary. What are the greatest lessons you have learned over the course of that quarter century? What advice would you give to designers who are just starting out?
A: The studio has taught me that tradition is not contrary to change — very often, it is about addressing change. My advice to designers starting out would be that we need to educate our clients. This is our principal value, and often in this age of narrowing attention spans, that is much harder. Selling taste has always been difficult, and those that can explain and share their vision have more to offer.
Q: What's the best compliment you've ever received from a client?
A: "It doesn't look like I've had a decorator" — meant in a positive way. Or "It's more beautiful than I could have ever imagined." But it's really more than a single compliment, it's about the attitude. It's always great to go back to a project twenty years later and see if it holds up. Really, the proof is twenty years later.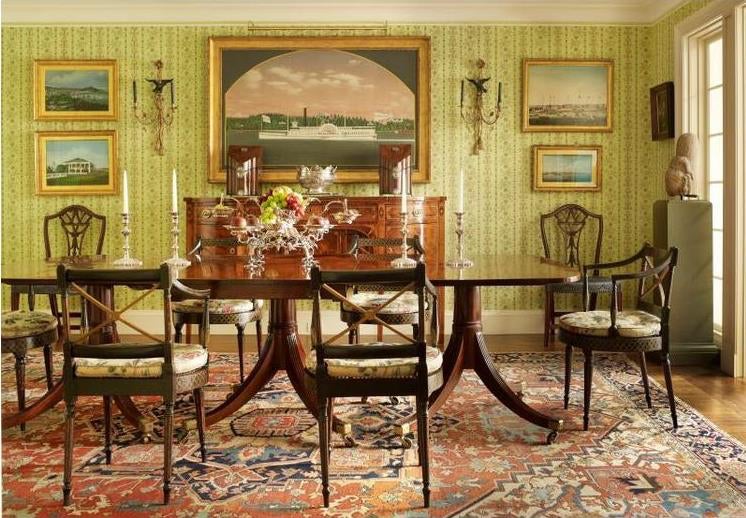 Above: An interior by Thomas Jayne. Photo courtesy Thomas Jayne.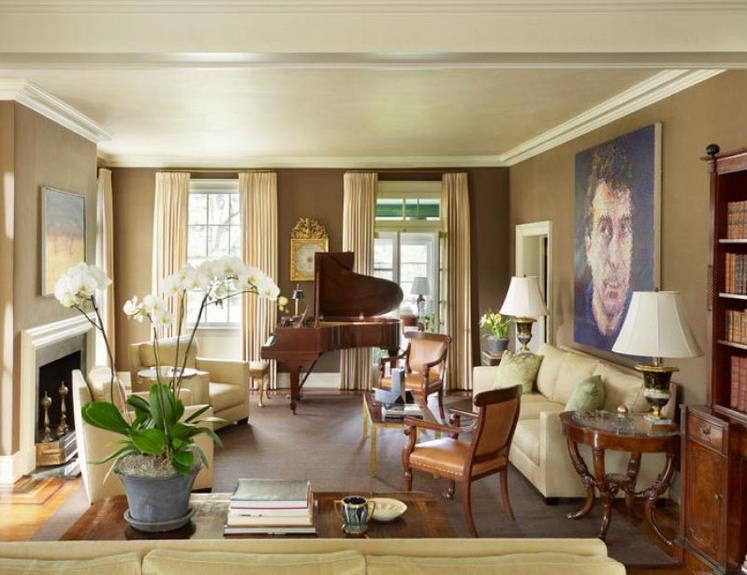 Above: An interior by Thomas Jayne. Photo courtesy Thomas Jayne.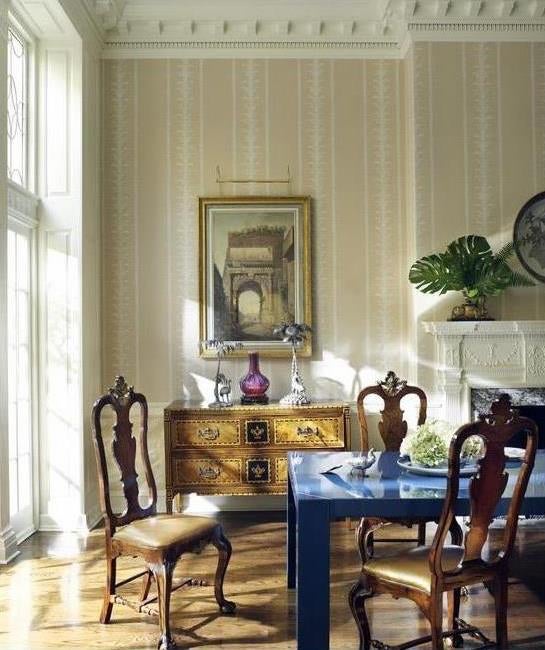 Above: An interior by Thomas Jayne. Photo courtesy Thomas Jayne.
This story was published as part of the 100 Stories collection, compiled to celebrate our 2014 centennial and recognize the achievements and contributions of our alumni worldwide. View the entire 100 Stories archive on the College of Design website.