Elnaz Talaei
Fiber Artist. Teacher. Weaver of Family History.
Elnaz Talaei
Fiber Artist. Teacher. Weaver of Family History.
Talaei in her shared studio space at Millrace Art + Design Studios
The Common Threads of a Contemporary Artist
Elnaz Talaei wants the world to know about her mother. The fiber artist and Master of Fine Arts student (class of 2020) recalls learning how to sew from her mother, a dressmaker, while growing up in Tehran, Iran. Her mother's work was tough—long hours, tiring labor, and demanding—and Talaei would often pitch in.
"Even now when I'm installing my work or stitching, all those memories of working with my mom come back," Talaei said. "My mom has been working for more than 25 years now and her voice has never been heard. Through my fiber art, I want to honor a tradition I started with her."
With her master's thesis, Talaei is taking her history with sewing and fabric and pushing it to the next level with larger-scale works, always in black and white, from a canvas, splattered with black ink and spilling over with black yarn ("Lines of Thread" in group show Under Our Moon Future Ascensions), to a massive ball of white fiber that unspools from a knit sweater ("The Cell" in group show No Joe Left Behind).
The exhibition, "Threads of Body," which exhibited at the LaVerne Krause Gallery in February 2020, was dedicated to her mom.
Talaei came to the U.S. from Tehran six years ago with her husband, who earned an PhD in Operations Management ('19) from the UO Lundquist College of Business. Her family remains in Iran; they have not been able to visit each other because of strict U.S. visa regulations with Iran, specifically Executive Order 13769—an experience she shared with news station KMTR.
Finding Fibers at the UO
Before moving, she studied biology as an undergraduate at Tehran University, because, she explains, it's difficult to have an art career in Iran. Even so, Talaei had grown up with fibers and loved working with them. Once living in Eugene, she researched programs at the UO and found the School of Art + Design.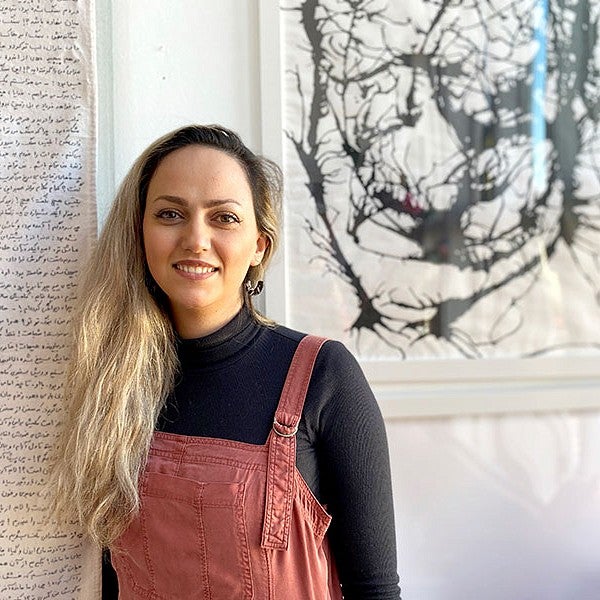 Talaei with her work in her Millrace studio
With her mother in Iran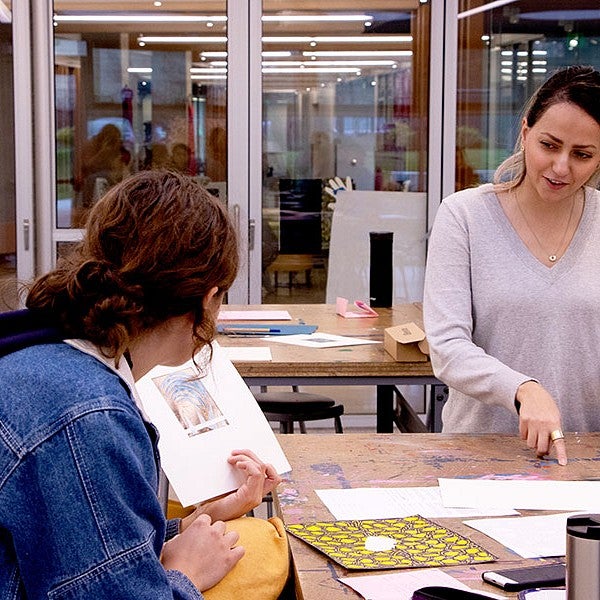 Teaching at the Art + Design Academic Residential Community (ARC) on campus
She entered the MFA program in the Department of Art because, she said, the school has "one of the strongest fibers facilities."
One of the draws for Talaei was that Assistant Art Professor Jovencio de la Paz (who would soon become her advisor) had just come to the College of Design from the School of the Art Institute of Chicago and wanted to update the weaving studio—namely with a digital loom.
"The Thread Controller 2 (TC2) digital jacquard loom was essential to make our program competitive with the top programs in the nation, and was purchased through careful saving and generous donations from the Reinhold Family Foundation," explained de la Paz.
For the first year and a half, however, Talaei did no fiber work because she wanted to explore other mediums—photography, video, drawing, painting.
"This program has helped me a lot in finding myself," Talaei said. "I came back to fibers more confident."
Talaei is also sharing her fibers background with students: She is a GE who teaches Top Intro to Fibers and Stitchwork Strategies, often highlighting their work on her Instagram.
 
Weaving a Family History Together
In February, all of Talaei's experiences in life and art culminated in "Threads of Body." The show's eponymous piece features two fabric panels on a wall, connected by a cascade of looped, tangled, and stretched black yarn connecting the panels.
"The piece is about the politics of relationships and the distances between two people," Talaei said. "In a relationship with two people, there are a lot of tangles, but you don't necessary want to untangle them; it could damage a relationship.
Talaei hopes to continue to teach art and, one day, do an art show with her mother like Faith Ringgold, one of her favorite artists, did. Ringgold invited her own mother, a seamstress and fashion designer, to collaborate, which resulted in the quilted piece "Echoes of Harlem."
"I would like to have an opportunity working with my mom just like Ringgold did," Talaei.
Read more below about students, alumni, and faculty in the School of Art + Design.