Mary Vertulfo
Motion Designer. Animator. Zine Queen.
Mary Vertulfo
Motion Designer. Animator. Zine Queen.
Where Art and Technology Collide
From her home in Denver, Mary Vertulfo recently recalled her own misconceptions about studying art.
"Everyone makes assumptions about what an art student looks like. Everyone has an idea of a starving artist, and I knew that wasn't the life for me," said Vertulfo.
An art alumna (BFA, Art & Tech, '18) and now junior motion designer at the Denver-based Hovercraft design studio, Vertulfo entered the UO and the Clark Honors College undeclared, with her eye set on a degree in international relations.
Vertulfo explains that she was an artistic child, inspired by Japanese and American cartoons (she read a lot of manga), but stopped because people looked at it as "weird."
"I dropped drawing and illustrating cold turkey," she said.
She was so happy for art to re-enter her life during her first year of college when, through the Clark Honors Introductory Program (CHIP), Vertulfo took an art-based course.
"It changed what I thought would be possible for myself and my career," Vertulfo said.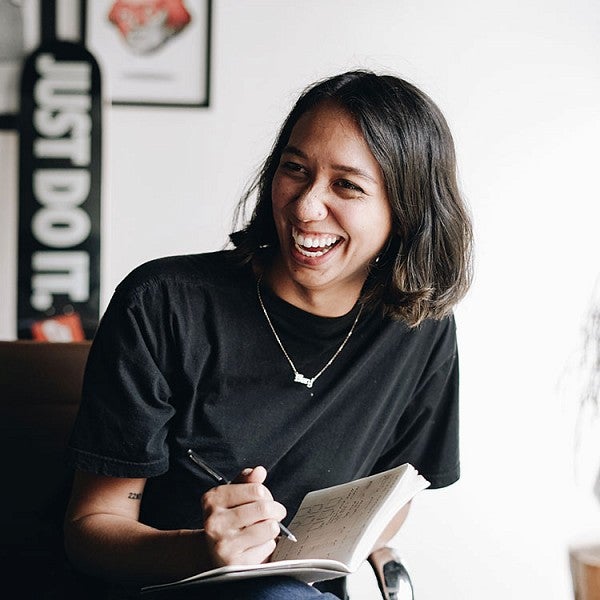 Vertulfo at her Hovercraft office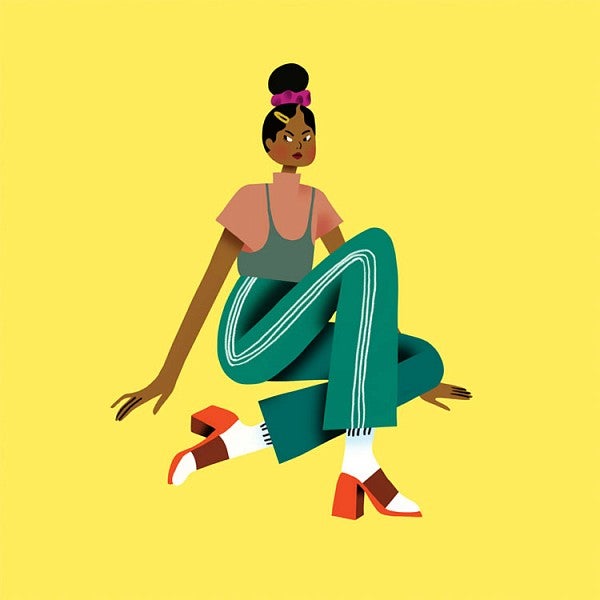 An illustration by Vertulfo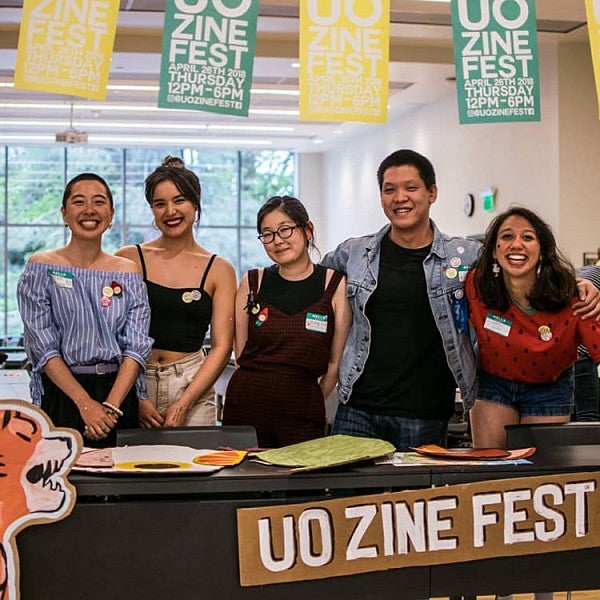 Vertulfo (far right) at the UO Zine Fest, which she co-founded with fellow art alum Teddy Tsai (second from left)
Building a Multimedia Toolbox
Fast-forward seven years and Vertulfo's portfolio spans animation for the renowned indie pop band Japanese Breakfast to illustration for Domino's Pizza and motion design for Nike stores in New York featuring the Women's World Cup.
Vertulfo credits the interdisciplinarity of the School of Art + Design for refining her ability to move between mediums and methods, be that storyboarding and motion graphics or logo design and hand-drawn cartoons.
"What I really liked about the BFA program is it encouraged you to discover different media. The program was more defined by ideas and work ethic," said Vertulfo, who was a recipient of the Summit and Solari scholarships. "I have a much greater toolbox than if I had come through a trade-focused school."
With this toolbox, Vertulfo co-founded the UO Zine Fest with fellow art alum Teddy Tsai in 2017.
In the Department of Art, Vertulfo said Associate Art Professor Rick Silva, Art Professor Michael Salter, Art Career Instructor John Park, and Senior Art Career Instructor Tyrras Warren helped push her to the next level of skill and creativity.
"Tyrras was the first person who taught me to take my own work seriously," she said. "He really helped me push my art to be about things that were important to me and not be thematically or aesthetically stuck."
 
Onward to Denver, Hovercraft, and Nike
Her professors also encouraged her to pursue a career in Denver, where they helped connect her to the local art community.
"I owe a lot of my success to their support," she said. "You don't find that with every program, so I feel very lucky."
In her career, her experience at the College of Design taught her how to best collaborate with bosses and clients, champion her work, and think deliberately through projects from start to finish.
For Hovercraft client Nike, Vertulfo worked on motion graphics inspired by the uniforms the company designed for the Women's World Cup to outfit the Nike House of Innovation on 5th Avenue in New York—to appear on upwards of 50 screens throughout the venue.
"It's like building a motion infographic for a retail space," Vertulfo said. "It was very inspiring content. I really like that they trusted me to work on a campaign like that.
Read more below about students, alumni, and faculty in the School of Art + Design.