Five artists associated with the UO School of Architecture and Allied Arts were honored with 2015 Career Opportunity Grants from the Oregon Arts Commission
and The Ford Family Foundation. They include Adjunct Instructor Damien Gilley, alumnus Grant Hottle (MFA '07), Associate Professor Anya Kivarkis, Assistant Professor Donald Morgan, and Associate Professor Laura Vandenburgh.
"We are pleased that our artists are receiving so much recognition, both regionally and internationally. These generous and timely grants promise to significantly advance the work of these amazing artists," said Carla Bengtson, head of the UO Department of Art and the Ann Swindells Chair.
Career Opportunity Grants fund opportunities for artists to further their careers in areas that include artistic, business, or professional development. The Ford Family Foundation Opportunity grants are available only to Oregon midcareer visual artists who are over age thirty and actively producing new work in the fields of fine art and contemporary craft. Most of the grants support the artists' participation in residencies, exhibitions, or performance opportunities that advance their careers.
"These grants are designed to accelerate an artist's development," said Avantika Bawa, the arts commissioner who chaired the review panel. "At a critical time in their careers, we want to provide the catalyst for them to move to the next level by supporting traditional and unique opportunities." Twenty-six applications were received for commission funds; of those, fifteen applications requested additional funds from The Ford Family Foundation. 
"We are pleased to be able to invest in these artists at such pivotal moments in their careers," said Anne C. Kubisch, president of The Ford Family Foundation. "We expect these artists to make significant progress on regional, national, and international stages."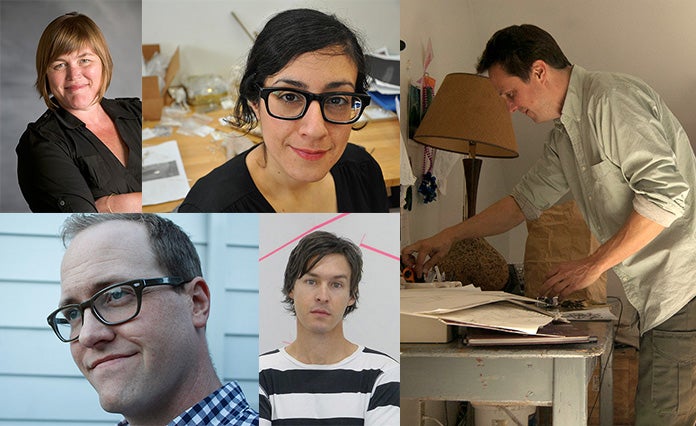 Above (clockwise from upper left):  Laura Vandenburgh, Anya Kivarkis, Donald Morgan, Damien Gilley, and Grant Hottle
Details on the grants associated with A&AA include:
• Damien Gilley, OAC $1,500, The Ford Family Foundation $2,790
The grant funds will support Gilley's creation and production of an artist book that documents approximately thirty-five artist studios in Oregon through a unique photographic approach. The photographs capture linear laser lights emitted in private studios that have been light-sealed. The book will limited to 200 copies and will be released at False Front Studio in spring 2015 with an accompanying immersive installation.
• Grant Hottle, OAC $1,500, The Ford Family Foundation $1,500
The funding will support painter Hottle's exhibition of "Aftermath" with sculptor Paula Rebsom at the Galleries of Contemporary Art at UC Colorado Springs in March 2015. "Aftermath" addresses the artists' shared interest in the aesthetics of natural disasters and their aftermath. The show will be an opportunity for Hottle to display his project-based work beyond the West Coast.
• Anya Kivarkis, OAC $1,500, The Ford Family Foundation $5,000
The grants will support the production of work for Kivarkis' winter 2015 exhibition at Sienna Patti Contemporary in Albany, New York. The exhibition continues work Kivarkis began on a recent sabbatical and will enable her practice to evolve and expand from jewelry objects to photography and the moving image.
• Donald Morgan, OAC $1,500, The Ford Family Foundation $4,000
Grant funds will support Morgan's participation in a three-week artist residency at the MacDowell Colony in Peterborough, New Hampshire, one of the most prestigious and historic art colonies in the world. The residency will provide a highly concentrated, relatively uninterrupted time for Morgan to complete a series of works for his upcoming solo show at Soo Visual Art Center in Minneapolis, Minnesota.
• Laura Vandenburgh, OAC $1,500, The Ford Family Foundation $1,500
The funding will support Vandenburgh's creation of a site-specific work for an exhibition at Disjecta in January 2015. A practicing artist for twenty years and a full-time professor for much of that time, Vandenburg is beginning a year-long sabbatical with goals to cultivate a new studio, new exhibitions, and critical reception for her work.