In what could be called an art exhibit triptych, Amanda Wojick, associate professor and coordinator of the sculpture program at the School of Art + Design at the University of Oregon, has pieces on display in three states this month—New York, Illinois, and Oregon.
"The Space is Always" is showing in the Oregon Governor's Office of the Capitol Building in Salem, from now until May 31. According to the Oregon Arts Commission, which runs the Art in the Governor's Office Program, "Wojick's work explores a collision of abstraction and everyday life. Using layered texture, vibrant colors and irregular shapes, she weaves together elements of painting, sculpture and collage."
The Art in the Governor's Office Program identifies living, professional Oregon artists for exhibitions in the reception area of the Governor's Office in the State Capitol. Artists are nominated by a statewide committee of arts professionals and are then selected by the Arts Commission with the participation of the Governor's Office. Artists whose work has previously been shown in the Governor's office include Henk Pander; Michele Russo; Manuel Izquierdo; James Lavadour; Wendy Red Star; and art alumnus Gordon Gilkey, MFA, '36.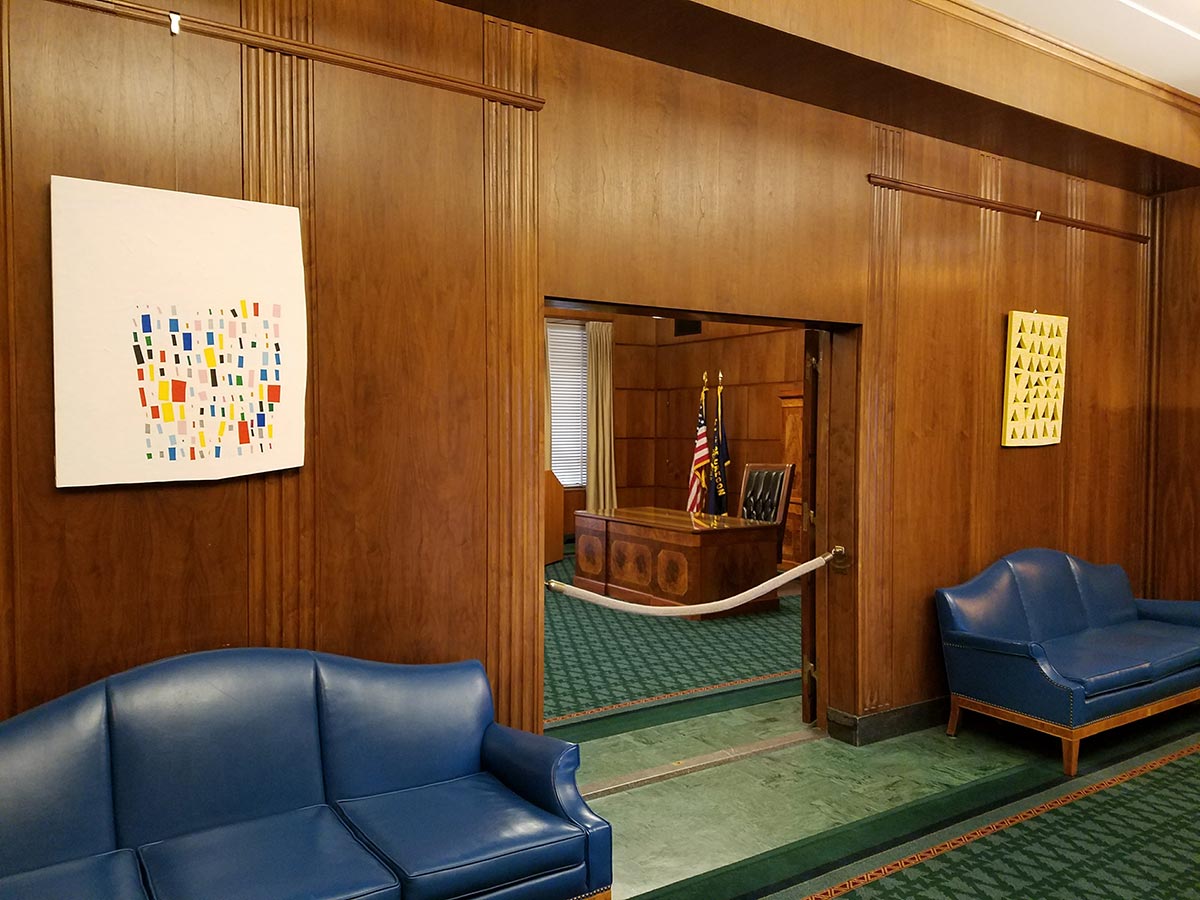 Artwork by Amanda Wojick hangs in the Oregon Governor's Office of the Capitol Building in Salem. Photo by Jonathan Bagby, instructor and exhibits coordinator, School of Art + Design, University of Oregon.
In Chicago, Wojick has work at the Tiger Strikes Asteroid, a network of artist-run spaces with locations in Philadelphia, New York, Los Angeles and Chicago. The show, called Manatee, recognizes the give and take of mentor/mentee relationships.
Now until June 2, Wojick also has work in the "MacDowell Now: Recent Abstract Painting" show at The Curator Gallery in New York City. The six artists in this show have two things in common—each was a fellow at The MacDowell Colony in Peterborough, New Hampshire, in 2017, and each creates abstract work, notable for its vibrant color, "disrupted geometry, and intricate patterns intensified by layered, interwoven, and highly evolved signature motifs," according to the exhibition's website. Wojick was awarded a month-long fellowship at the prestigious artist's colony in fall 2017.
"I am honored to have the recognition from the Oregon Arts Commission, Tiger Strikes Asteroid, and the MacDowell Colony. I have lived in Oregon since 2001, but I'm originally from New York, so I love having my work exhibited in Chelsea at the same time. I'm also a huge fan of Governor Kate Brown, so I'm especially excited to have my work there during her term," says Wojick.
Wojick's work has been exhibited at galleries from Portland, Oregon, to Stockholm, Sweden, and numerous places in between. She holds two Master of Fine Arts degrees, one from the Milton Avery School of the Arts, Bard College, and one from the New York State College of Ceramics at Alfred University. She earned her bachelor's in art and art history from Colgate University.
View more work by Amanda Wojick