Associate Professor Charlene Liu recently embarked on a new body of work: exploring ideas of motherhood, intimacy, and sustenance.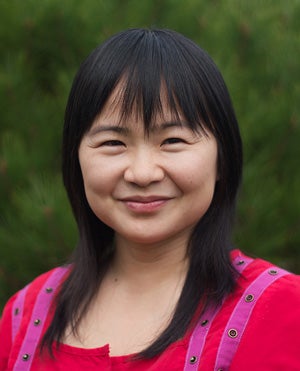 "I find the topic relatively untapped in contemporary visual arts," she says. "In the process of creating the work, I'm navigating the potential problems of the subject matter—its easy sentimentality, clichés, and taboos. Creatively I continue to explore an ongoing interest in historically gendered female narratives and in hybridized identities shaped by visual traditions."
The new work will take form in mixed media paintings on panel, intaglio prints, and artist books. "I continue to play with pattern and decoration, arabesques and scribbles, in addition to layering unique imagery and appropriated imagery drawn from historical sources and popular culture," she says.
Liu, who joined the faculty of the UO Department of Art in 2007, creates her artwork through an amalgam of printmaking, painting, and papermaking processes. She also incorporates digital printing, vinyl and laser cutting, along with traditional techniques in printmaking and handmade paper.
"The many possibilities in print media allow me to leverage the diverse qualities of these disparate techniques and then work organically through a process of collage and painting to create the final piece," she says.
Above: Associate Professor Charlene Liu
Liu has exhibited her work nationally and internationally. Galleries representing her work include Taylor de Cordoba in Culver City, California; Elizabeth Leach Gallery in Portland, Oregon; and the Shaheen Modern and Contemporary in Cleveland, Ohio. She has also had solo shows at Virgil de Voldere Gallery (New York), Galeria Il Capricorno (Venice, Italy), and Andrea Rosen Gallery 2 (New York). Her work was recently included in a group exhibition of printmaking at the Kyoto City International Foundation in Kyoto, Japan, and the NHK Fureai Gallery in Tokyo.
"I work with galleries that represent my work, and I apply to opportunities and grants that align with my creative interests and goals," she says. "I enjoy meeting artists and others in the creative field, whether through studio visits, art openings, events, or teaching, naturally expanding a network of artists and professional connections. This involves teaching, traveling, looking at art, writing, and keeping in touch with artists and curators."
Prior to coming to UO, she lived and worked in her studio in West Harlem, New York, and taught at Women's Studio Workshop and Columbia University. This past summer, she taught intaglio at the Anderson Ranch summer workshops in Snowmass, Colorado. 
"Workshops typically present technical information in a short span of time to a diverse group of people; [the workshops offer] the opportunity to present information in different ways, giving me ideas for teaching that I can bring back to an academic setting," she says. "As a bonus, Anderson Ranch and WSW are located in beautiful rural landscapes creating a retreat-like arts experience."
Liu's work has been reviewed in the Los Angeles Times, The New York Times, The Huffington Post, New American Painting, and Flash Art International, among others. Her work is included in the collections of the Museum of Modern Art (New York), the New Museum (New York), and the Progressive Art Collection (Cleveland). Liu received her MFA from Columbia University in 2003 and a BA from Brandeis University in 1997.
At UO, Liu serves as curricular coordinator of printmaking. In addition to advising MFA candidates and BFA students on terminal projects, she teaches introductory to advanced printmaking courses. Within the printmaking curriculum, the department also offers letterpress and specialized classes.
She notes two upcoming specialized classes jointly offered by the fibers and printmaking programs in the Department of Art: "Comics and Narratives" (winter term) and "Sheet to Form" (spring term). These experimental courses will explore a rich area of overlap between fibers and printmaking.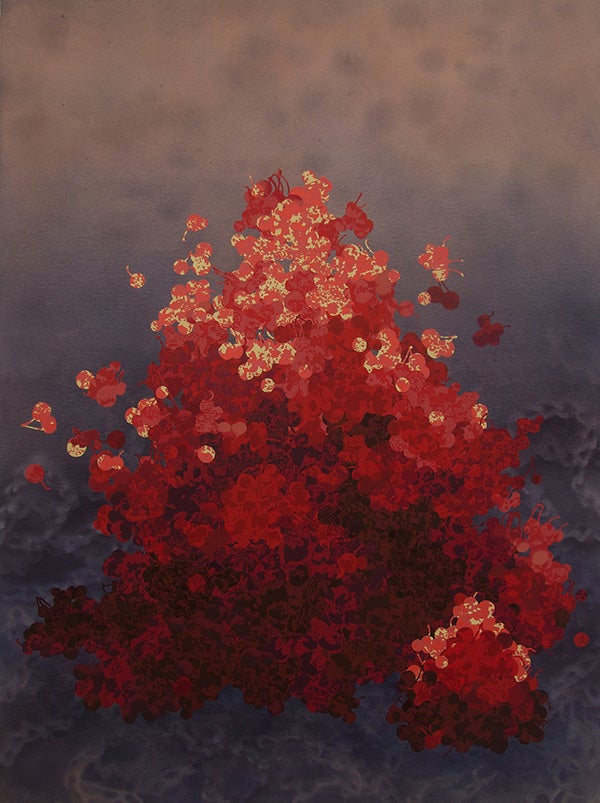 Above: Mother & Child, 2013, woodcut, screen print, watercolor on paper, 40 X 29 inches.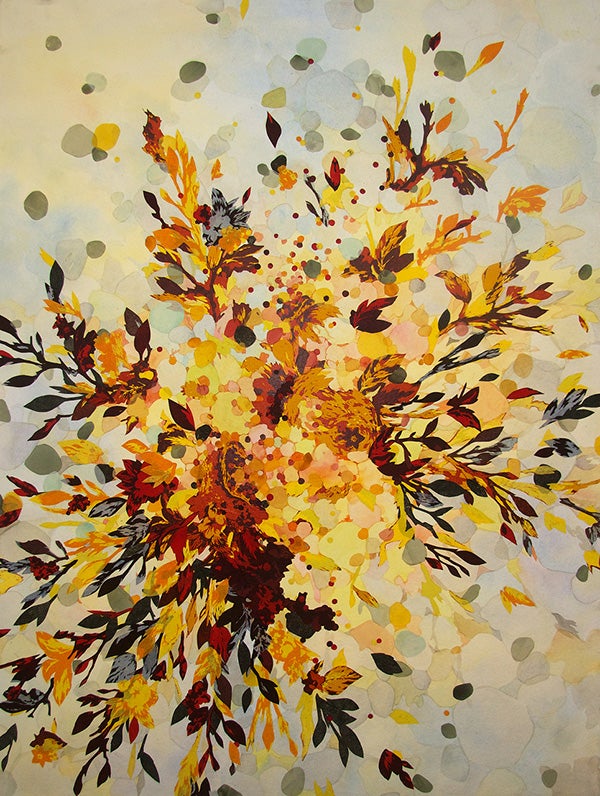 Above: Flying Guillotine II, 2013, woodcut, watercolor, ink on paper, 40 X 30 inches.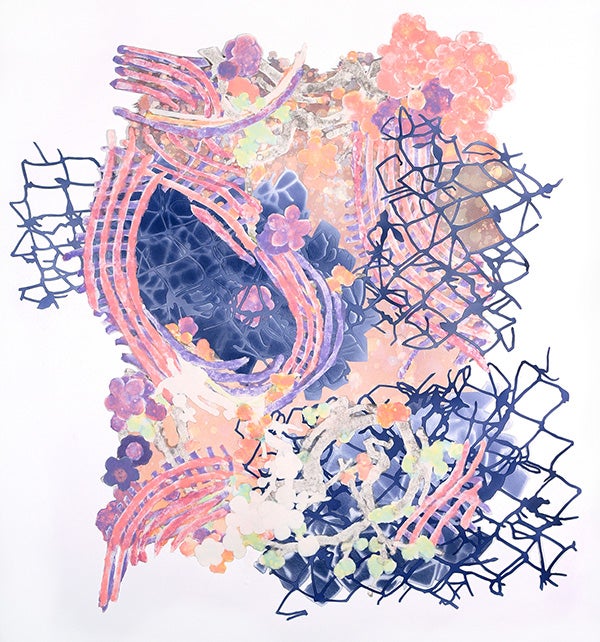 Above: Comings & Goings, 2012, handmade paper, pigmented pulp, acrylic, 37 X 35 inches.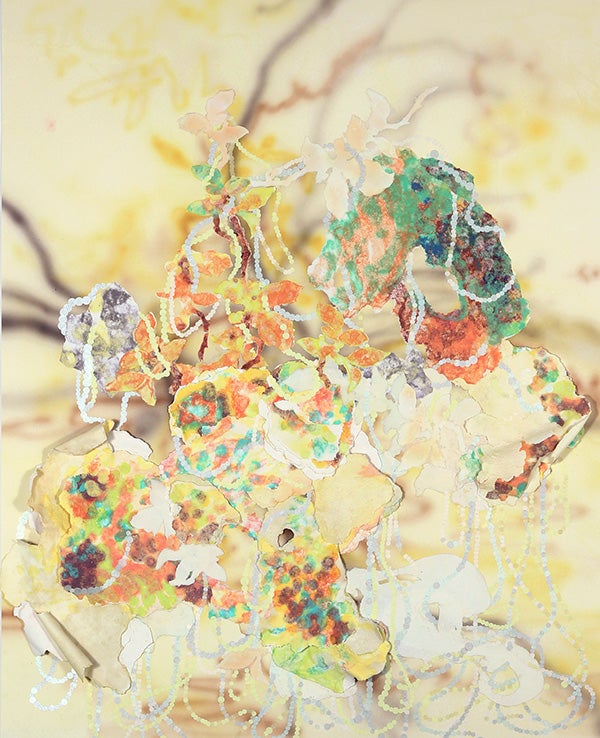 Above: Amid the Fleeting, 2012, handmade paper, pigmented pulp, acrylic, 48 X 39 X 2 inches.