MFA candidate Stephen Nachtigall is Canadian. He's also a proficient sculptor. These two concurrent realities meant he could be invited to exhibit his art in Glasgow, Scotland, this winter as part of an exchange between Canadian and Scottish artists. His work was accepted, and in late January Nachtigall was on a flight to Glasgow, his work safely tucked in the overhead bin.
Nachtigall is one of twelve artists participating in a Canadian-Scottish cross-cultural exchange that began in summer 2013.
"The Glasgow artists have exhibited in a group exhibition in Calgary, and the Calgary artists are exhibiting in Glasgow," said Nachtigall, whose hometown is Calgary. In between the Calgary and Glasgow shows was an exhibition in Edmonton, Alberta, to combine work by the twelve artists.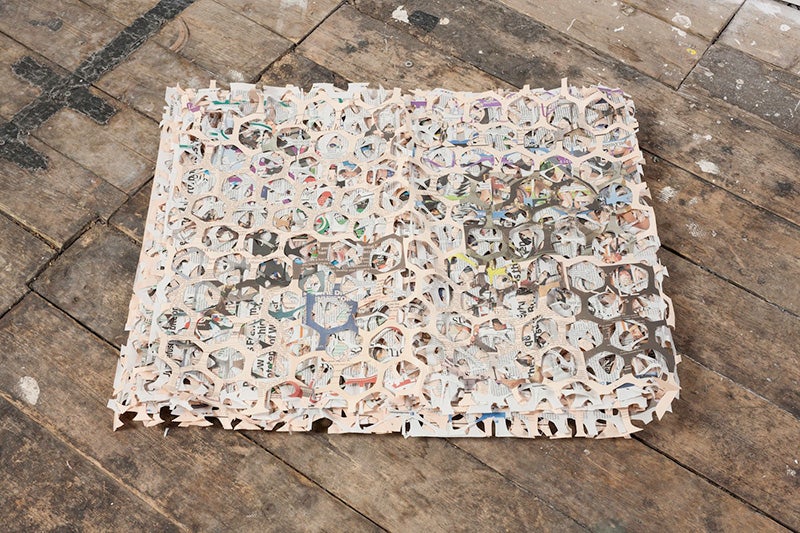 Above: Lattice (Scotland on Sunday, Evening Times), 22" x 22", newsprint, 2014, is part of Nachtigall's installation in Glasgow. Photograph by Ruth Clark.
Nachtigall traveled to Glasgow to install his work in the exhibition "WE," which opened its Scottish show January 24. He was among six Canadian and six Scottish artists whose work was conceived for the exchange that began in Calgary last summer, moved to Edmonton, and culminates in Glasgow. The geographical-based exhibitions offer "an independent take on art-making elsewhere, documenting and exploring the connections in and between Calgary and Glasgow," according to the Edmonton show website.
Along with participating in a workshop in Glasgow to discuss cross-cultural art exchanges, Nachtigall exhibited work that embraces themes crossing cultures as well as locations.
One of his works in the show, Lattice (Scotland on Sunday, Evening Times), "is site specific in terms of the material that the piece is constructed from refers directly to the place itself," he said. "My process of cutting into the newspapers [from Glasgow] and rendering them into meshes removes any directly referential information one could glean from the newspaper." The piece lies on the floor and allows the viewer to see down through layers of newspapers. "Even though I am using material very specific to Glasgow, my process renders the newspapers unable to inform the viewer, in an effort to translate it into a mesh that transposes itself across cultures and opens itself up to the interpretive faculties of the viewer."
Because of the travel involved for the exhibition, Nachtigall "decided to show works that could be easily packaged and carried with me onto the plane, as a nod to the travel grant that allowed the artists to journey to the exhibition and experience Glasgow. All of the works were able to fit into a cardboard tube."
He was also able to travel to London in January with support from the Raymond Bates Travel Grant. After the exhibition opened in Glasgow, he traveled to London for three days, where he attended a symposium at the Institute for Contemporary Arts titled The Art School: The Future for 'Theory'? and visited a number of exhibitions throughout the city.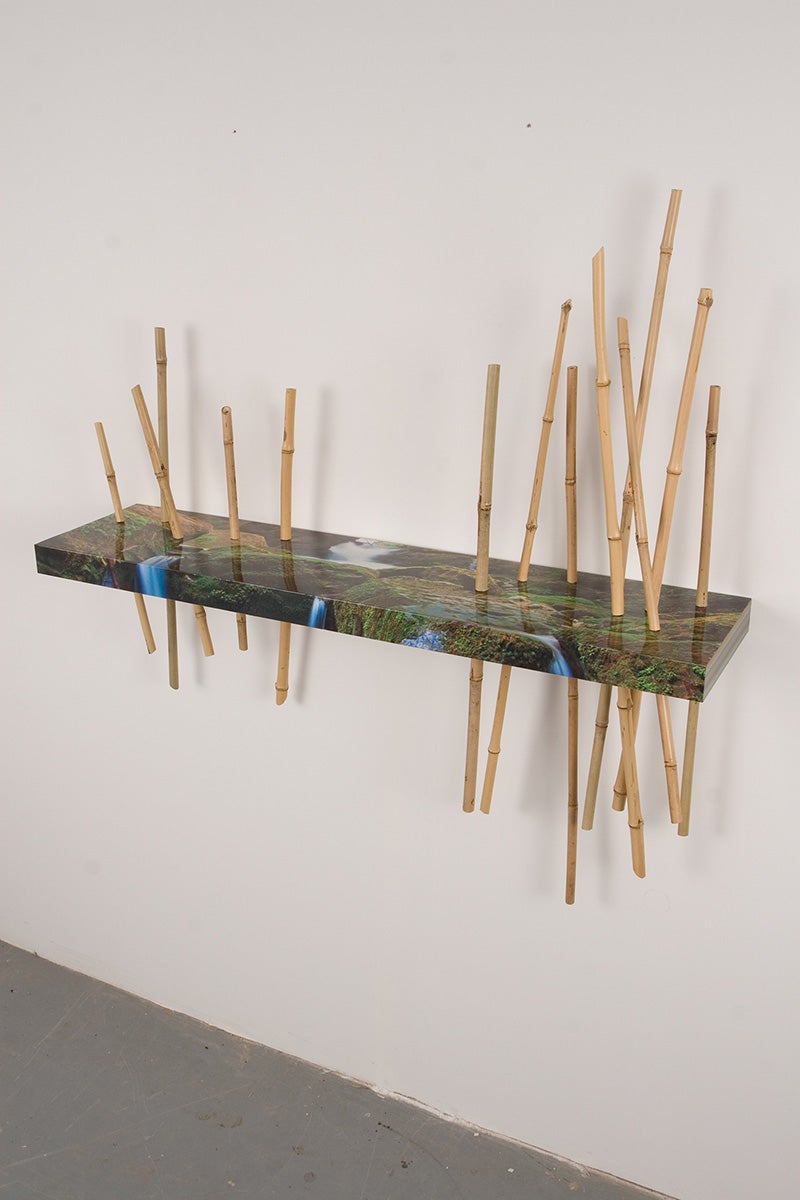 Above: Console, 2012, 74" x 64" x 8," vinyl print on Ikea shelf, bamboo, by Stephen Nachtigall.
Nachtigall's installation in Glasgow includes, in addition to the newspaper lattice work, "one iteration of my recent sculptural works, constructed out of a wooden branch that has been smoothed out with auto-body filler and then printed with imagery via an immersion printing process. A third piece, which is an older work, is constructed out of two long pieces of transparent one-inch acrylic Plexiglas which leans on the gallery wall. The rear of the Plexiglas is layered with collaged imagery printed onto transparent vinyl."
The Glasgow artists' work showed at the Haight Gallery in Calgary, while the Calgary artists' work exhibited in The Old Hairdresser's, a new, small independent arts center in Glasgow. "WE,", which runs in Edmonton through February 15 at Latitude 53, celebrates and documents the grassroots art scenes in both Calgary and Glasgow "in a snapshot of two close groups of artists that straddle D.I.Y. practices and the professional."
Creative issues that Nachtigall has been exploring in his work "often deal with themes of a global psyche related to the natural environment. The imagery I use in my works often reference fantastical depictions of nature, such as idyllic beach scenes, dense jungles, and other kind of ideal visions of nature," he says. "Other imagery used in the branch sculptures appropriates the vernacular of woodland hunting camouflage. In this way my work has a certain universal language that I am using to try to decenter our conception of what our relationship to 'nature' really entails."
Nachtigall has a BFA in sculpture from Alberta College of Art & Design in Calgary. His work has been shown in the Art Gallery of Calgary, Central Memorial Park in Calgary, theblackgallery.net, Theatre Junction Grand in Calgary, and Truck Contemporary Art in Calgary. He is on track to earn his MFA from UO in 2016.
His MFA work "has been concerned with the representation of natural and cultural forms through the means of sculptures which take imagery as their surface, as well as video works and other installations," he said. "Moving forward I seek to expand my consideration of an object-based inquiry into processes which reify our conception of natural forms and their cultural counterparts."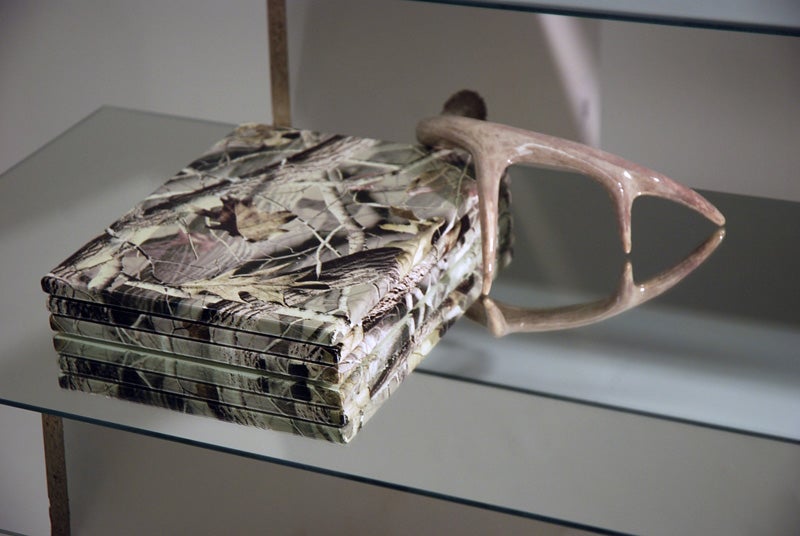 Above: Stack Mimetics, detail, 2012, dimensions variable, immersion print on Corian, mirror, fibreboard, feer anter, nark, moss, by Stephen Nachtigall.
In Glasgow, the artists explore medium and process in print, collage, and sculpture. At Latitude 53, "WE" includes works by both groups of artists, presented together for the first time in anticipation of their conversation in Glasgow, which is the final installment of the thematic exhibition curated by Matthew Mark Bourree and Yvonne Mullock.
In addition to Nachtigall, the Calgary artists include Andrea Williamson, Hannah Doerksen, Kent Merriman Jr., Steven Cottingham, and Tyler Los Jones.
The Glaswegian artists include Laura Aldridge, Ciara Phillips, Jonathan Owen, Daisy Richardson, James McLardy, and Rachel Duckhouse. Their show at the Haight Gallery in Calgary ran from July 28 to August 3.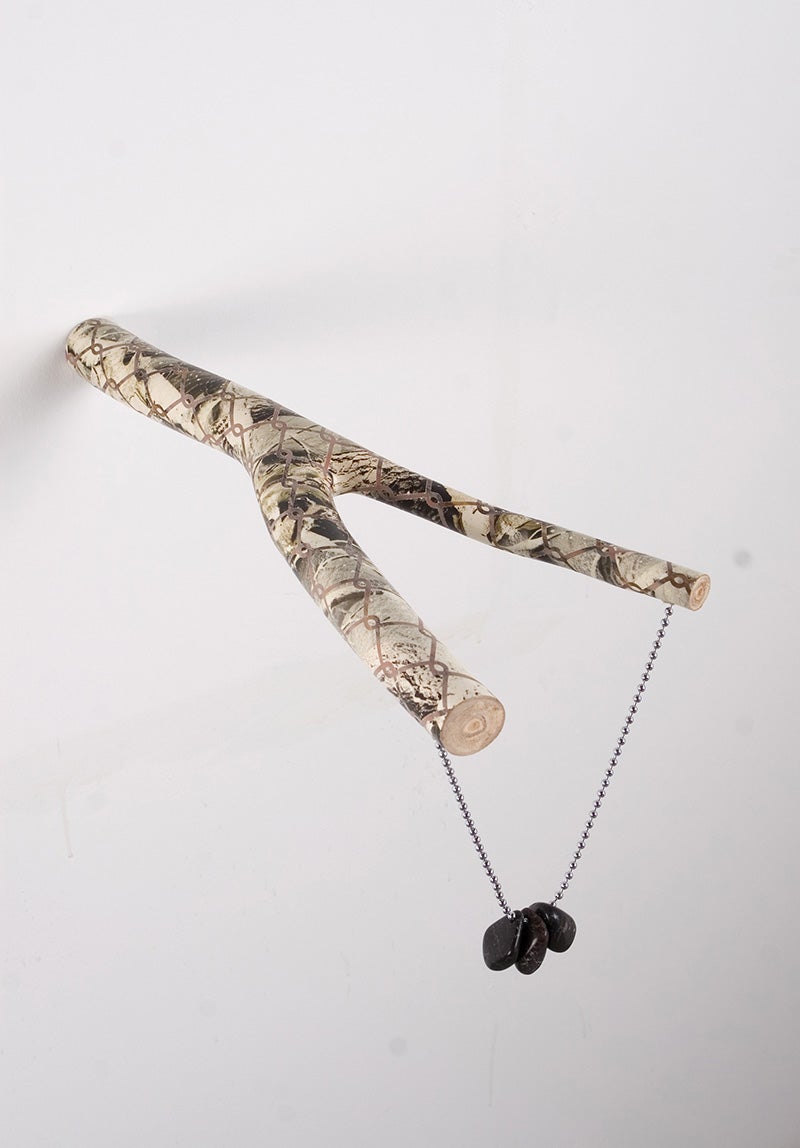 Above: Stave, 2013, 12" x 5" x 8," wood, immersion print, auto-body filler, engraved stones, steel chain by Stephen Nachtigall.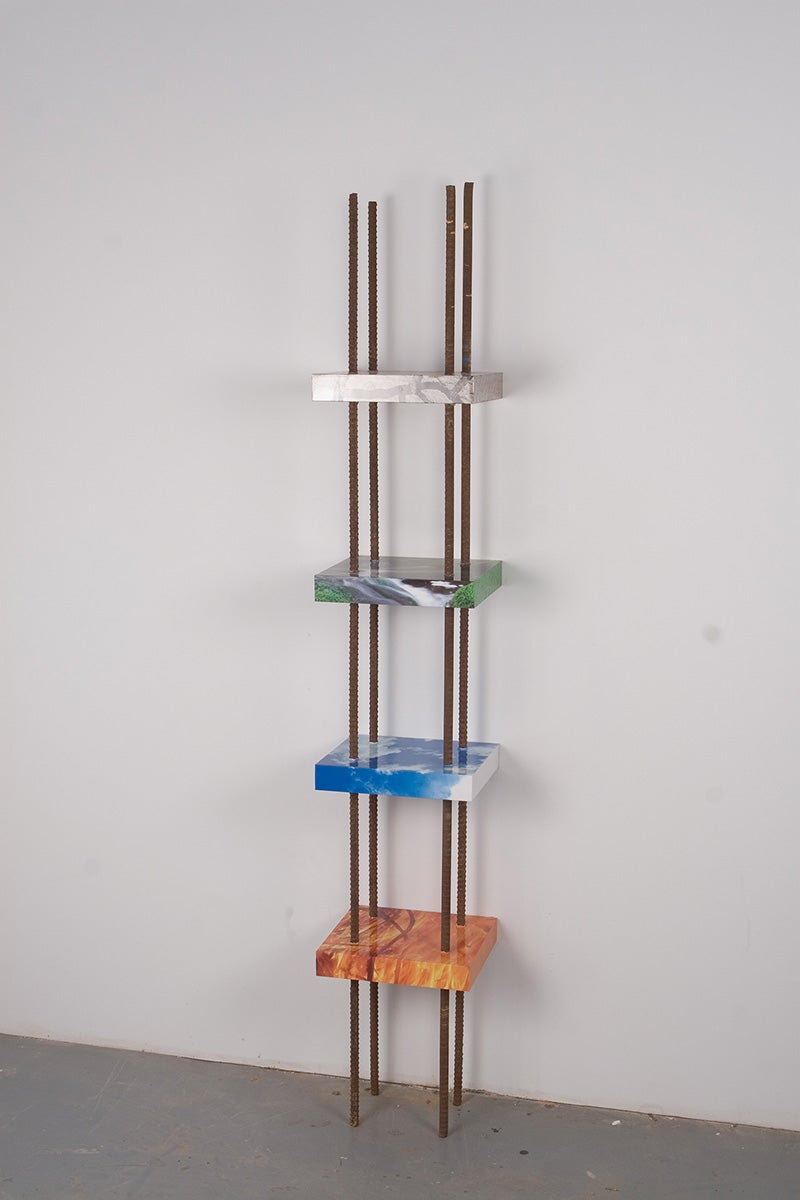 Above: Aether, 2013, 12" x 64" x 12," vinyl print on Ikea shelf, steel rebar, by Stephen Nachtigall.