What do Ghostbusters, Dragon Quest, Garbage Pail Kids, Teenage Mutant Ninja Turtles 2:  The Secret of the Ooze, and the artist Lynda Benglis have in common? The use of a familiar pop culture trope:  slime! Its residue is seen in all corners of the creative world, whether you are talking art, movies, video games, or other pop culture media, slime gets everywhere. Given its ubiquitous nature and overwhelming presence, it is shocking to see how little exploration and examination has gone into this substance that has a sticky place in our collective conscience. Associate Professor, Christopher Michlig, remedies this oversight with his latest book, File Under:  Slime. Michlig's latest book explores, collates, and explains the cultural phenomenon, with a slew of photographs showcasing the stuff in all its putrescent glory. Here's what Michlig has to say about his latest publication:  
"What is slime? We are well acquainted with its qualities in conjunction with certain things from which we tend to recoil but to which we are also at times fervently attracted. Despite being everywhere, slime is a surprisingly unexamined cultural phenomenon. File Under: Slime collates a cultural history of "slime" and "sliminess," with particular emphasis on precedents in pop-culture, contemporary art, ecology, science fiction, literature, critical theory, and cinema.

Artist and professor Christopher Michlig's research characterizes slime as a pervasive, oozing, cultural phenomenon, documenting instances of its evolving representations, ranging from philosopher Jean Paul Sartre's meditation on the aberrant substance in his 1943 work Being and Nothingness, to the cooptation of it as a ubiquitous visual and cinematic trope referencing the grotesque, transgressive, and paranormal."
Clocking in at 260 pages, pairing gorgeous photos with insightful text, File Under:  Slime is sure to stick around. The book is available through all major book distributors, especially through the artist's preferred seller, an independent, Los Angeles-based publisher and print production house called Hat & Beard Press, linked here and via the button below.   
---
Learn More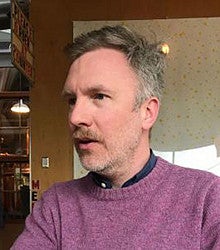 Christopher Michlig
 does work in a wide range of media, including collage, printmaking, sculpture, and film. Michlig's work has been reviewed and featured in numerous publications, like the Los Angeles Times, and has been exhibited internationally and nationally with his most recent exhibitions in one-person exhibitions at Galleria Giuseppe Pero, Milan, Devening Projects + Editions, Chicago, and White Box, Portland, OR.  Michlig received an MFA from the Art Center College of Design, Pasadena, California and he is currently an Associate Professor and area Coordinator of Core Studio.