A selection of work by graduating senior art students will be shown June 9-16 in the Best of 2014 Spring Storm exhibition in the LaVerne Krause Gallery in Lawrence Hall.
The exhibition will feature works utilizing a diverse range of materials and processes that explore the innovative and interdisciplinary approaches to contemporary creative practice.
The opening reception will take place Monday, June 9, from 5-7 p.m. in the gallery.
Best of 2014 Spring Storm will showcase work from media areas within the Department of Art, including ceramics, digital arts, fibers, jewelry and metalsmithing, painting, photography, printmaking and sculpture.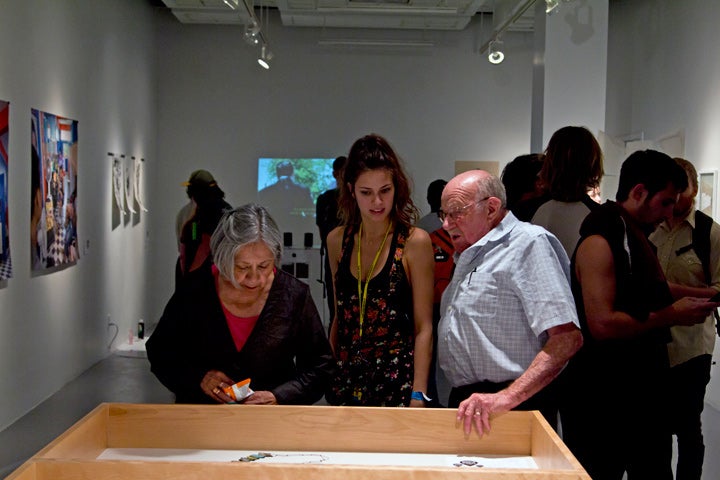 Above: Visitors to Spring Storm gather in an exhibition space during the show. Photograph by Cody Rappaport.
The show will provide not only a glimpse of advanced student work but also insights into their creative processes, material choices, and theoretical approaches.
Finalists for the Best of 2014 Spring Storm were selected by faculty members from the 2014 Spring Storm: Department of Art 2nd Annual Senior Show held May 30.
Exhibiting artists include Evan Bailey, Cruz Castillo, Sara Dinsmore, Linnea Haas, Lara Kim, Taylor Johnson, Mackenzie Legg, Betsy Mc Cluer, Pace Taylor, and Bryan Yost.