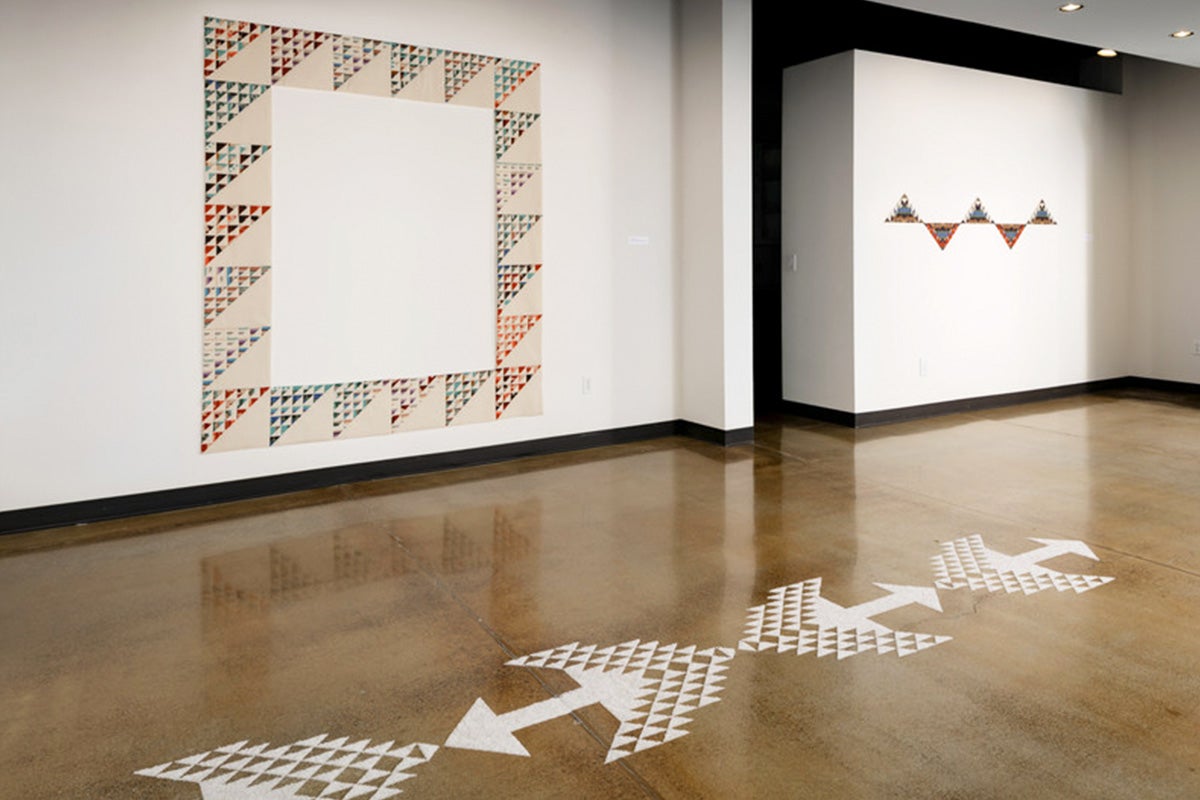 'Recounting Fragments" by Sonja Dahl, 2018. Photo by David Paul Bayles.
Portland Textile Month recently wrapped up with the Textile Connections Symposium October 26–27 at the Pacific Northwest College of Art, where School of Art + Design Assistant Professor of Art Jovencio de la Paz joined discussions about textiles and technology, while Fibers Studio Manager and Technician Sonja Dahl (BFA '10) exhibited her work.
In the article "Warp, Weft, In Between and Beyond," Oregon ArtsWatch author Martha Daghlian reported that de la Paz, who recently exhibited his fiber art in the Portland Biennial, explained how he likes to create "monstrous mathematical aberrations" by feeding digital loom software difficult images to reproduce in pixels.
"De la Paz sees this failure of the digital to properly translate content into reality as evidence of the lack of attention that has been paid to the 'heart' of digital and AI technology, which has largely grown up in the narrow context of capitalism," said Daghlian. "He is currently pushing for added functionality on digital loom software to make it more open to intuition and creativity, and less dependent on artificially predetermined pathways. In his view, the materials, functions, and processes of fiber arts have a special ability to bridge the realms of human embodiment and digital technology as we move forward."
Daghlian also describes the "meticulous craftsmanship" of Dahl's work, such as the 2018 piece "Recounting Fragments," as well as how Dahl examined her own heritage and how that relates to her art.
"Dahl presented a rigorously researched body of work that explored her own identity as a white settler on occupied native lands through the symbolism of quilting patterns and historically loaded materials," Oregon ArtsWatch said. "She described how her love affair with indigo dye had curdled when she learned of its association with environmental pollution and the trans-Atlantic slave trade and subsequently inspired a new line of inquiry in which the artist faced her own cultural legacy as an occupier and oppressor."
Read more about the Textile Connections Symposium at Oregon ArtsWatch.