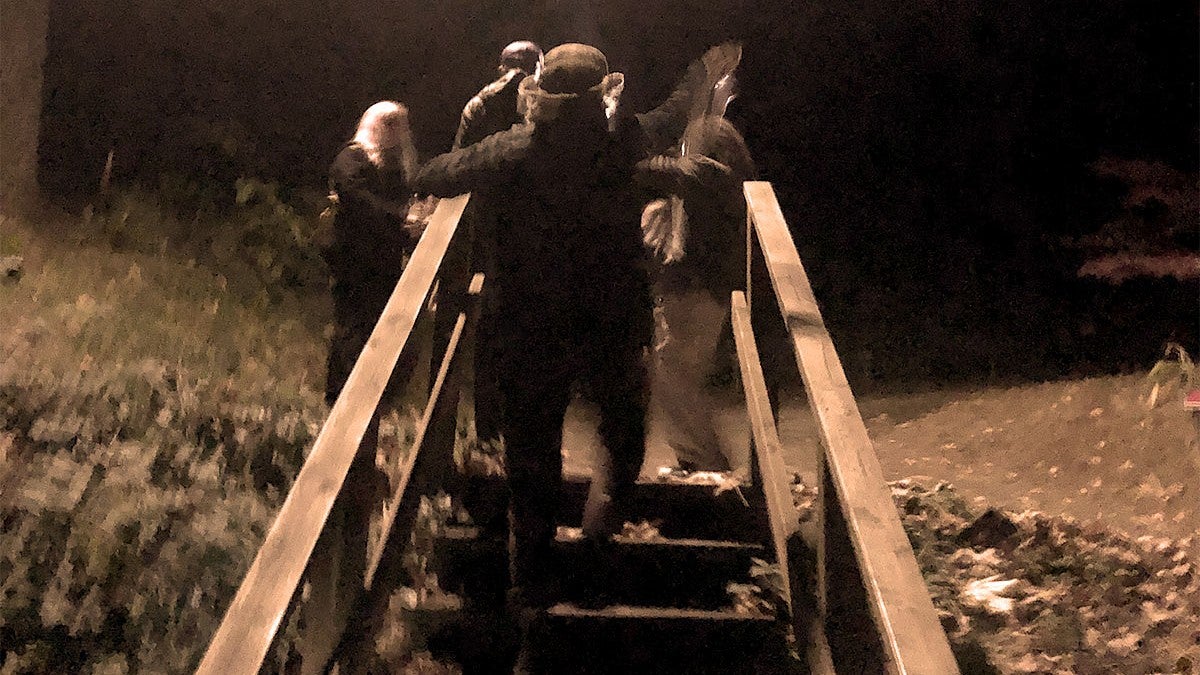 Art + Design ARC students in class exploring campus by night
During fall term, first-year art student Virginia Boutwell has already gone on a slew of mini-adventures with her fellow students in the School of Art + Design. Prompted by art instructors Isami Ching and Jessie Vala, the students brought their sketchbooks to the banks of the Willamette River, designed a treasure map, and explored the campus by night for "areas of interest," like old locked creaky gates that lead to nowhere.
And in the Kalapuya Illihi Residence Hall where they live, Boutwell says, they have had many movie nights, screening Studio Ghibli films and horror flicks leading up to Halloween.
"Especially during COVID, it really extends the community," Boutwell said. "You're in your bubble, and it's a bunch of cool people together with similar interests and goals. And we have classes together."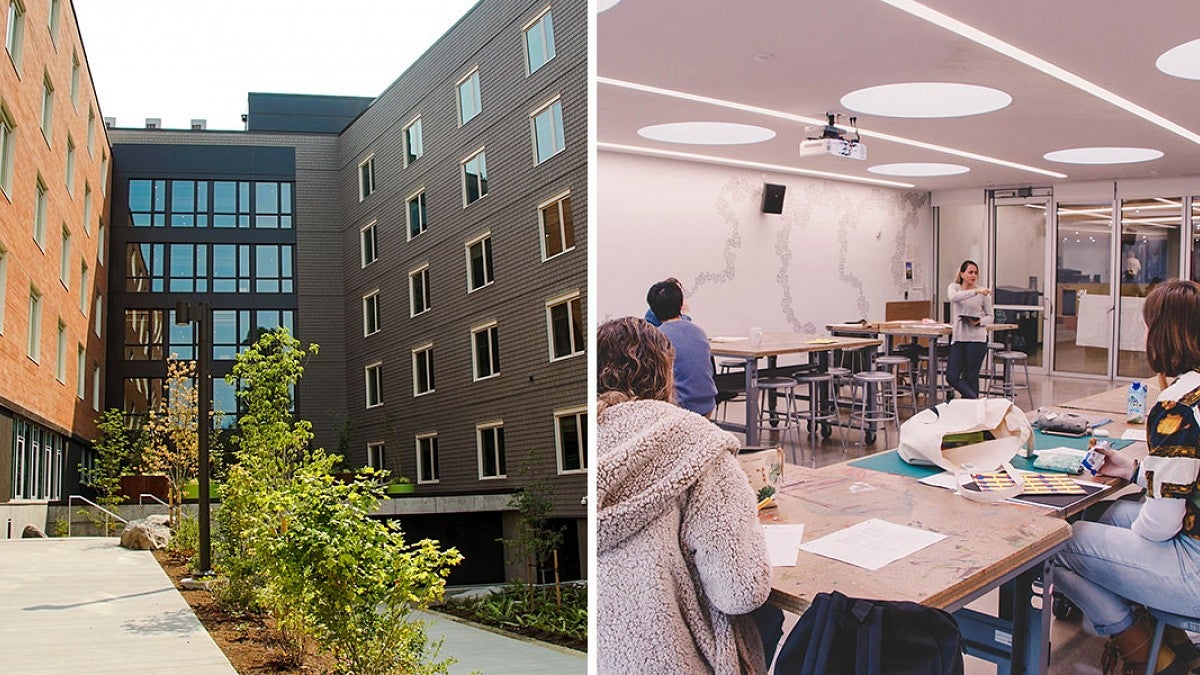 Kalapuya Ilihi Residential Hall and the A+D ARC makerspace in 2019
Boutwell is one of 37 first-year students who live in the Art + Design Academic Residential Community (ARC).Students living in ARCs take classes together and connect with professors and advisors who provide academic and social support. In the Art + Design ARC, art and product design students also work together to develop creative projects. The ARC includes a makerspace studio in Kalapuya Ilihi for students, which is stocked with supplies such as sewing machines, cutting mats, glue guns, and acrylic paints.
Ching and Vala are co-directors of the ARC, which requires students take ART 115: Surface, Space, and Time; ART 116: Core Interdisciplinary Lab; and UGST 111. Ching and Vala teach UGST 111, which is an entry point into the art and product design majors, as well as the School of Art + Design community. Toby Kim, a College of Design academic advisor, is the program coordinator for the ARC.
"It is a great way to jump into art and design," Vala said. "These fields are challenging; they demand long hours, flexibility, and ingenuity. To have a group of friends that you can work in the studio with, share your experiences, skills, and education with is priceless."
"This is what I've been looking forward to my whole life."
—Art student Virginia Boutwell
Ching said that, while the pandemic has hindered some of the improvisational nature of art classes, the students are still bonding and especially enjoying the in-person socially distanced activities of UGST 111. The artist Cindy Sherman's 'Untitled Film Stills," inspired the first project, in which Ching and Vala had students recreate the photo series around the university. Another activity required students to find odd or "in between" spaces on campus and activate them with an object such as a pool noodle or a balloon.
"It's the only class that I've had that's onsite, and we are on campus and walk around with instructors. Getting to know your teachers is important," Boutwell said.
"You're teaching them observation, to look at the world and see things from the perspective of an artist," Ching said."It's about opening up your eyes, so you see those aesthetic relationships, even if it's in a trash can or a funny moment spatially"
Rowan Bagley, a first-year student pursuing the BFA in Art & Technology track, chose the ARC because he wanted to be in a community surrounded by art.
"What Isami has been doing for the [UGST 111] class has been really cool. We are doing activities in a socially distant and safe matter, but he is still making it interesting," Bagley said. He particularly liked the activity where students had to create a hybrid of an animal they would choose to be their familiar and their favorite food. Bagley chose her cat Nala and eel sushi, capturing the new creature in Copic markers.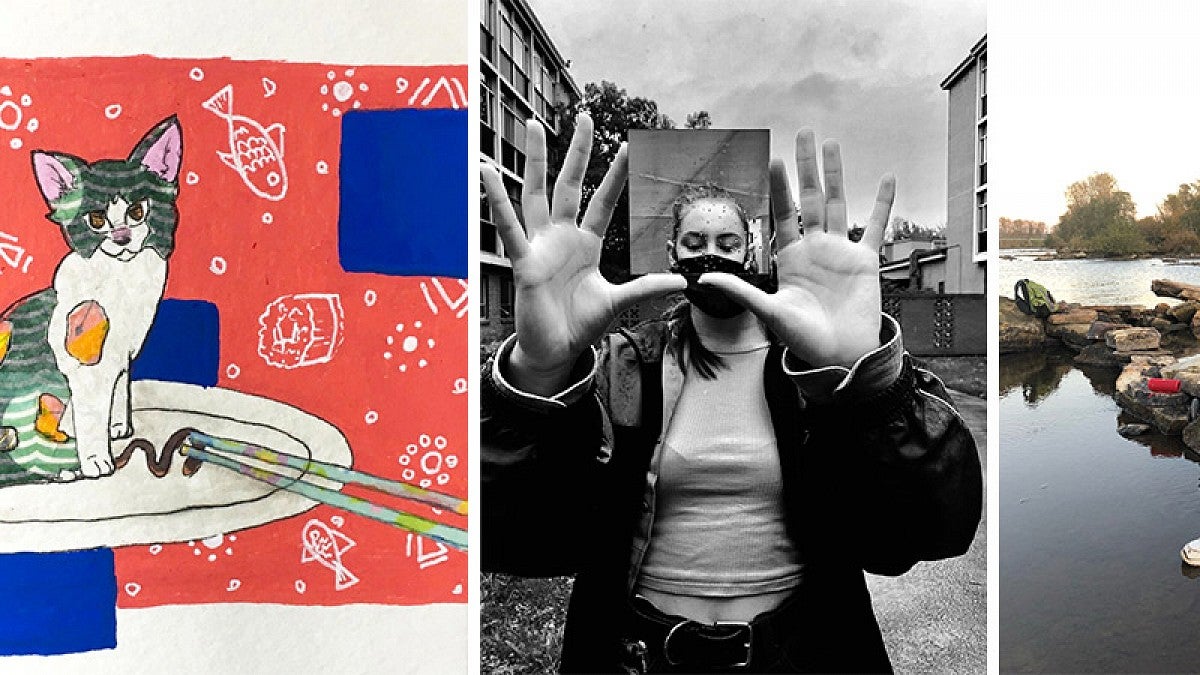 From left to right: 'Sushi Nala' by Rowan Bagley; Virginia Boutwell does an A+D ARC photography excercise; A+D ARC students sketching on the Willamette River
Sam Berry, a first-year product design student from Dallas, wanted to be around other creatives as well, and make friends in a new community far from home. Berry is frequently in the ARC's makerspace—a bright classroom studio with a wall of floor-to-ceiling windows on the ground floor of Kalapuya Ilihi—for his product design projects.
"I use it all the time," Barry said. "It's a great place to work that's not your room. Everyone comes in and collaborates." Barry takes advantage of the studio to spread out his work and use the light tables to draw for the PD 223: Beginning Design Drawing course. He says the space became essential for the Intro to Product Design course as well.
"When we were making our stools for PD 101, this place was a hub of cardboard and kids hot-gluing," Berry said.
Boutwell is a painter, but the ARC experience has challenged her to try different mediums, and she is now surrounded by artists and designers who are also experimenting.
"This is what I've been looking forward to my whole life," said Boutwell. "It's been fun to talk about creative things with people in close quarters. And because of COVID, I think we're closer than we would have been."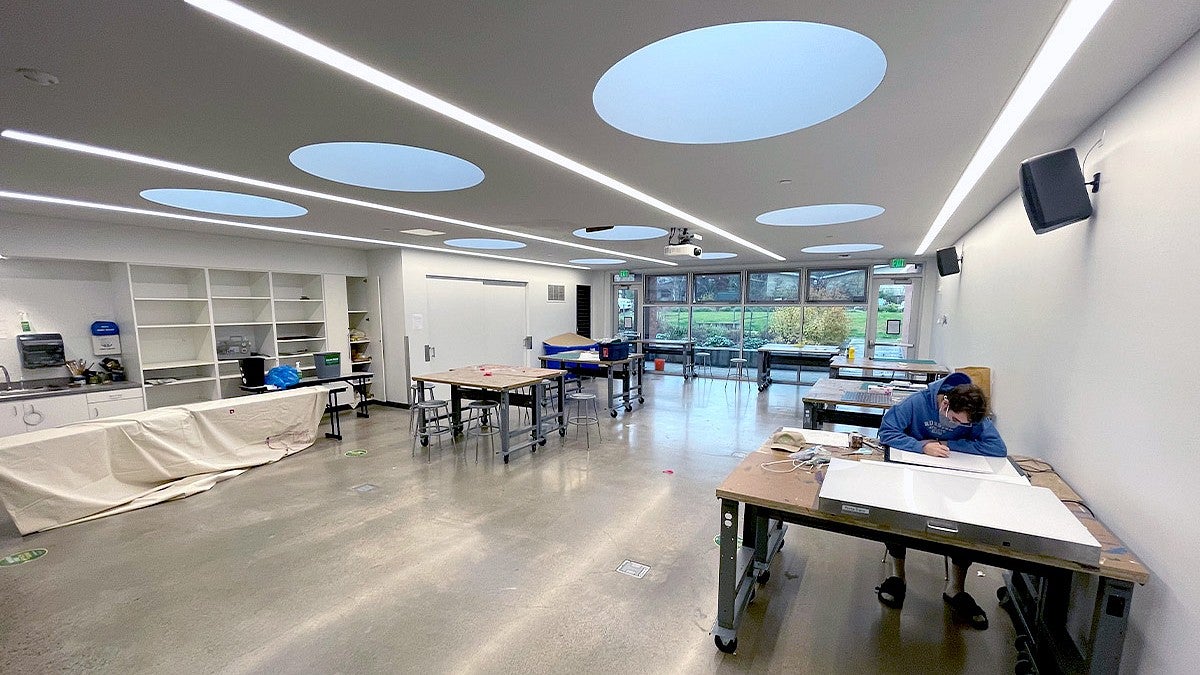 Student Sam Berry works on product design assignments in the makerspace