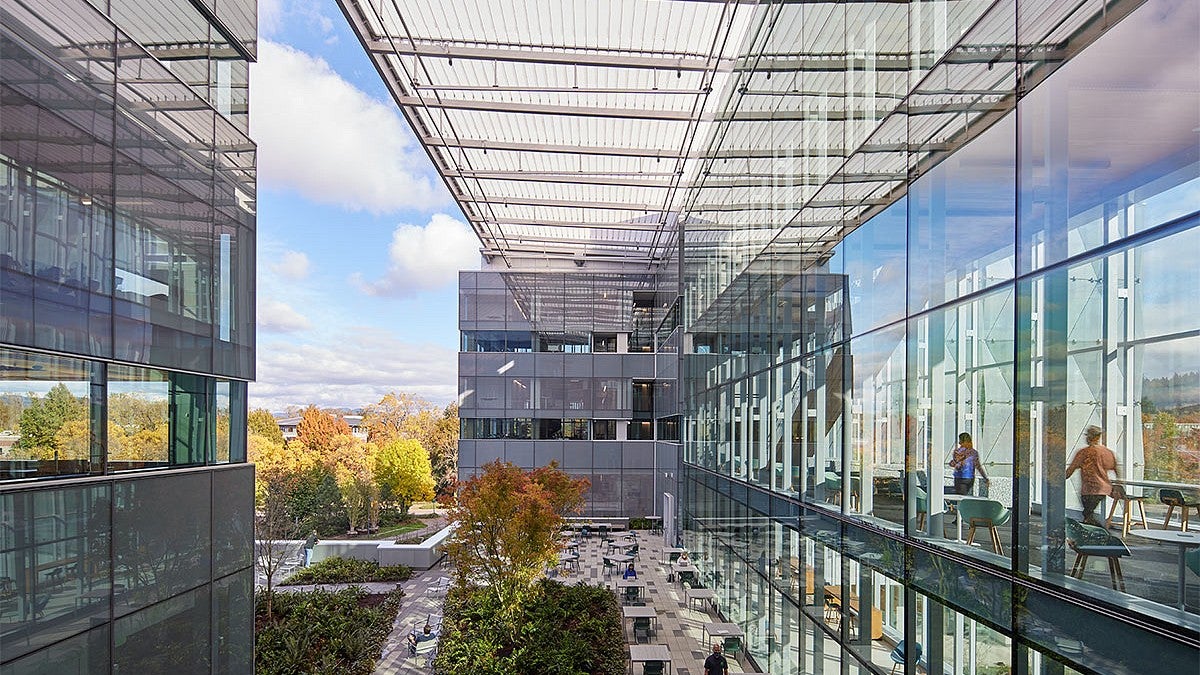 The Knight Campus terrace in Eugene
The Center for Art Research (CFAR), in partnership with the Phil and Penny Knight Campus for Accelerating Scientific Impact, is launching an internationally unique artist residency series: The CFAR Project Incubator (CPI).
"We want to create opportunities for creatives to do things that otherwise wouldn't be possible," said CFAR Director Brian Gillis, who is also a professor of art in the School of Art + Design. "We're not only providing support; we're encouraging artists to take risks."
CPI, made possible by an award from the Ford Family Foundation Golden Spot residency program, invites Oregon artists, designers, and craft-based practitioners working in any medium to apply. The application deadline is June 1, 2021, and applicants will be notified in July. Residencies will begin in October.
The project affords artists the opportunity to explore and conceptualize new work as part of a vibrant, interdisciplinary research community that is supported by cutting-edge facilities and technical staff. This program is born out of CFAR and the Knight Campus' missions to create nimble systems that catalyze innovation and discovery.
"This program takes the interdisciplinary vision of the Knight Campus to new heights by bringing together artists and scientists in the name of creativity and experimentation," said Moira Kiltie, associate vice president and chief of staff at the Knight Campus. "We're very pleased to be collaborating with our colleagues in CFAR and look forward to welcoming fellows in the next academic year."
The CPI residency has two tracks: a local track for artists who live within a commutable distance from Eugene (75 miles or less), and a statewide track for artists who require overnight accommodations. The goal for CPI is to host a minimum of four artists annually, who will receive the designation of Research Fellow at the UO.
"A lot of artists have their workspace but really have to hustle to have access to shops. The CFAR Project Incubator is special because it creates access to facilities that the average artist does not have access to," Gillis said.
"The CFAR Project Incubator is special because it creates access to facilities that the average artist does not have access to." —Brian Gillis
Based on applicant's initial proposals, each resident artist will work with CFAR staff to develop a tailor-made research program with access to facilities and resources that best suit their needs. These facilities include UO museums and libraries; the School of Art + Design shops and labs for anything from woodworking and plastics to fibers and ceramics; and high-tech equipment provided by the Knight Campus including CNC Milling, 3D Printing Technologies, Electrical Discharge Machining, and the Center for Advanced Materials Characterization in Oregon.
The most important access, however, is access to people, Gillis explains. Artists will fully engage with the UO community and have opportunities to work with highly specialized technicians and the School of Art + Design, including more than 40 faculty members, as well as graduate students and a network of visiting artists.
Partnering with the Knight Campus also fosters opportunities for creatives to collaborate with people working in the sciences. "Artists could be shoulder to shoulder with people working on nanotechnology, synthetic biology, or COVID-19 research," Gillis said.
The CPI residency program is focused on following the artist in what they want to explore, and it will not be focused on any commodified outcome. The emphasis is on "speculative, practice-based inquiry focused on ideation, experimentation, prototyping, testing, fabrication, and theoretical research to initiate and incubate new work."
More CFAR News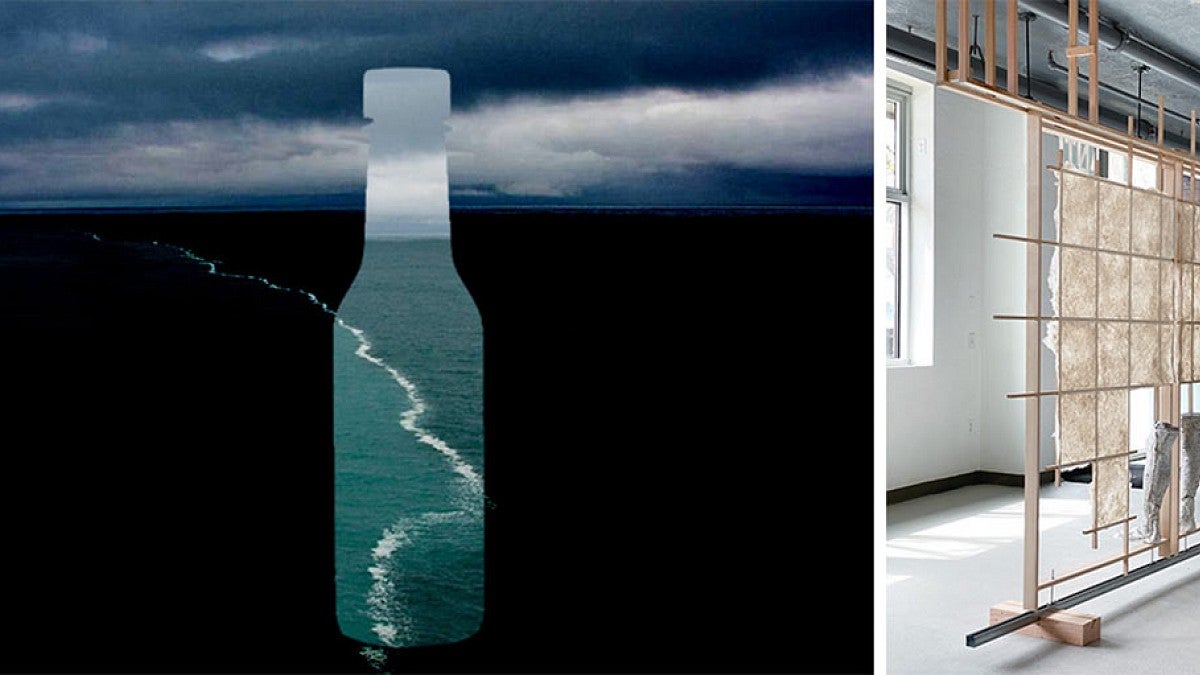 Artwork by garima thakur and Sharita Town for the show we're out of control (left) and a photo from Garrick Imatani's show Monologue, both part of CFAR's Dismantling the House: Programs on Power
Gillis says that CPI is an extension of CFAR's mission to provide a platform for experimentation and exchange related to contemporary art practice. In addition to launching CPI, the Center for Art Research has focused its 2020–21 programming on the investigation of "Power," including its exhibition series, Dismantling the House: Programs on Power, organized by CFAR's 2020–21 curator-in-residence Yaelle S. Amir. Dismantling the House has welcomed artists Jea Alford, Arian Jacob, Garrick Imatani, garima thakur, and Sharita Towne for think tanks, discussions, and exhibitions.
As described on the website, Dismantling the House "presents the ways in which the dominance asserted by those holding onto power has been felt continuously by communities across generations and geographies. The participating artists look inwards to their experiences, outwards to our collective practices, back to historical precedents and forward to visions of culture unraveling itself."
In addition to the exhibition series, CFAR is also producing Papers on Power, a series of commissioned essays for which artists, writers, and cultural producers are asked to respond to the question "What is power?" Papers will be released on the CFAR website though August 2021, and in fall 2021, they will be assembled into a printed book and distributed internationally.
Four papers are available so far, including "Every Day is for the Thief: Britain's Imperial Marketing Machine and How it Sold Nigeria and its Resources" by Bukola Koiki, a Nigerian-American transdisciplinary artist, and "Language Game #1: Consciousness, Entheogeny, and Colonization" by manuel arturo abreu, a poet and artist from the Bronx.
CFAR will continue to address a theme drawn from critical issues in contemporary life during the 2021–22 academic year by investigating notions of "Access" through CFAR's practice-based research, public discourse, an exhibition series that will debut in the fall, and related publications.