Students, faculty, staff, and alumni from the College of Design are mourning the loss of long-time painting and drawing instructor Janet (Jan) Reaves. She died Sunday, July 29, from complications related to cancer.
A senior instructor in Art, Reaves joined the UO faculty in 1988. She was a deeply committed teacher and had a profound impact on countless painting and drawing students in the art program. "Jan was a terrific painter, a remarkable teacher, and an extremely generous colleague; it was a joy to work alongside her," Laura Vandenburgh, associate professor and head of the School of Art + Design, shared in a message to the Art and Design community.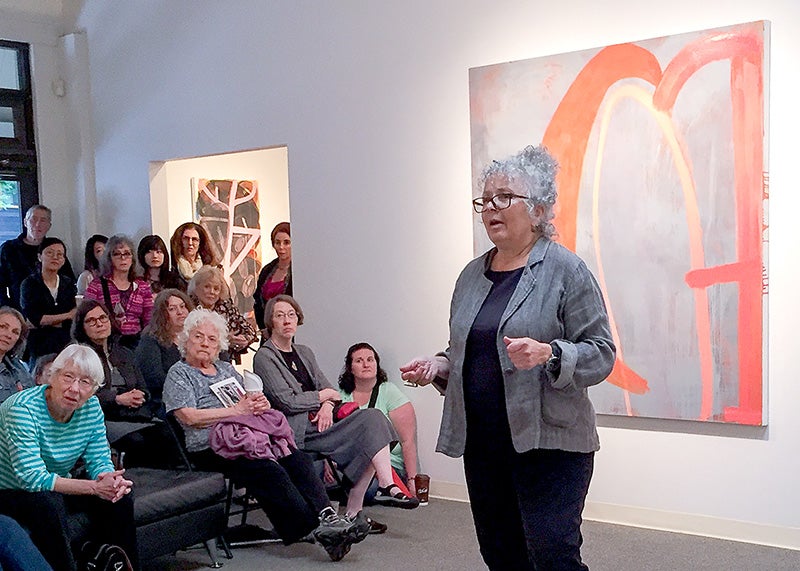 "Jan will be deeply missed by our community and all who knew her," said Christoph Lindner, dean and professor, in his message to the College of Design students, faculty, and staff.
Reaves was born in Spokane, Washington and attended the Portland Museum Art School (now PNCA). She received her BA in 1970 and her MFA in painting in 1983, both from the University of Oregon. In addition to teaching painting and drawing at the UO, Reaves had taught at the University of Iowa and Western Michigan University.
"There has been such an outpouring of love and sadness from the people here. Jan was so central to the art community," said Vandenburgh.
Reaves's abstract paintings were exhibited regionally and nationally, and she was featured four times in the Portland Art Museum's Oregon Biennial, winning the Juror's award in 2001. She was represented by Russo Lee Gallery (formerly Laura Russo Gallery), where she began showing her work in 1989. Reaves's work is part of public collections, including the Portland Art Museum, Oregon Health & Science University, Multnomah County, in Portland, and at the University of Oregon in Eugene.
Katrina Woltze, Director of Operations at the Russo Lee Gallery, shared her thoughts about Reaves. "I was always struck by Jan's clarity of vision and a sense that her acts as an artist were central to her ideas about the world. It felt as though Jan's painting practice and her role as a teacher were fundamental to how she lived meaningfully in the world."
"Jan has been a steadfast presence in my life as an artist since meeting her as a graduate student [at the UO] 25 years ago," shared Cara Tomlinson (MFA '93), associate professor of Art, studio head of Painting, and department chair at Lewis & Clark. "Jan encountered new situations or art works with a quizzical smile, raised eyebrow, and perfect neutral curiosity. She was an artist who channeled energy through her whole being to create embodied deeply felt paintings. Her focus on creating dynamic balance through tension and rhythm in her paintings, had profound impact on my work. She stands as an example of how to live a kind and generous life as an artist and teacher."
Some of Reaves' work will be included in an upcoming exhibition, "Visual Magic: An Oregon Invitational," at the Jordan Schnitzer Museum of Art in winter 2019.
Click on any image below to see Jan's paintings in slideshow mode with captions.