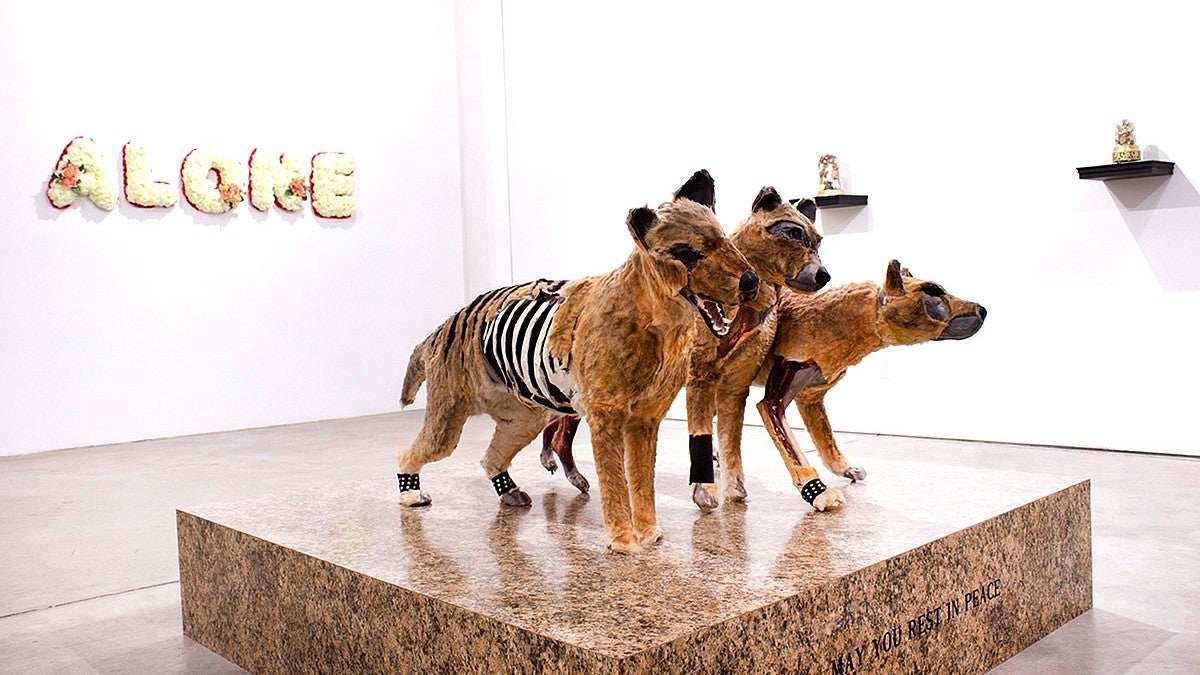 Artist Maria Lux's 2019 show 'Famous Monsters' at Carnation Contemporary in Portland
All group photos were taken before 2020 and COVID-19.
For many art professionals and students, being grounded in an artist community is just as important as the tools and skills they employ to make their work.
An artist community not only offers opportunities for creative collaboration but can also provide networking and professional development experience. The Department of Art has long fostered a dynamic community, with small class sizes and specialized shops that help students build strong relationships with peers and instructors. There is also the Art + Design Academic Residential Community at Kalapuya Ilihi Residence Hall, where students live and work together to develop creative art and design projects.
That community can be harder to maintain or find post-graduation. However, art students, alumni, faculty, and staff are in luck as Eugene-Springfield and Portland have reached a critical art mass, boasting five contemporary art groups with connections to the School of Art + Design's Department of Art—Ditch Projects, Eugene Contemporary Art, Tropical Contemporary, Carnation Contemporary, and Gray Space.
"Artist groups foster creative connections and opportunities for artists at different stages in their career. I value the exciting new art and conversations that they bring to our community," said Charlene Liu, acting director of the School of Art + Design and associate professor of art.
Each group has a unique spin on how to support and promote artists.
Ditch Projects is the oldest of the group, formed in 2008 by a handful of MFA students.
"At the time there wasn't really any other contemporary art space showing the work we wanted to see," said Mike Bray, one of the founders and current co-artistic and executive director. Bray is also a senior career instructor of art at the School of Art + Design. "Let's start an art space here," Bray said, "and show really interesting, thoughtful, contemporary art that you would see in a gallery district in a major city."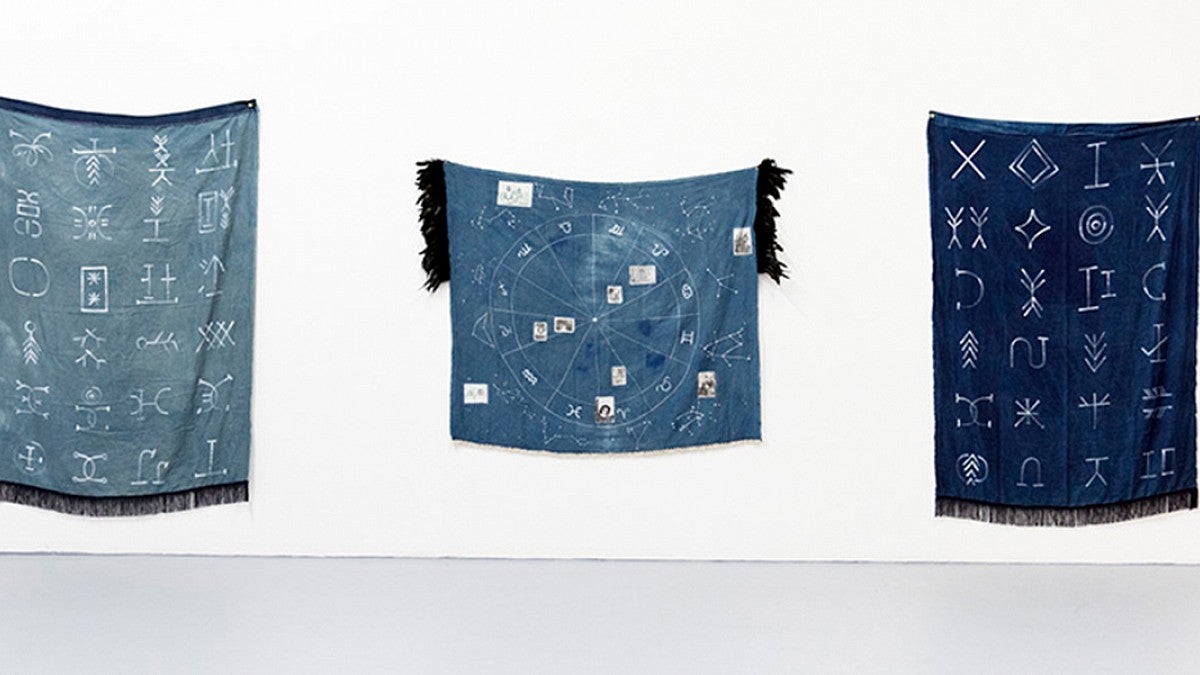 Artist Alexandria Eregbu's 2018 show 'Oh, Heavenly Father, Mother Ocean, And Cosmic Seed...!' at Ditch Projects in Springfield
Ditch Projects, with its gallery warehouse space in Springfield, is the group casting the widest net, engaging with artists on a regional, national, and international scope. Soon after its creation, the art nonprofit was showing not only member work, but the work of renowned artists from other parts of the country, such as Eve Fowler and Anna Sew Hoy.
By 2010, Artforum had chosen a Ditch Projects' show as a critics' pick. Bray has said the gallery actually has a stronger reputation in New York and L.A. than it does in Eugene or Springfield.
Currently, Ditch Projects has 12 members and is by invitation only. Members are a collection of artists—students, faculty, instructors, and alumni. In comparison to the other groups on the list, Ditch Projects tends to feature more mid-career and established artists, including faculty such as Assistant Professor of Art Jovencio de la Paz and Career Instructor and LaVerne Krause Gallery Director Jonathan Bagby (MFA, '18). Students can also intern at the Ditch gallery.
Bray said that as membership shifts (Ditch has had 60 members in all), so does the curatorial vision.
"We've been really working on diversifying the artists we show," said Bray, explaining that Ditch Projects would like to support more women, people of color, or members of the LGBTQIA community. 
During a typical year, the gallery hosts five to six exhibitions, as well as film screenings and live performances. With COVID-19, that has slowed. However, Bray is hopeful that "Ghost Rider," a solo show slated for November featuring new work by contemporary Klamath Modoc visual artist Ka'ila Farrell-Smith, will open to the public in some capacity. "We're really excited about having her work."
The program director for Eugene Contemporary Art (ECA) Agnese Cebere is also a current MFA student with a focus on performance and video art. Co-founded in 2011 by Director Courtney Stubbert, ECA curates pop-up shows and exhibitions, hosts residencies and workshops, and provokes local arts dialogue through a newsletter, essays, and the ECA podcast Bottleracks & Fountains.
"Our primary goal is to support artists. The best way is to connect them with the local community," Cebere said. "The DIY, grassroots spirit that Courtney and ECA has always had— that's really important. We want to facilitate a deeper conversation about the art and not just show art in an exhibition."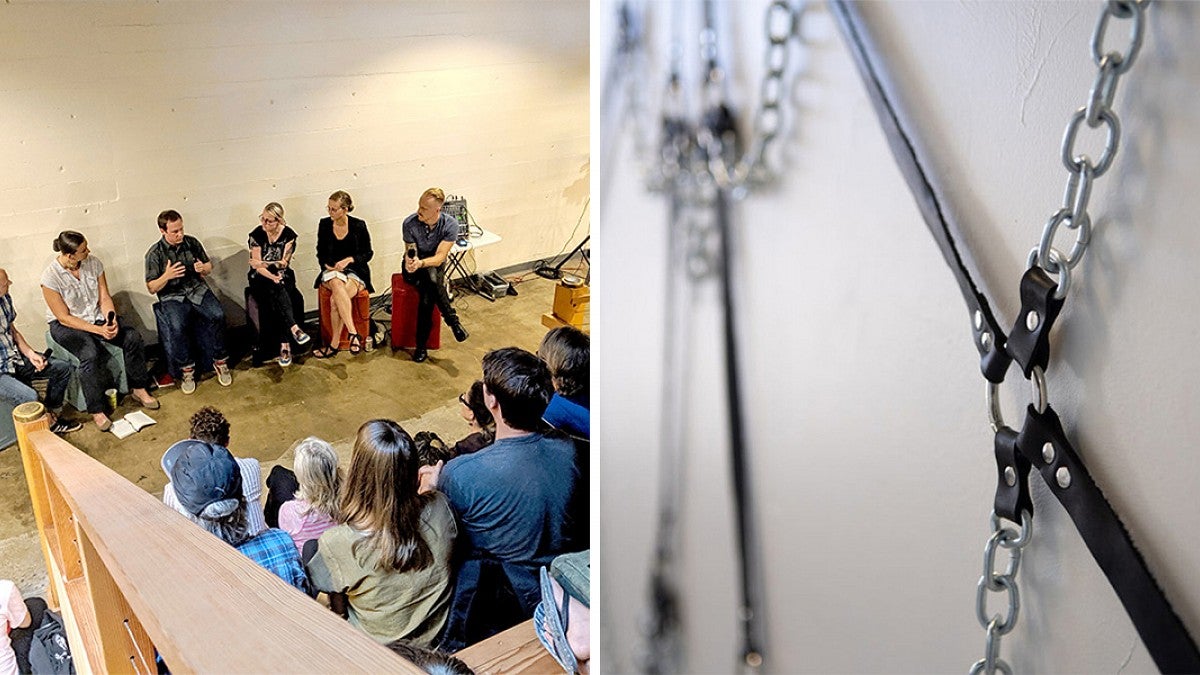 A 2019 (pre-COVID-19) recording of the ECA podcast Bottleracks & Fountains and work by member and current MFA student Dana Buzzee
ECA currently has 17 members, five of whom are current MFA students (Hannah Petkau, Dana Buzzee, Tyler Stoll, Erin Langley, Noelle Herceg), three are MFA alumni (Leah Howell, '19, Mandy Keathley, '17, Michael Boonstra, '02), and one is a College of Design staff member (Printmaking Studio Technician and Instructor Mika Aono Boyd).
In late 2019, ECA opened ANTI-AESTHETIC, an art space in downtown Eugene. Its first show was "Under Our Moon Future Ascensions," featuring the work of the aforementioned members and MFA students including recent alumna Elnaz Talaei ('20) and Class of 2021 students Sajad Amini, Carol Yahner, Nathan Alexander Ward, Eden V. Evans, and Ian Sherlock Molloy.
Currently, the space is hosting "Common Ground" a combination of events, conversations, and an exhibition on the theme of art and ecology that, due to COVID-19, is open by appointment only.
"It's important to realize that these organizations are made up of people who want to make something happen from the ground up," Cebere said. "As a student, if you want to participate in something, you're going to have to make the leap or get involved in some way."
From a Penske truck as gallery in Eugene's Kesey Square and Snorkle Safari, a public interactive performance on city streets and sidewalks, to Draw A Drag Queen programming, Tropical Contemporary does everything with a wink.
Exhibit A: For "Deals! Deals! Deals!," an art show where all work was $20 or less, the event description read: "Does the putrid smell of pretension keep you from enjoying Jeff Koons or Damien Hirst? Do the astronomical prices of contemporary art make you gag?" It continues: "Our boiled down hopes and dreams have been commodified into products you can purchase for $20 or less! We've miniaturized and multiplied our art practices and sold out to the lowest bidder!"
Founded in 2015 by then MFA students Jam Jessie Allison and Anne Magratten, Tropical Contemporary's mission is to provide an open, affordable, and collaborative contemporary art experience while focusing on creating a platform for marginalized artists, including undergraduate and graduate students, to exhibit their work. The collective has a warehouse art space in West Eugene.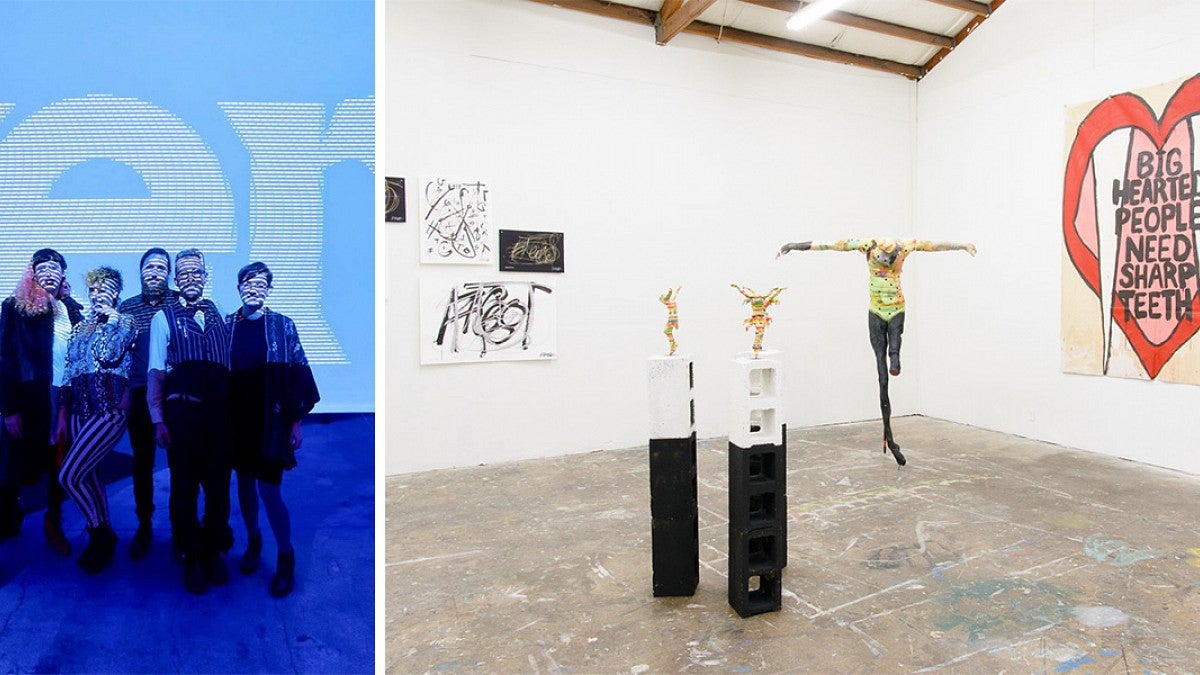 Tropical Contemporary members and the 2018-2019 show 'You Do Not Need to Be Good' at Tropical Contemporary's gallery space in Eugene (pre-COVID-19)
"We were thinking about supporting very young and emerging artists, people who really need their first show. It's a crucial step in their career," said MFA alum Jonathan Bagby, a Tropical Contemporary core member. "Those moments for me, giving people their first show out of undergrad, is part of the Tropical ethos."
"We support a lot of queer artists and a lot of POC artists and a lot of young artists," added Sam Wrigglesworth (BFA, '19). Wrigglesworth, who joined in 2019 and showed their work with Tropical Contemporary in December, said they have also gained arts administration experience through the collective, especially how to adapt calendars and art spaces in light of COVID-19, as well as writing grant applications.
Last summer, Tropical Contemporary received an Oregon Community Foundation Creative Heights grant, which funded the Transformation Residency in partnership with local transgender nonprofit Trans*Ponder.
"We felt like there was a gap in the support for artists, particularly trans artists and gender diverse artists," Bagby said.
This summer, the residency hosted Senior Career Instructor of Art Tyrras Warren (MFA, '08) in June, the Portland-based Black Transfeminine filmmaker and performance artist Princess Bouton in July, and artist Irene Chau (BFA, '19) in August.
While not founded or run by a member of the School of Art + Design community, the Eugene-based Gray Space features MFA alumni Leah Howell, Michael Boonstra, Lee Imonen,  and Sandee McGee (also the former LaVerne Krause Gallery exhibition coordinator).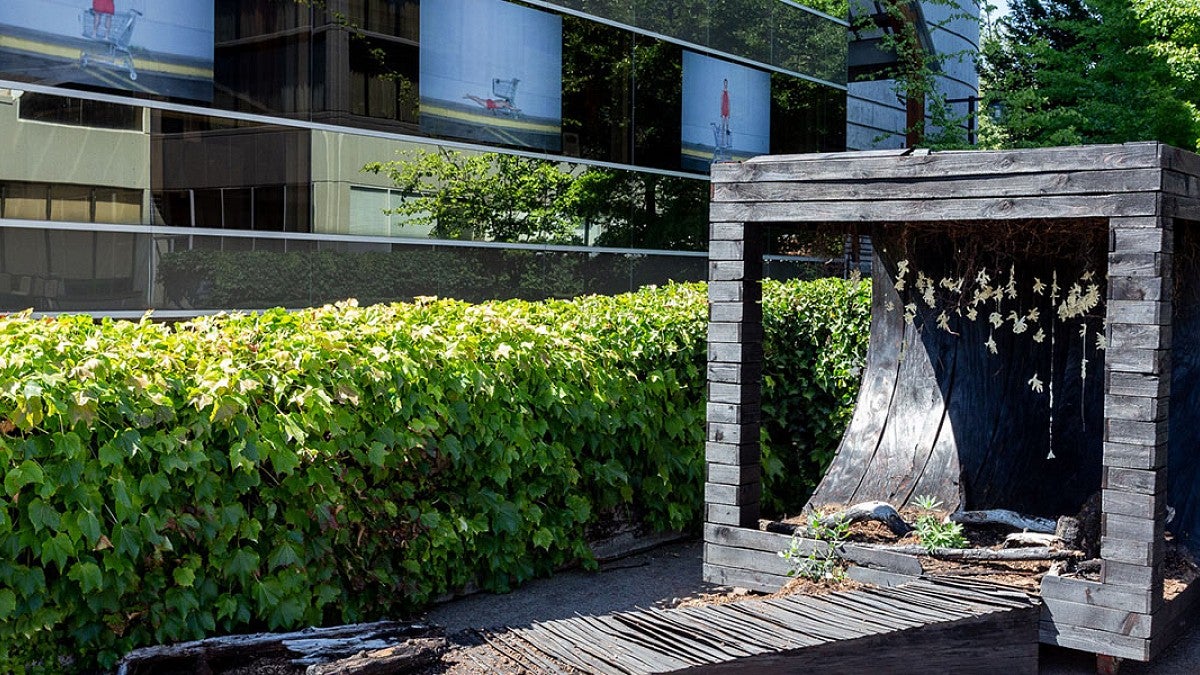 The 2018 'Metanoia Catalyst' piece by Gray Space member artists Kate Ali and Leah Wilson  
Founded in 2016, Gray Space is a group of artists as well as a project that explores how art influences place and vice versa, sometimes employing the physical module of a steel and plexiglass six-foot-tall cube as a moveable art installation.
"The project invites the inclusion of an unforeseen or unexpected audience, broadening definitions of where art can exist," reads the Gray Space statement.
John Whitten (MFA, '14) recalls observing the Portland art scene a few years ago and realizing there were not enough art spaces for emerging artists in the city. In 2018, co-founding members Whitten and fellow artist Katherine Spinella(MFA, '13) decided to work with a few other Portland-based artists to create one, and Carnation Contemporary was born. Assistant Professor of Art Stacy Jo Scott is also a member.
Whitten said they were influenced by artist-run spaces like SOIL Gallery in Seattle and Vox Populi in Philadelphia. Every two years, the collective hosts an open call for members (members come from around Oregon and the region), and each member gets one month to curate the flexible North Portland brick-and-mortar space, be it a solo show, group exhibition, or residency.
"Personally, I really love it because I'm always trying to find that balance between the networking aspect of my artistic practice and the making and the enjoyment from production," Whitten said.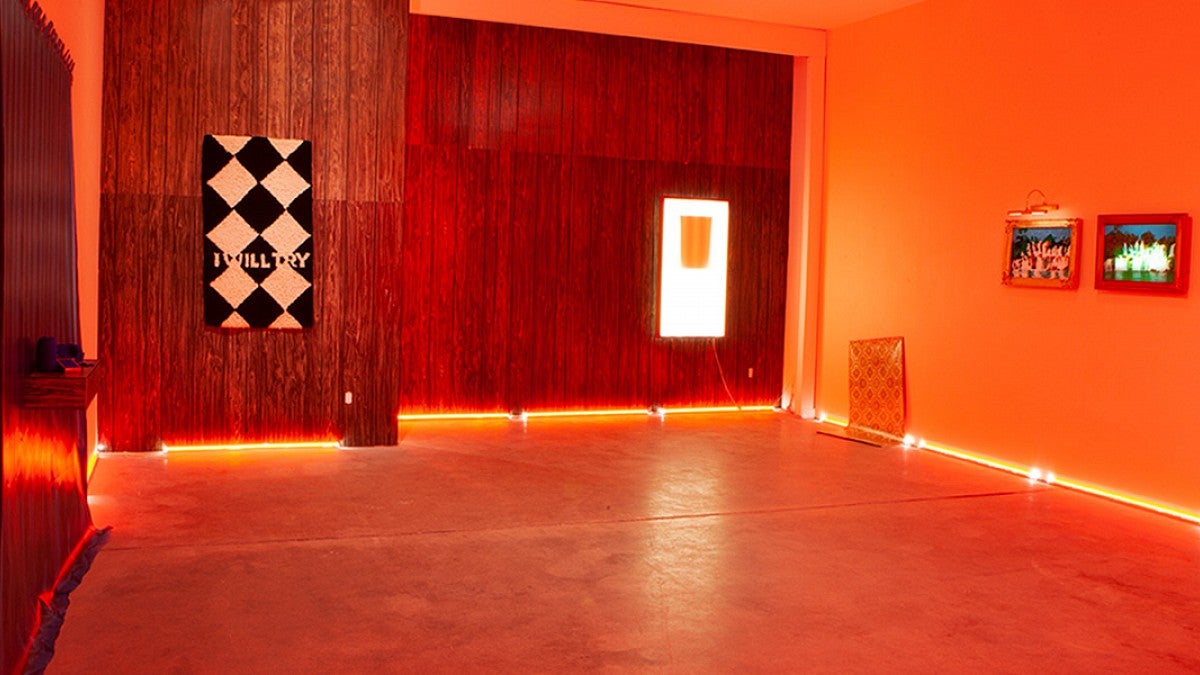 Artist Leslie Vigeant's 2020 'Habit & Home' show at Carnation Contemporary
A value that makes Carnation unique, Whitten said, is that they prioritize the work and experimentation over commercial viability.
"The artist feels like they can truly follow their guiding principle for why they make the work, not having to factor in whether or not someone will buy it," Whitten said. "We didn't have to have the sale of artwork figure into what we wanted to show."
One of the collective's first shows of 2020 featured the Eugene collective Tropical Contemporary. Up next, Carnation is hosting "The Kind of Calmness Chaos Brings," a solo show by Portland artist Andrea Alonge, running August 22 through September 6. During COVID-19, Open gallery hours are Friday through Sunday 12 to 5 p.m. as well as by appointment.