While doodling in her mini sketchbook in November 2015, University of Oregon digital arts major Ashlee Pierce wrote the word "home" with an image of Oregon substituted for the letter O.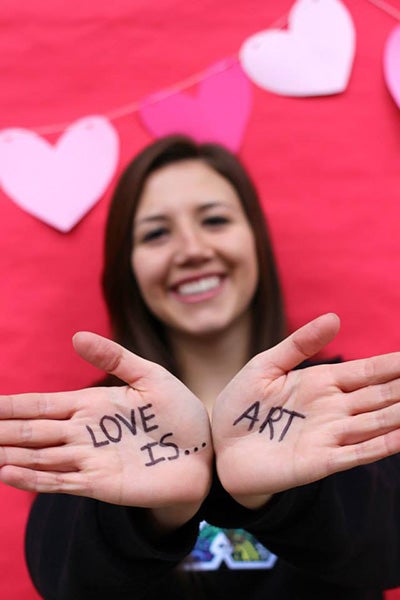 Above: University of Oregon digital arts major Ashlee Pierce has created a line of stickers, which The Duck Store and other sites offer for sale. All images courtesy Ashlee Pierce.
"Once I sat back and realized what I'd just drawn, I had a kind of 'aha!' moment," said Pierce, who will be graduating in June.
Since then, she duplicated the design and created handmade vinyl stickers that salute The Beaver State for laptops, car windows, and water bottles, and began selling the stickers on Etsy. This was the catalyst behind Pierce's business, AP Designs, LLC.
"That's when I realized that I had a good thing going here and wanted to take it to an actual business level," she said. "I never would have thought that I would be running my very own successful business starting at 21."
Pierce started cutting the stickers using the Digital Art Program's vinyl cutter, but soon purchased her own vinyl cutting machine when the orders through Etsy began to come in. She now works from her bedroom and singlehandedly operates the designing, producing, and packaging of the stickers.
Since the Oregon decals have found a popular place online, The Duck Store has begun to sell the 4.5-inch and six-inch Oregon "home" sticker for $3 and $4, respectively. The Western Oregon University bookstore will also sell Pierce's Oregon sticker beginning this summer.
When a representative from The Duck Store asked Pierce for some supplemental designs — a Eugene, OR-specific sticker and a design that recognizes the UO's California transplanted students— she returned a week later with two brand-new designs: one sticker of the state, adorned with the words "The Eug" and a duck that pinpoints the Emerald City, and a design that reads "California raised, Oregon living."
All three stickers are now available for purchase at the Duck Store.
"As of right now I'm only producing these stickers in black or white, but I plan to do specific colors for special orders," she says.
Additionally, Pierce created a custom sticker for her sorority, the Alpha Kappa chapter of Alpha Chi Omega, as well as others at UO. She recently became licensed as an official Greek Licensor, which allows her to produce and sell designs that have an affiliation with the Greek fraternities and sororities.

Above: Pierce's stickers, showing her "AP Designs LLC" logo.
Pierce, who was born in Las Vegas, Nevada, moved with her parents to Redmond, Oregon, when she was five weeks old. She graduated from Sherwood High School, southwest of Portland, in 2012.
"I'd like to think I was born and raised in Oregon because it's all I've ever known," she says.
Since November 2015, she has trained herself in entrepreneurship and mastered how to produce and package an original creation.
"All the steps to my current final product were definitely thought out with constant trial-and-error for months," she says.
In the short term, Pierce aims to get her stickers into every campus store in the state, and eventually expand her designs into Texas, California, and Washington. On a longer timeline, she hopes to eventually print designs on clothing and expand AP Designs.
Michael Salter, associate professor of art, calls Pierce "a solid designer and a dedicated student."
"I have worked closely with Ashlee and I'm thrilled to see her business take off," he says. "I always love to see a student motivated and resourceful enough to start their own business. She's got everything it takes to really see this thing through."
Pierce adds, "I definitely could not have done it without the constant support from my family, all my sisters in Alpha Chi Omega, Michael Salter, or my fellow digital art classmates. They all played a part in the ideation of my business and have supported me through it all. I feel extremely thankful that I have had this much success in college, especially before I have even graduated."
Pierce can be reached at ashleepierce@apdesigns.biz. Her Etsy page is here.