Shanghai, long considered China's most cosmopolitan metropolis, has today reemerged as a global center with a booming culture industry and flourishing art scene. A panel discussion, "Picturing Global China: Contemporary Art from Shanghai and Beyond," October 5 from 1-4 p.m. at the Jordan Schnitzer Museum of Art will bring together leading scholars and practitioners of Chinese art, theater, and film to discuss the rapidly developing cultural climate of China's largest city and primary financial capital.
UO Assistant Professor Jenny Lin is chief organizer of the panel discussion. Other speakers include Fudan University Professor Gu Zheng, Shanghai-based curator Wang Jun, Rice University Fellow Aynne Kokas, and University of North Carolina Assistant Professor of performance studies Zhuang Jiayun.
The panel discussion complements the Jordan Schnitzer Museum of Art's exhibition, curated by Lin, of Shanghai-based artist Song Tao's video, "From Last Century," a playful rumination on everyday life in fast-developing Shanghai; Lin's fall 2013 course, ARH 410/510: Contemporary Art and Photography Amid Globalization, Asia Focus; and a February 2014 White Box exhibition on contemporary Chinese photography and video art.
Song Tao's 34-minute video will be on view in the Artist Project Space at the Jordan Schnitzer Museum of Art from September 28 to December 1. In the video, the artist and cast transform public wastebaskets, crowded bus stops, wide boulevards, and sprawling high rises into spaces of play and personal reflection. Incorporating field recordings and experimental music, the video highlights quixotic details of everyday life in one of the world's most rapidly developing cities.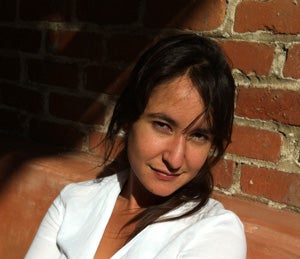 The February exhibit at the White Box Gallery, located at the UO in Portland in historic Chinatown, is directly linked to Lin's fall class. Students in the class, supported by an Oregon Humanities Center Teaching Fellowship, will play a chief role in the project's conceptualization and the exhibition's curation, from sending out calls for photographs to artists and others working in China, to selecting photos for printing and exhibition, to the final stages of writing wall texts and other promotional materials.
"We expect that this call will generate exciting and powerful entries from across China, including big coastal cities like Shanghai, powerful metropolises like Beijing, and places in more interior and remote regions, such as Sichuan Province and Tibet," Lin says. Also on display in White Box's screening room will be a series of experimental video works from and about contemporary China, curated by Lin.
These events are presented by the Center for Asian and Pacific Studies, UO Confucius Institute for Global China Studies, and the Jordan Schnitzer Museum of Art. They are cosponsored by the Department of the History of Art and Architecture, the Oregon Humanities Center, the Department of Art, the Office of Academic Affairs, the National Resource Center for East Asian Studies, the School of Architecture and Allied Arts, the Department of East Asian Languages and Literatures, and the Asian Studies Program.
Lin received a fellowship this summer from UO's Office of International Affairs to attend an international faculty development seminar in Shanghai, where she conducted research for her current book project. Lin presented her lecture, "Floating Social Sculpture: Contemporary Chinese Art amidst Global Change," last spring at Rice University's Cultures of Energy Research Symposium.