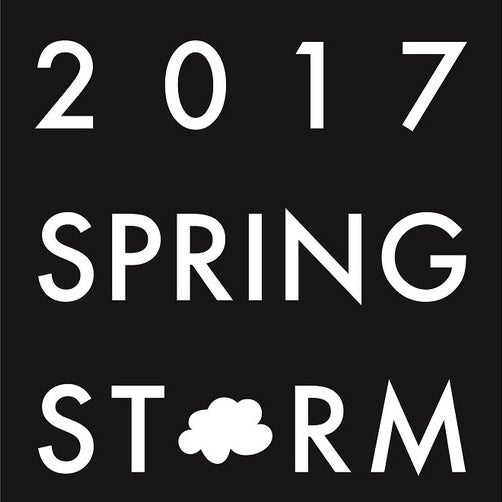 Work by more than 100 graduating senior art, art and technology, and product design students will be available for view by the public during Spring Storm 2017 Senior Show Friday, June 2, from 4 to 7 p.m. throughout Lawrence Hall, 1190 Franklin Boulevard, on the UO campus.
The show along with a concurrent reception for the artists and a printmaking event in the courtyard, is free and open to the public.
This is the fifth year that Spring Storm has offered a rare and intimate glimpse into what students in their senior year have accomplished. Work includes ceramics, digital arts, fibers, jewelry and metalsmithing, painting, photography, printmaking, sculpture, and product design.
"Each spring Lawrence Hall is transformed by the vibrant, diverse work of our graduating majors in the Spring Storm Senior Show," says Charlene Liu, associate head of the Department of Art. "Students, faculty, and the university community come together to celebrate an evening of art, conversation, and culture."
The show will provide not only a glimpse of advanced student work but also insights into their creative processes, material choices, and theoretical approaches.
Painter Ross Doyle said his work often reflects his perceptions of current culture.
"The idea of something that is façade or purely artifice being taken wholesale as reality or unquestionable permeates contemporary culture at all levels," he said. His painting Vector "developed from an intersection of studio interests, that of image or façade as reality, and the merging of new media—digital and electronic interface—and old media," he said.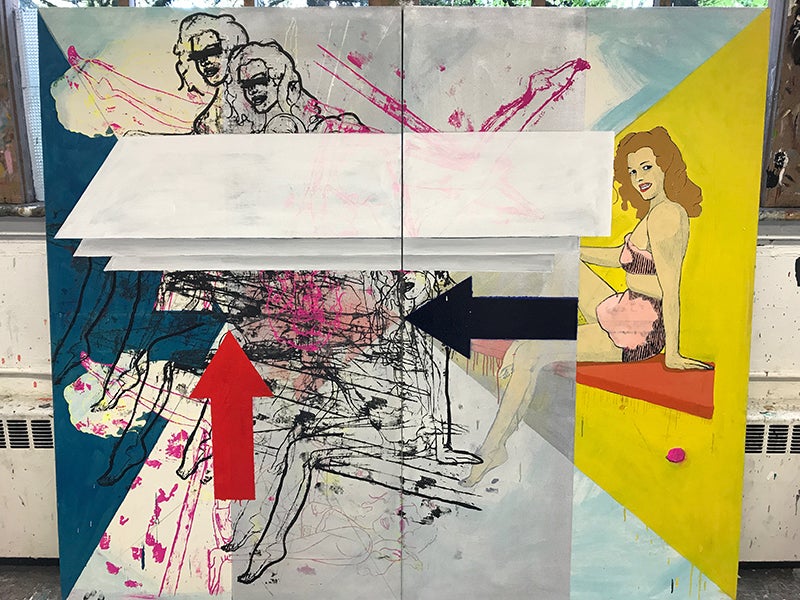 Above: Vector, 2017, by Ross Doyle. 6' X 7', acrylic, ink, oil, and spray paint on canvas.
Printmaker Marisa Smith also confronts cultural differences through a political lens with her work, including a recent reduction linocut, Muhka kang katulong (You Look Like the Help).
Her project for Spring Storm will be "approximated versions of traditional Filipino woven textiles, foods, and travel ad posters. I'm using desaturated colors and incomplete or reduced patterns to consider the ways in which forces like globalization, colonization, and imperialism have worked to eliminate indigenous culture."
The work, she said, "should remind the viewer of the ways in which capitalism so heavily depends upon the labor of women of color, particularly Third World women."
Student work from Spring Storm will be selected by a jury for acknowledgment, including a Dean's Award.
The Department of Art offers more than 300 classes every year in nine media areas. Many courses in the department are open to students who are not art majors.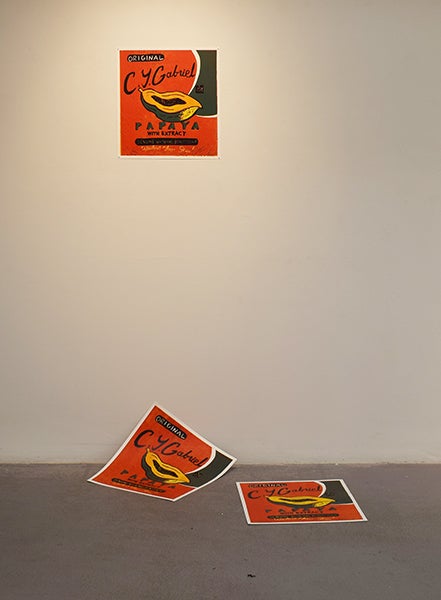 Above: Photograph of reduction linocut,
Muhka kang katulong (You Look Like the Help)
, by Marisa Smith. 19" x 17.5" each.