College of Design students joined professionals from a wide range of creative practices to learn about careers in design and how to navigate from academics to professional practice.
The symposium was designed to provide an informal setting where students can meet professionals, ask candid questions, share portfolios and learn about the unique approaches to a successful career in design. Small groups met over lunch and into the afternoon, rotating every hour to engage in discussion with a new professional and new group of students.
The professionals included recent grads as well as those with more than 30 years' experience, and represented a broad spectrum of careers including public art, product design, gaming, arts management, art and technology, fine arts, entrepreneurship and gallery and museum work. Topics included entrepreneurship, interviewing, portfolio development, studio practice, marketing and branding.
Students who attended made connections that will help them with their next steps toward a profession, including contacts for mentorship. Participating professionals were also inspired by the students' work and from meeting other colleagues across the many disciplines represented at the event.
If you are a practicing professional interested in participating in this event next year, please contact pods@uoregon.edu.
This year's event was sponsored by Bob Peterson, founder of Allied Power Products, Inc.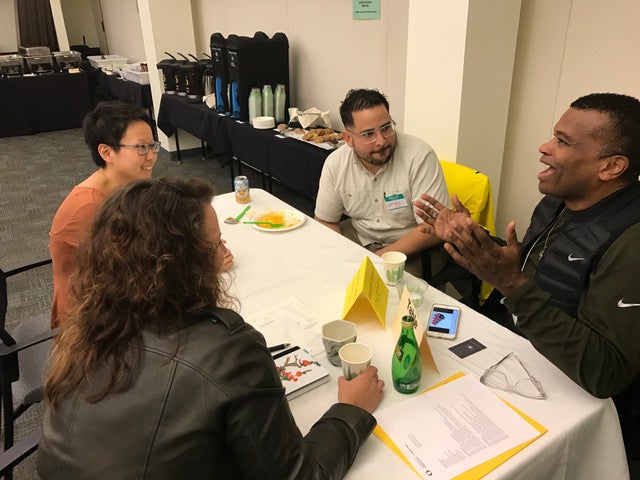 Students talk with Arturo Zavala, Senior Academic Advisor in the College of Design Student Services office, and Wilson Smith, Senior Designer at Nike, Inc., at the inaugural Art + Design Symposium on October 19, 2017.