Jack Ryan, associate professor in the UO Department of Art and founding director of the CoreSTUDIO program, has been named a 2015 Hallie Ford Fellow in the Visual Arts. The prestigious award, presented by The Ford Family Foundation, recognized five Oregon visual artists this year for demonstrated excellence of their work and potential for significant advancement in their practices of art. 
Each recipient will receive a $25,000 unrestricted award and will join 15 of their peers selected over the last five years as Hallie Ford Fellows.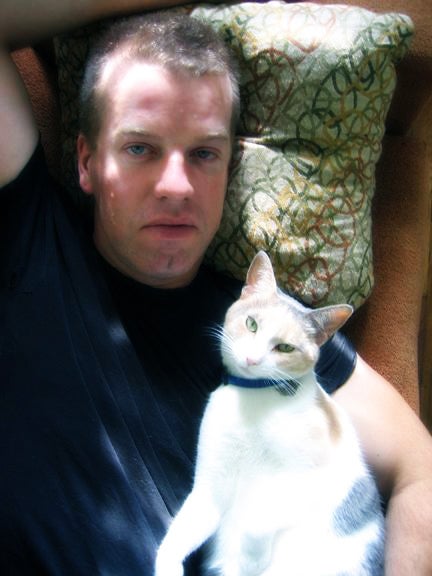 Above: Associate Professor Jack Ryan and Charlie Smooth.
Ryan is codirector of Ditch Projects (Springfield, Oregon), director of Pacific Sky Exhibitions (Eugene), and a member of Fugitive Projects, a Nashville, Tennessee-based collective curatorial body and artist advocacy group he helped found. He previously served as a faculty member at The School of Visual Arts in New York during summer semesters.
His practice uses sound as a conduit to explore distortions in contemporary culture.
"I identify as a sculptor who toys with different tools to activate objects. I play with media's materiality and the expectations of their dimensional associations," Ryan's submission for the award stated. "How can I make a drawing about sound, a sound piece that has the physicality of sculpture, or a sculpture that activates cognitive switches in the brain? I consider how media functions, succeeds, and fails in multiple forms scrutinizing systems of representation."
Ryan uses sound theory and optics to "attempt to realign cognitive dispositions. Using light and sound, my objects activate states of relaxation, increased brain activity, and information absorption. I use bilateral stimulation, EMDR (Eye Movement Desensitization and Reprocessing), and sound theory for purposes of shaping the reception of information," he said. 
"From sound, tactile, and optic cues EMDR bilaterally stimulates brain hemispheres, synthesizing logic and memory functions. By panning sound at accelerated intervals between sound outputs I can activate left and right brain functions. By offsetting binaural tones and the tonal arrangement of a voice by 10 to 30 Hz I can build audio experiences that can activate relaxation and alter mental states."
His recent exhibitions include The American University Museum (Washington, D.C.), Powerhouse (Memphis, Tennessee), Brooks Museum (Memphis), Crawlspace (Seattle, Washington), Hunter Museum (Chattanooga, Tennessee), Cascade Gallery (Portland, Oregon), The Frist Center (Nashville), and Consolidated Works (Seattle). 
His recent screenings include The Hirshhorn Museum (Washington, D.C.), MICA (Baltimore, Maryland), The IMAFY (Cairo, Egypt), Dublin Electronics Arts Festival (Ireland), Ausstellungsraum Klingental (Basel, Switzerland), 21 Grand (San Francisco, California), and The Phillips Collection (Washington, D.C.). Recent research awards took him to residencies in Iceland and to the New Media Institute in Banff, Canada. 
Ryan has received a number of grants, fellowship awards, and residencies, including the Oregon Individual Artist Fellowship granted by the Oregon Arts Commission, the Banff Center's New Media Institute Summit Senior Fellowship, and an interactive screen residency and an Icelandic Research Residency made possible by the Tennessee State Arts Commission. 
Currently on sabbatical, Ryan has been active this year exhibiting at the University of California (San Diego, California), lion vs gorilla (Chicago, Illinois), Herron School of Art and Design (Indianapolis, Indiana) Franklin Street Works (Stamford, Connecticut), and a solo exhibition at Zeitgeist Contemporary (Nashville, Tennessee). Ryan received an Oregon Fellowship to be a resident at Djerassi in August, a 2015 Oregon Arts Commission Career Opportunity Grant, and an additional Ford Family Foundation Grant earlier this year to support his research activity.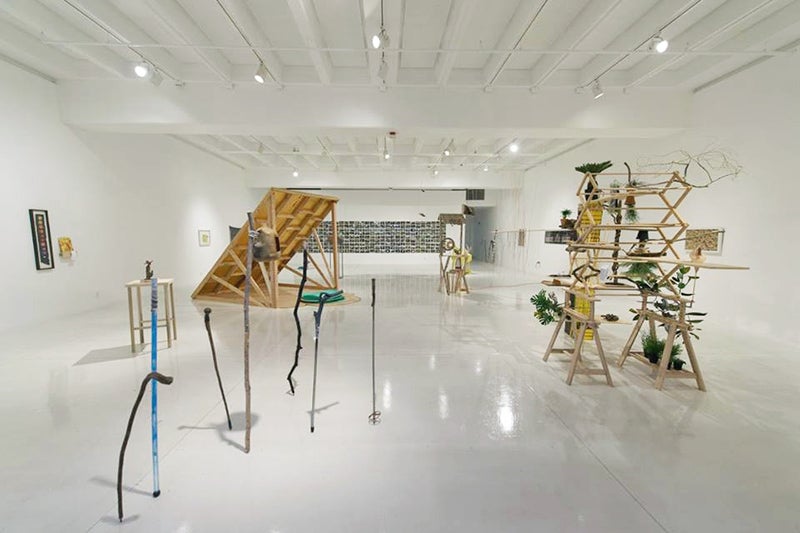 Above: State Park exhibition at University of California, San Diego, 2015, by Jack Ryan.
Ryan has been directing Pacific Sky Exhibitions during his sabbatical, which to date has included five exhibitions—most recently featuring UO Visiting Professor Diedrick Brackens and 2015 A. Poulin, Jr. Poetry Prize winner Derrick Austin. Pacific Sky Exhibitions have been supported by the UO's Office of Equity and Inclusion, The Center on Diversity and Community, and the Canaga Fund. 
Ryan's manuscript Miracle in VVV (the book) will be published in French and English this summer by Les Éditions du Passage (Montreal).
Ryan attended Hunter College in New York and earned his master in fine art degree with distinction from the University of Georgia.
A jury of five arts professionals selected this year's recipients from a pool of 172 applicants. The other 2015 Hallie Ford Fellows are Ben Buswell, MK Guth, Tom Prochaska, and Samantha Wall, all of Portland.
Hallie Ford Fellowships are one of seven components of The Ford Foundation's Visual Arts Program established in memory of Hallie Ford, a cofounder of the Foundation. The Foundation is the sole funder of this program but partners with Oregon's leading visual arts educators, gallerists, and museum and arts professionals in certain aspects of program delivery. The Foundation is located in Roseburg with a scholarship office in Eugene.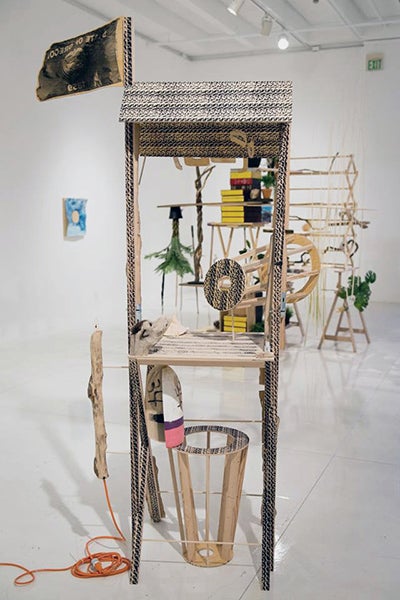 Above: Honeyman Kiosk, part of the State Park exhibition at UCSD.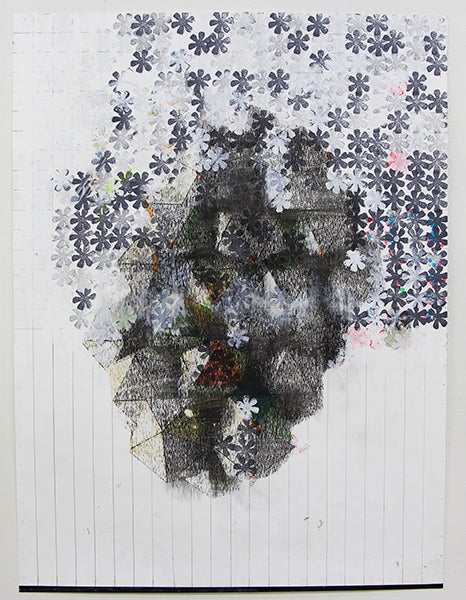 Above: Color Sound Cone, 2014.