Kartz Ucci, associate professor of digital arts, lost her battle with cancer on October 6. She was 52 years of age. Ucci joined the UO faculty in 2004 and taught art and digital arts in the Department of Art. Her courses were rich and powerful lessons on contemporary art practice, time-based media, and interactive installations.
She recently completed her final installation work, "256 Shades of Grey," a temporary sound and light piece to be projected into/onto/through the desert on Saturday, October 12, from 6-10 p.m. in Joshua Tree, California, on the opening night of High Desert Test Sites 2013 (HDTS). She was invited to participate by Andrea Zittell, founder of the HDTS project. This was the first year Kartz was involved with the HDTS project, a weeklong series of experimental art and exploration from Joshua Tree to Albuquerque, New Mexico.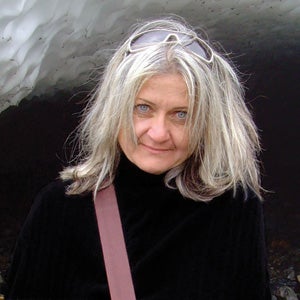 The piece involves a video projection of gray scales in shifting horizontal bars that Ucci created using highly personal algorithms. The projection will disappear into the desert with the artist's intention being an elegiac combination of human survival through the music, with human loss portrayed as the light is absorbed into the night.
The piece is accompanied with a sing-along of Jerry Garcia's and Robert Hunter's Grateful Dead piece "Touch of Grey." A lyric "I will get by/I will survive" is one of the key lines for many who follow the music of the Grateful Dead. From the project website, the work is described "a celebration of uncertainty, midi file technology, the Grateful Dead, and above all, survival." According to her collaborator, Abby Donovan, Kartz said she chose this Grateful Dead song very specifically for the line "I/We will survive … and for its relationship to my current path in life and for its historic attachment to my life in Eugene."
The piece is by Ucci with help from Abby Donovan and Tom Hughes. Abby Donovan knew Ucci for seven years and helped her realize the piece with the aid of an Emergency Grant from the Foundation for Contemporary Art in New York.
After joining the UO faculty, Ucci embarked on an ambitious exhibition schedule as well as teaching the time-based media courses offered by the Department of Art. Courses taught by Professor Ucci include video art, issues and practices, introductory core studios, experimental film, cinema effects, time-based digital arts, and professional practices. She received tenure in 2010. She was a visiting artist at Portland Community College, Oregon College of Art and Craft, Clark College, University of Delaware, and Shangdong University in Jinan, China. She was also project director for the 2005 art performance and exhibition Nonsense Machines by Japanese artist collaborative Maywa Denki.
A talented and prolific artist, Ucci had a number of installations that included her love of digital presentation, music, and sound. Her work was included in the Portland Biennial in 2010, and exhibited in solo and group exhibitions in California, Oregon, Washington, and Toronto, Ontario, Canada. Other international venues included her work in group exhibitions based in Portugal, Cyprus, China, Germany, and Thailand. Her film and video media production work was seen in television, short films, and feature films where she did both scenic design, editing, and videography.
At the UO, her work became a multidisciplinary practice informed by language and philosophy. During the 2012 Department of Art faculty exhibition, "The Long Now," Ucci presented An Opera of One, a piece that had been exhibited previously in Portland. Exhibit curator Stamatina Gregory wrote, "her resulting projects are multilayered, complex, and reveal the ever-shifting nature of our objects of desire."
With An Opera for One, Ucci commissioned Canadian soprano Deanna Pauletto in 2004 to sing Pablo Neruda's book, Twenty Love Poems and a Song of Despair, in the original Spanish. Pauletto improvised an a cappella melody from a "score" of color and emotional cues devised by Ucci. Ucci recorded the one-time, 88-minute performance. During an interview in 2010, Ucci said, "For the best experience of the work, review the libretto first to read the poetry and to see the colors mapped on a grid that corresponds in time and placement to the text. The libretto is an integral part of the work."
Another one of Ucci's installation, I Want to Be a Lighthouse Keeper, was a close focused, high-resolution video recording of a 5 mm thick rod of blue neon speeded up to reveal the fluctuating luminosity of the neon gas. An amplified recording of the electrical hum of the neon transformer swept across the room from a 360-degree soundbar. Ucci described the work as a distilled, constructed view of a horizon line, filled with potential, yet empty. Its motion is that of particles of light and their magnetic oscillation at the frequency of the alternating electrical current, she said.
Ucci received her BFA and MFA degrees and an MA in interdisciplinary studies from York University in Toronto.