Assistant Professor Jenny Lin shares her skills, research, and expertise with two departments in UO's School of Architecture and Allied Arts, having been hired fall 2012 for a joint appointment in the departments of Art and the History of Art and Architecture. She is the first such faculty hire.
This summer she is teaching two new courses that build off her interdisciplinary and transnational expertise in contemporary Asian art and art curation. Curating Contemporary Art (Art 408/508) and Contemporary Asian Art, Architecture, and Film (ARH 210) are being taught during the summer's first session, June 24–July 21.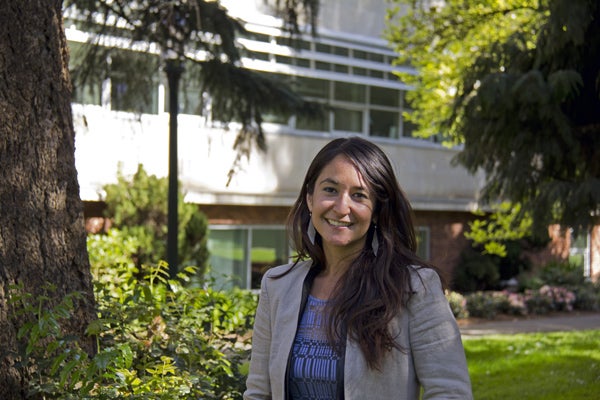 Art Department Head Laura Vandenburgh believes Lin's summer courses are indicative of the new territory her pedagogy brings to A&AA.
"Students are very excited about the curatorial class, which gives both art and art history students insight into this important practice within the professional field," Vandenburgh says. "The course on contemporary Asian art, architecture, and film makes clear the significant interconnections between different aspects of visual culture."
Curating Contemporary Art will combine both theoretical and historical components, while also grounding the course material in practical examples through collaboration with an exhibit Lin is curating.
"The students will gain practical experience by participating in the development of the exhibit while concurrently using their own artistic practice to design a contemporary show," Lin says. The course will also incorporate theoretical and historical readings drawn from contemporary art criticism and museum studies.
"The goal for this course is for students to be able to think historically and theoretically about the main concerns surrounding contemporary art curation," Lin says, "as well as think practically about how their own practices are situated in a wider discourse of contemporary art curation."
The exhibit that Lin is curating, "Birdhead: Picturing Global China Above Sea," is scheduled to run at the White Box at the UO in Portland and the Jordan Schnitzer Museum of Art (JSMA) from September through November 2013. Birdhead, a collective of two photographers, Ji Weiyu and Song Tao, who make photographs of Shanghai, their hometown.
"Birdhead creates art that might be considered as straightforward street-style documentary photography, but their photos and videos also reveal key details of everyday life that often go overlooked," says Lin. "The exhibit will highlight the fast-paced development that occurred in conjunction with the 2010 Shanghai World Expo. In order to create the pavilion grounds for the expo, the government demolished entire neighborhoods and sprawling high-rise apartment complexes in eastern Shanghai. One of those complexes is where the collective grew up, and the artists photographed their old neighborhood just as it was disappearing. The project is called 'New Village' and it stands in striking contrast to the spectacular, large scale event of the Shanghai World Expo."
The exhibition will include Birdhead's photographs from the apartment complex site and related video work. Lin's intent for the exhibit is for attendees to "leave with a more complete, nuanced understanding of contemporary urban China, in particular Shanghai, which is touted as a famous, modern, cosmopolitan city, and think about how that identity exists on multiple levels."
In conjunction with the exhibit, Lin will also host a conference at the JSMA in which the artists, a Shanghai-based curator, and a professor who is also a photographer and curator from Fudan University in Shanghai will discuss their experiences in the rapidly developing city, and the unique ways these artists represent Shanghai as a global metropolis.
The second course, Contemporary Asian Art, Architecture, and Film, is a new course accessible to all students, including freshmen. The course will introduce students to artworks, buildings, and films from 20th and 21st century East, South, and Southeast Asia.
Students will also explore the permanent collection and current exhibitions at the JSMA "and will be encouraged to think about how they might understand the framework in which art gets exhibited," says Lin. "The students will be tasked with reviewing the collection of Asian art at JSMA, and to reposition the works in relation to contemporary objects that will be reviewed in lecture. The final product for this course will be an exhibition proposal uniting art, film, and architecture, and a group presentation that incorporates the exhibit's theme and how it is conveyed."
Vandenburgh believes the school is "extraordinarily fortunate to have Professor Jenny Lin join the faculty. Her research emphasis in contemporary Asia, her interest in interdisciplinary inquiry, and her strength as a teacher makes her a perfect fit and an excellent colleague," Vandenburgh says.
Lin joined the A&AA faculty from the University of California, Los Angeles, where she received her MA and PhD and also taught. Lin also holds a BA from Brown University in Italian Studies and Architectural Studies. Her cross-cultural, cross-disciplinary background informs her research, which explores the relations between transnational art practices and urban space, with a particular focus on modern and contemporary Shanghai.
For more information about Curating Contemporary Art (Art 408/508) or Contemporary Asian Art, Architecture, and Film (ARH 210), please contact Lin at jennylin@uoregon.edu.
Lin's classes complement other summer classes offered by A&AA, including studio-based courses in the arts and design disciplines; seminars that delve into the arts, culture, and community planning; experiential field schools; and a breadth of international programs that complement study in architecture, history of art and architecture, landscape architecture, interior architecture, community and regional planning, and historic preservation. Courses are offered as a full term 8-week session, a 4-week session, weekend workshops, and short duration courses.
For a complete list of summer A&AA classes in Eugene and Portland, visit the department and program offerings webpage.
Story by Joe McAndrew