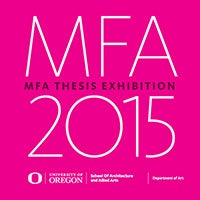 The 2015 University of Oregon MFA Thesis Exhibition, featuring work by ten Department of Art master of fine arts students, will be on view beginning May 8 at Disjecta Interdisciplinary Art Center, 8371 N. Interstate Avenue in Portland. The exhibition opens with a public reception Friday, May 8, from 6-9 p.m., and goes through May 31. The exhibition is free and open to the public.
"Collectively, the third-year MFA students invite us to explore the possibilities of the spaces in between their similarities and differences," writes Christie Hajela, a master's candidate in the UO Department of the History of Art and Architecture, in the catalog that accompanies the exhibition. "There are no strict physical boundaries demarcating the end of one artist's work and the beginning of another's in this exhibition, and this nebulous 'in-between' space ultimately aligns with the thematic intersection of these artists and their otherwise eclectic practices."
Artists in the MFA thesis exhibition include: Farhad Bahram, Matt Christy, Chen Fei, Alex Krajkowski, Anne Magratten, Andrew Oslovar, Brandon Siscoe, Megan St. Clair, John Tolles, and Jessie Rose Vala.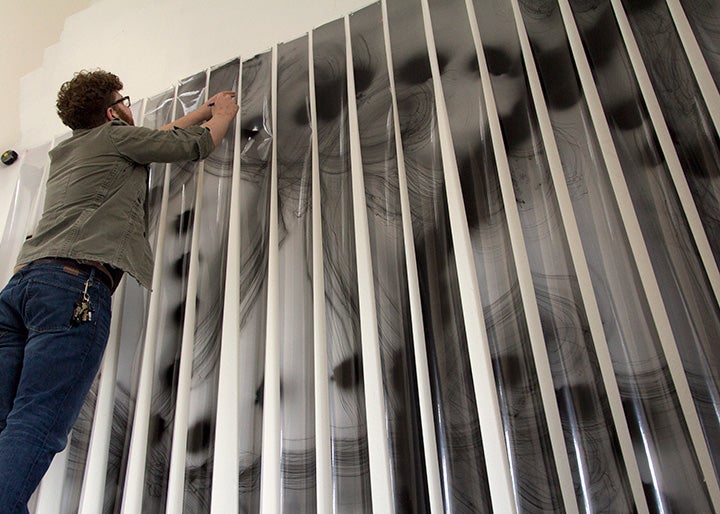 Above: Work by MFA candidate Alex Krajkowski features large rolls of silver gelatin paper and his explorations with both the chemical and physical processes involved. The process "is very new for me, both in terms of process and scale. I'll be hanging several gigantic prints—some are singular images about 30 feet tall and 4 feet wide, and others are multiple panels 10 feet tall." Photo by Cody Rappaport.
Krajkowski's work is the culmination of "several years of fascination with the photographic process and cameraless abstraction," he says. He'll be installing "several gigantic prints—some about 30 feet tall and 4 feet wide, others multiple panels—made from large rolls of silver gelatin paper. The images on the faces of these prints [are] made in collaboration with small, self-propelled machines outfitted with small lights, and start to reference painting in their mark, and sculpture in their scale."
For her part, Magratten's works in the show are "mostly landscapes painted on wooden panels that are cut using the table saw. From there I splice in other abstract paintings, create openings, and sometimes get sculptural," she says. Her artist's statement notes that "Each pass through the saw results in a loss of painted ground. Omissions, gaps, and discontinuities undermine the seamlessness of perception and grant me a new array of artistic permissions."
The MFA Thesis Exhibition will be at Disjecta Contemporary Art Center May 7-31. Gallery hours are Friday through Sunday from 12–5 p.m. Disjecta is located at the Kenton Street station on the MAX light rail line. Gallery hours are Friday through Sunday from noon to 5 p.m.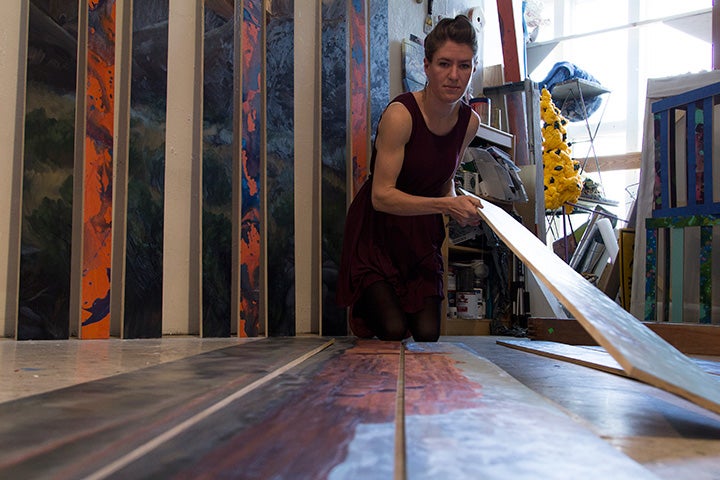 Above: MFA candidate Anne Magratten says she remains "committed to playfulness, remixing depth and flatness, figuration and abstraction, painting and sculpture with external and internal sensation." Photo by Cody Rappaport.
Also on exhibit in May in Portland is the Department of Art's Second Year Graduate Student Exhibition—selected work by eight UO second-year MFA students, from May 7-30 at the White Box, 24 NW First Avenue in Portland. This exhibition opens with a free public reception Thursday, May 7, from 5-7 p.m. Gallery hours otherwise are Tuesday through Saturday from noon to 6 p.m.
"Each art object present in this exhibition exists within a greater scheme of ideas, a physical and theoretical framework fashioned by the artists," writes Megan Pounds, a graduate student in the UO Department of the History of Art and Architecture, in the essay accompanying the Second Year Graduate Student Exhibition. "These students are further connected by an interest in the constructed environment, which naturally manifests itself differently in every practice."
Second-year exhibiting artists include: Anya Dikareva, Summer Gray, Krista Heinitz, Steven Joshlin, Daniel P. Lopez, Sarah Mikenis, Stephen Nachtigall, and Rachel Widomski.
The Department of Art's interdisciplinary graduate program encourages students to work across disciplines, with focus in areas of sculpture, photography, painting, drawing, printmaking, digital arts, ceramics, fibers, and jewelry and metalsmithing. The MFA program is a three-year course of study that involves rigorous studio investigation, critical discourse, and conceptual development. Emphasis is placed on developing a curriculum tailored to the needs of the individual student while encouraging exploration and risk-taking.