Four University of Oregon faculty members were selected from a pool of more than 190 applicants from thirty-five Oregon cities for the Oregon Arts Commission's 2014 Individual Artist Fellowships. They include Surabhi Ghosh, Allison Hyde, Anya Kivarkis, and Terri Warpinski.
Surabhi Ghosh, assistant professor, serves as coordinator of the fibers program. Her works, sculptures, and installations demonstrate the craftsperson's attention to finish and material quality. "My work draws on the liminal power of the decorative," says Ghosh. "Disregarded visual information that permeates cultural spaces—the decorative hides in plain sight." Her recent exhibition list includes Ditch Projects in Springfield, Oregon; The Bike Room in Chicago; Museum of Contemporary Craft in Portland, Oregon; the Jordan Schnitzer Museum of Art at the UO; and an upcoming exhibition at the Culture Room in New York. Ghosh received an MFA from Cranbrook Academy of Art in 2004.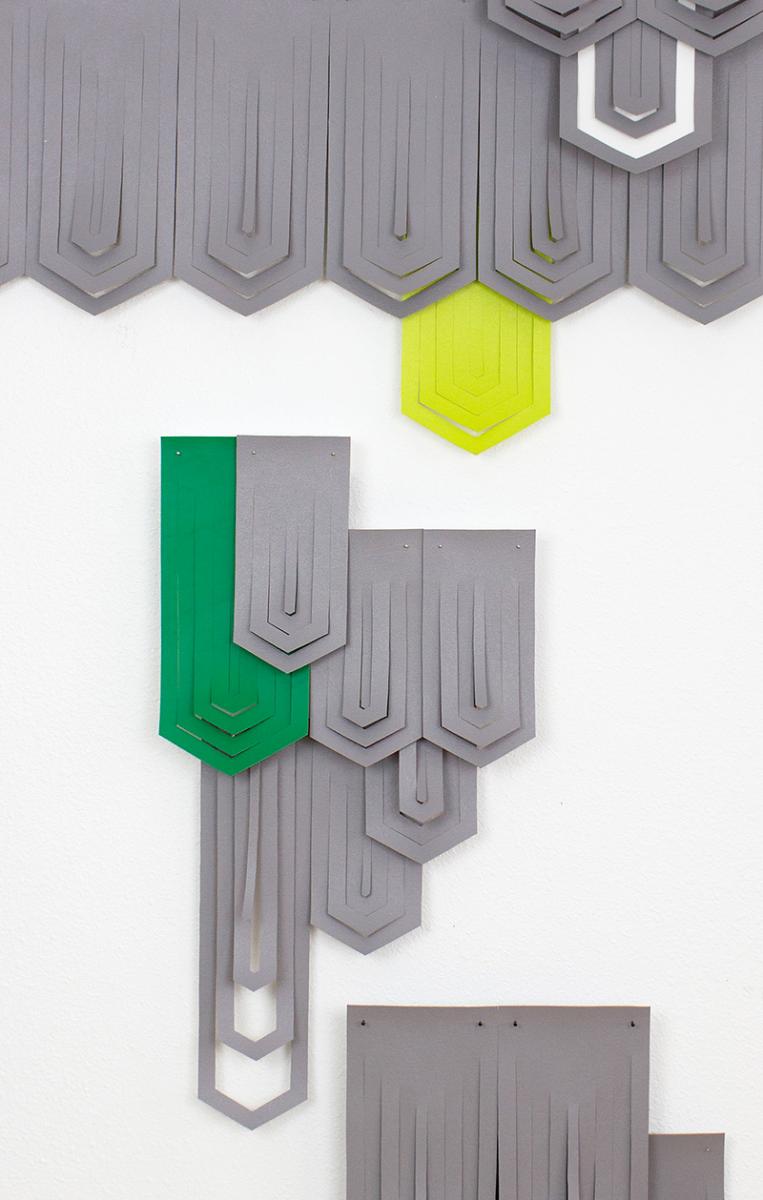 Above: Untitled work-in-progress, by Assistant Professor Surabhi Ghosh. Upholstery vinyl and pins, 2013-14.
Allison Hyde is an art instructor and the LaVerne Krause Gallery director. While investigating ideas of memory and loss, personal objects and traces of history, her work manifests itself in many forms including works on paper, sculptural installation, digital media, and painting. Her current work in progress includes prints made directly from the floor of a small house, which she describes as "documenting the living space in its entirety. It is my hope that the viewer of the piece could walk with their mind from room to room, imagining subtle moments of the house's history and projecting some of their own experiences as well." Hyde received an MFA in printmaking from the UO in 2011. Her work has been exhibited recently at the Jacobs Gallery in Eugene; the Umpqua Valley Arts Association in Roseburg; the Janet Turner Print Museum and Gallery 1078 in Chico, California; Seattle's Form/Space Atelier; and the 10th Northwest Biennial at the Tacoma Art Museum in Tacoma, Washington.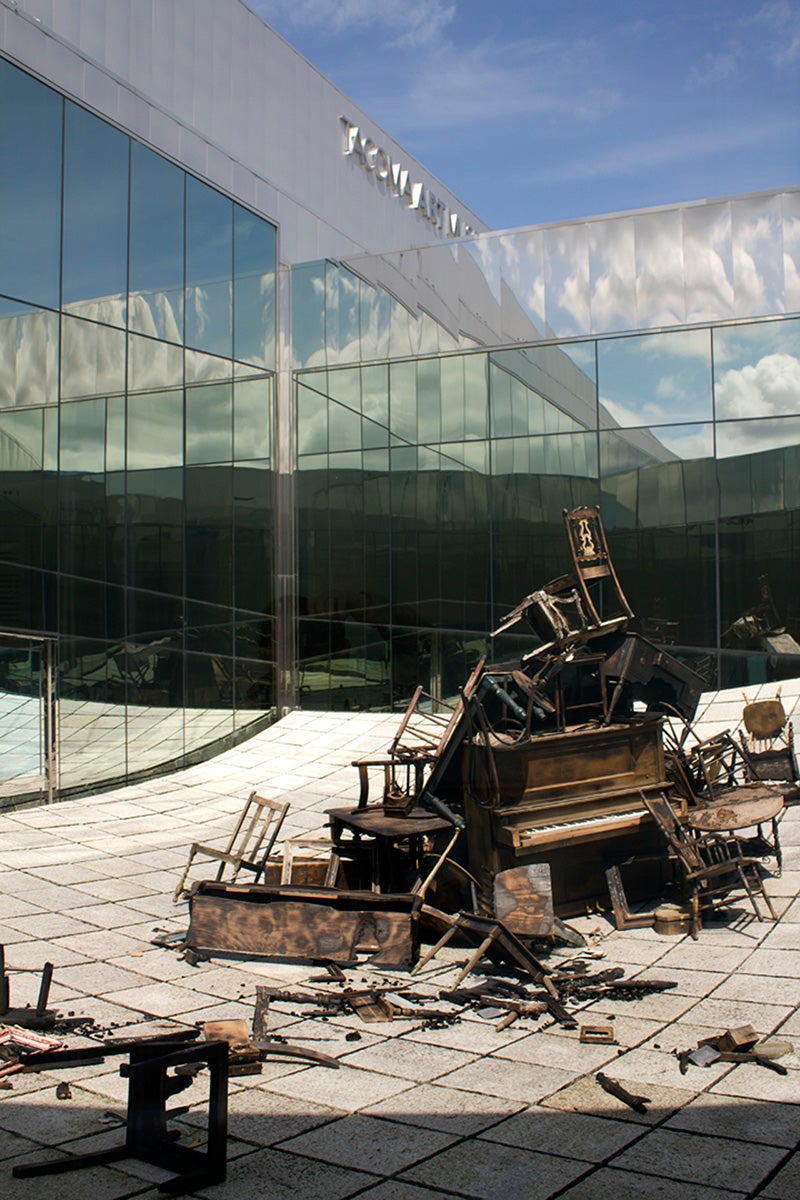 Above: "Mourning the Ephemeral," by Instructor Allison Hyde. Burned furniture, frames, boxes, charcoal, ash and cast glass. Dimensions variable - image taken at the Tacoma Art Museum, 2012.
Anya Kivarkis, associate professor, has established herself as a leading voice of conceptually rooted metals and jewelry. "Recently, I have sourced historical and contemporary photographs and film and consider how screen-based representations can become surrogates of lived experience. In my work, I am interested in what gets lost in translation from an object represented in an image, to a translation of the image back into an object or space…." Kivarkis has exhibited internationally, including Handwerkskammer fur Munchen and Oberbayern, Galerie Handwerk in Munich, Germany; Villa Terrace Museum, Milwaukee, Wisconsin; Jordan Schnitzer Museum of Art; Museum of Contemporary Craft, Portland, Oregon; Solidor Art Space, Cagnes sur Mer, France; and the Tacoma Art Museum. Kivarkis earned her MFA in metals from SUNY New Paltz in 2004. She is represented by Sienna Gallery, Lenox, Massachusetts, and Galerie Rob Koudijs, Amsterdam.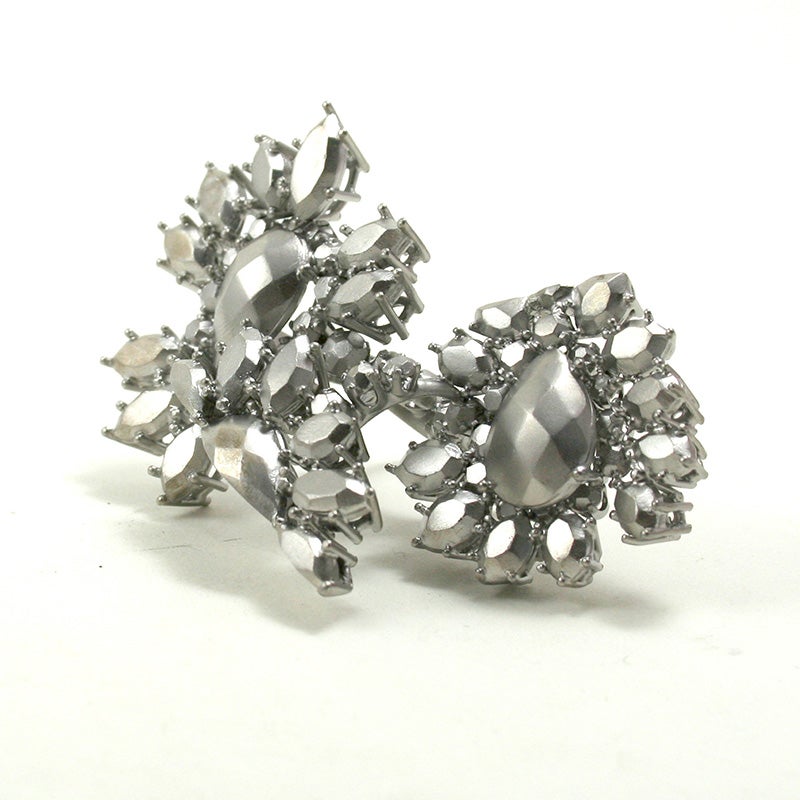 Above: Wynona Ryder Lost Jewels, 2008, detail, by Associate Professor Anya Kivarkis.
Terri Warpinski, professor, teaches photography at UO. Her ongoing project, "Surface Tension," focuses on three border zones —the Israel-Palestine Border, the U.S.-Mexico border, and the former Berlin wall. " 'Surface Tension' explores the multiple and conflicted narratives of these places. Wall and fences, embodiments of social and political oppositions, mark and divide the physical landscape," her artist statement explains. Warpinski's current and upcoming exhibitions include the San Francisco Camerawork; Lincoln Center Galleries, Fort Collins, Colorado; Woodstock Center for Photography, Woodstock, New York; Clatsop Community College, Astoria, Oregon; Center for Fine Art Photography, Fort Collins; Fort Wayne Museum of Art, Indiana; Jordan Schnitzer Museum of Art; Texas Tech University, Lubbock, Texas; and Orange Coast College Galleries, Costa Mesa, California. She earned a MFA from the University of Iowa. She is represented by the David Barnett Gallery in Milwaukee, Wisconsin.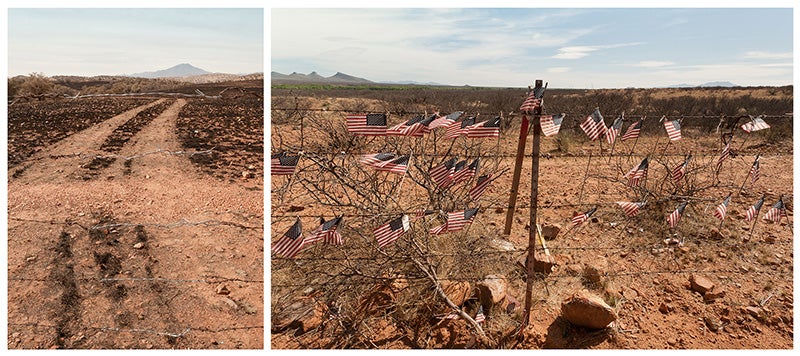 Above: Surface Tension/US-Mexico: Barbed Wire 2012  by Terri Warpinski. Archival digital print on rag paper. 16 X 30.5 inches unframed/17 X 31.5 inches framed.
The fellowships support artists working in visual arts and design and include modest financial stipends.  Fellows are selected by a review panel of arts professionals from Oregon and beyond who consider artists of outstanding talent, demonstrated ability, and commitment to the creation of new work(s); their recommendations are submitted to the OAC.
The Oregon Arts Commission provides leadership, funding and arts programs through its grants, special initiatives, and services. Nine commissioners, appointed by the governor, determine arts needs and establish policies for public support of the arts.
The OAC is supported with general funds appropriated by the Oregon legislature, federal funds from the National Endowment for the Arts, and funds from the Oregon Cultural Trust.